SHOW OF HANDS AND TRACK DOGS GREEK ISLANDS CRUISE
16 - 24 SEPTEMBER 2022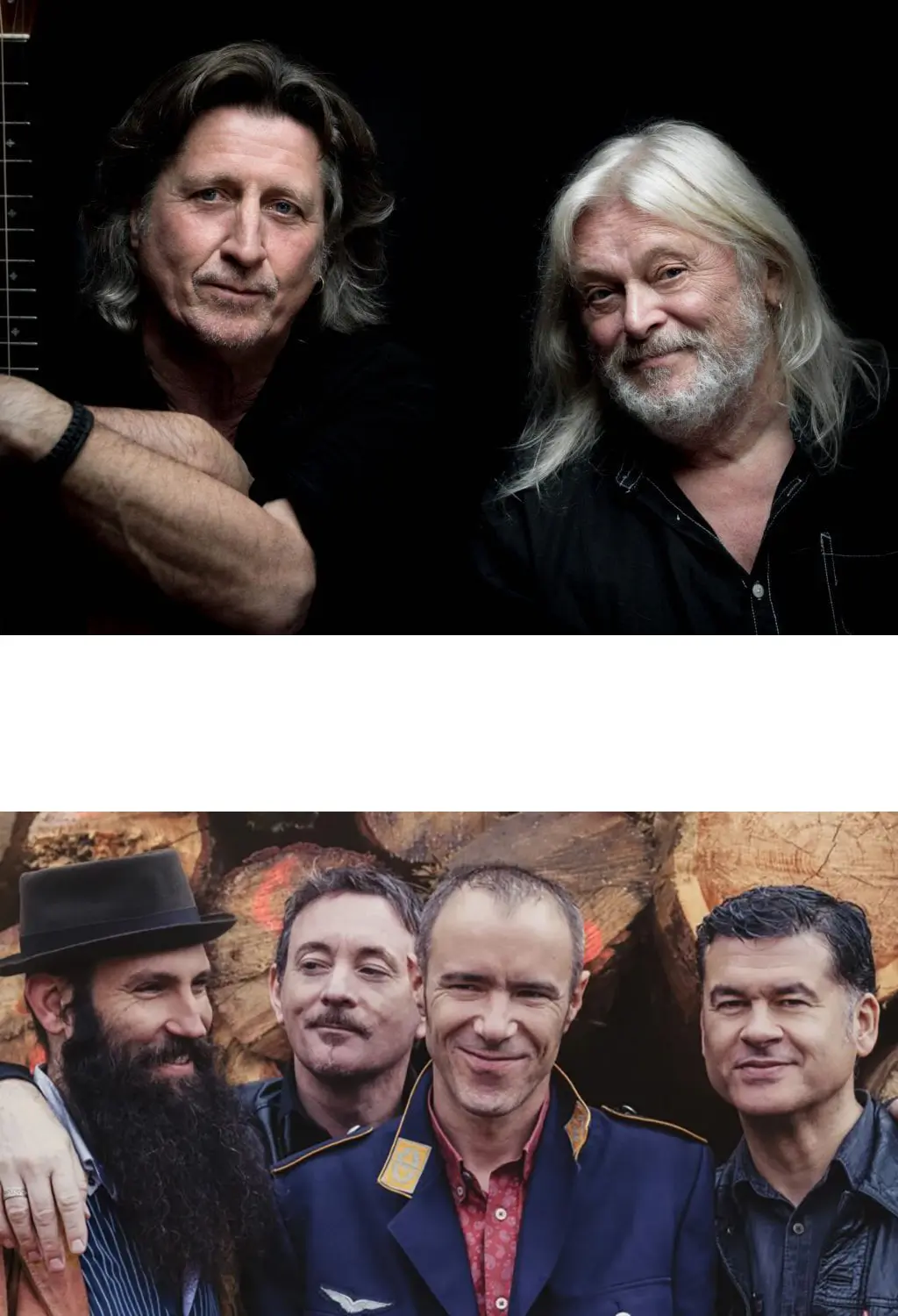 A 7 night tall ship cruise of the Greek Islands with Show of Hands and Track Dogs.
Show of Hands has more than 2 decades on the road, 25 album releases, 2 Honorary Doctorates, 3 BBC Folk Awards, 5 Royal Albert Hall sell-outs and tours in 14 countries from America to Australia. They now invite you to join them cruising the Greek Islands and Turkish Coast aboard the luxury schooner 'Star Flyer', offering the best food, wine, art, architecture, scenery and history along the way.
Track Dogs comprises 2 Irishmen, 1 Englishman and 1 American. The band came together in 2011 to make their unique brand of acoustic music.
Featuring a veritable 4x4 of voices and instruments, their style is a dynamic fusion of folk, Latino, Americana & bluegrass.
Since their blistering Costa del Folk debut in 2018, Track Dogs have been barnstorming the UK. This includes some major festival appearances and collaborations as well as surprising music lovers with "sun-shiny songs thriving on dark themes behind irresistible rhythms". 2019 was a pivotal year, including playing to a heaving, rocking Trafalgar Square
Do not miss this incredible opportunity to join Steve and Phil as well as the Track Dogs, island hopping in the Aegean.
With the emphasis for this voyage very much on the itinerary, Steve & Phil will be on board for the whole cruise, for informal concerts, workshops and sing arounds.


---
You really don't want to miss this extraordinary adventure... it all comes together in glorious harmony sailing the crystal clear waters of the Aegean.
A more detailed programmed itinerary will be available closer to departure. 
If you're not ready to book but have further questions then please feel free to email us at info@harmonyvoyages.co.uk and we'll be happy to help
What's included
• Pre-Cruise overnight in Athens B&B at the Titania Hotel, Athens
• Onboard gourmet dining – breakfast, lunch and dinner
• Services of an experienced English-speaking Cruise Director
• Onboard entertainment
• Bottled water in every stateroom
• In-stateroom infotainment centre
• Complimentary Wi-Fi onboard
• Airport Transfers on 16.09.22 & 24.09.22
• Water sports: Complimentary water-skiing, paddle boarding, windsurfing, kayaking, sail boating and snorkelling *

What is Extra
• Return flights to Athens. Please call for assistance if required
• Port taxes @ £165pp
• Gratuities – see FAQ page for further detail
• All drinks
• Airport transfers should you chose to arrive/depart on different dates to those stated
• Additional activities & shore excursions

* Please ensure you have adequate insurance cover in place should you intend taking part in any water activities
Itinerary
Inclusive Pre-Cruise overnight 16 Sept
Transfer from Athens airport to the Titania Hotel for B&B.
Following breakfast, enjoy the morning at leisure prior to your inclusive transfer to the Ship mid-afternoon.
Saturday 17 Sept
Day 1 - Athens
This afternoon we board our floating home for the next seven days – "Star Flyer".
Walking in the shadow of the Acropolis in the Agora, you can almost hear the voices of Plato, Socrates and Aristotle arguing about who was the greatest philosopher. Ancient Athens, the birthplace of democracy and epicentre of western civilization, is a city for all eternity.
Sunday 18 Sept
Day 2 - At Sea
Feel the wind fill the sails and gently carry you from one gorgeous destination to the next. During your time on board, you can choose to relax on a sun lounger or cool off in one of the pools on the top deck, while more adventurous passengers may enjoy the opportunity to climb the rigging or even have a go at steering the ship.
Monday 19 Sept
Day 3 - Dikili Turkey
Dikili is a sleepy little beach town, authentically Turkish. The harbour is lined with open-air restaurants and shops with local food specialities Nearby, Bergama is worth a visit especially for its two main monuments: The Acropolis perched at a height of 280 metres and the Asklepion.
Tuesday 20 Sept
Day 4 - Myrina, Lemnos, Greece
It was Zeus who hurled Hephaestus from Mt. Olympus to land on Limnos, leaving the god of metalworking with a permanent limp. Perhaps he was nursed to health by excellent red and white wines (fortified or not) grown on Limnos volcanic soils. The town of Myrina sits under the winding white ramparts of the Kastro, built in 1186. But even earlier ruins - one of most ancient sites in Greece - lie in nearby Poliohni.
Wednesday 21 Sept
Day 5 - Skopelos
A verdant island blessed with olive, almond and fruit trees. As you sail into the bay surrounding Skopelos town, you'll be reminded of a giant Greek amphitheatre. 120 churches nestle beneath the ruins of the Venetian castle, and two convents and a monastery cling to hills above the bay. Undoubtedly chosen for its picture perfect location and unspoilt charm as the film setting for the hit musical Mamma Mia.
Thursday 22 Sept
Day 6 - Skiathos Greece
The most sophisticated and cosmopolitan of the Sporades, is truly a paradise on earth, with lush pine forests and crystal clear azure waters. Go a few blocks inland and you'll find charming flower-decked houses and gardens overflowing with fruit trees. The island is blessed with 60 superb beaches, the most famous being Koukounariés, which has been declared the third most beautiful beach in the Mediterranean.
Friday 23 Sept
Day 7- Poros
It's barely a hop, skip and a jump from the Argolid Peninsula to the island of Poros, sometimes called Kalavria. Greece's naval academy is here, and visitors can hear the cadets' marching band every morning. The views from the Temple of Poseidon are eternal, which may be why the doomed orator Demosthenes chose to end his life here. Take a water taxi to Galatas for excursions to the fragrant lemon groves of Lemonodasos, or venture inland to ancient Troezen or Epidauros.
Saturday 24 Sept
Day 8 - Piraeus (Athens Port)
Disembark today with a transfer to Athens airport or stay on longer to explore this stunning historical city.
Entertainment
SHOW OF HANDS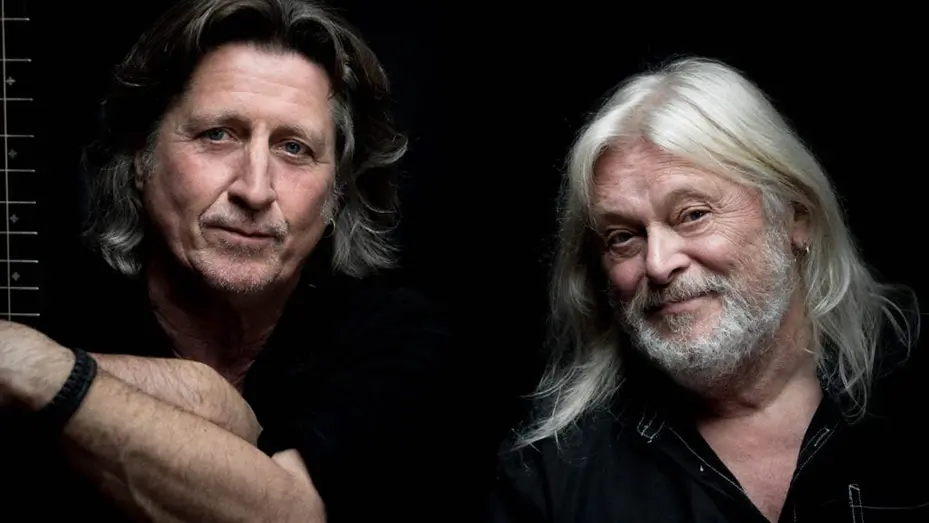 The original duo of singer-songwriter Steve Knightley and multi-instrumentalist Phil Beer have become a major force in British folk music, having first got together 30 years ago.
Over the years the band has moved on from their folk duo image and evolved into a hard hitting acoustic band, selling out UK and European tours and headlining some of the biggest festivals across the world.
Their accolades include being voted Best Live Act at the 2004 BBC Radio 2 Folk Awards, the only category voted for by the public. They went on to win the Best Duo and Best Original Song in the 2010 Awards. They've also been voted the Greatest Devonians in a county poll.
Show of Hands is undeniably one of the strongest current forces in acoustic music - unreservedly England's finest.
TRACK DOGS
Track Dogs comprises 2 Irishmen, 1 Englishman and 1 American. The band came together in 2011 to make their unique brand of acoustic music.
Featuring a veritable 4x4 of voices and instruments, their style is a dynamic fusion of folk, Latino, Americana & bluegrass.
Since their blistering Costa del Folk debut in 2018, Track Dogs have been barnstorming the UK. This includes some major festival appearances and collaborations as well as surprising music lovers with "sun-shiny songs thriving on dark themes behind irresistible rhythms". 2019 was a pivotal year, including playing to a heaving, rocking Trafalgar Square. It was also the year and the surprise on-stage participation of Steve Knightley and Seth Lakeman at Shrewsbury Folk Festival.
Well-established in Spain, where they are based, the four international "madrileños" (Garrett Wall, Dave Mooney, Howard Brown & Robbie K. Jones) derive their band name from the dark subterranean world of New York's subway system. Their new album, Fire On The Rails produced by Germàn Gutiérrez, has managed to make Track Dogs pack even more punch. They have achieved grandeur in the sound that they've been cultivating over more than 100 songs in their recording career.
"Fire on The Rails sparks kinetic energy, just as the title promises, reeling out ten high-octane tracks with slick production and a sizzling pulse." - Bryony Hegarty, R2 Magazine
"One of the great strengths of Track Dog's music is the eclectic mix of genres they so successfully blend… It's far easier to identify it as the "Track Dogs sound" than it is to tease apart individual elements" - Johnny Whalley, Folkradio.co.uk
"We've had many bands and artists come through our doors over the years, but Track Dogs are right up there with the very best of them, that much is certain! The connection they make with the audience is something special - smiles are the currency that they deal in with their mesmeric and ridiculously addictive sound. Destined to be huge festival favourites!"- Ken Brown, Square Roots Promotions
Map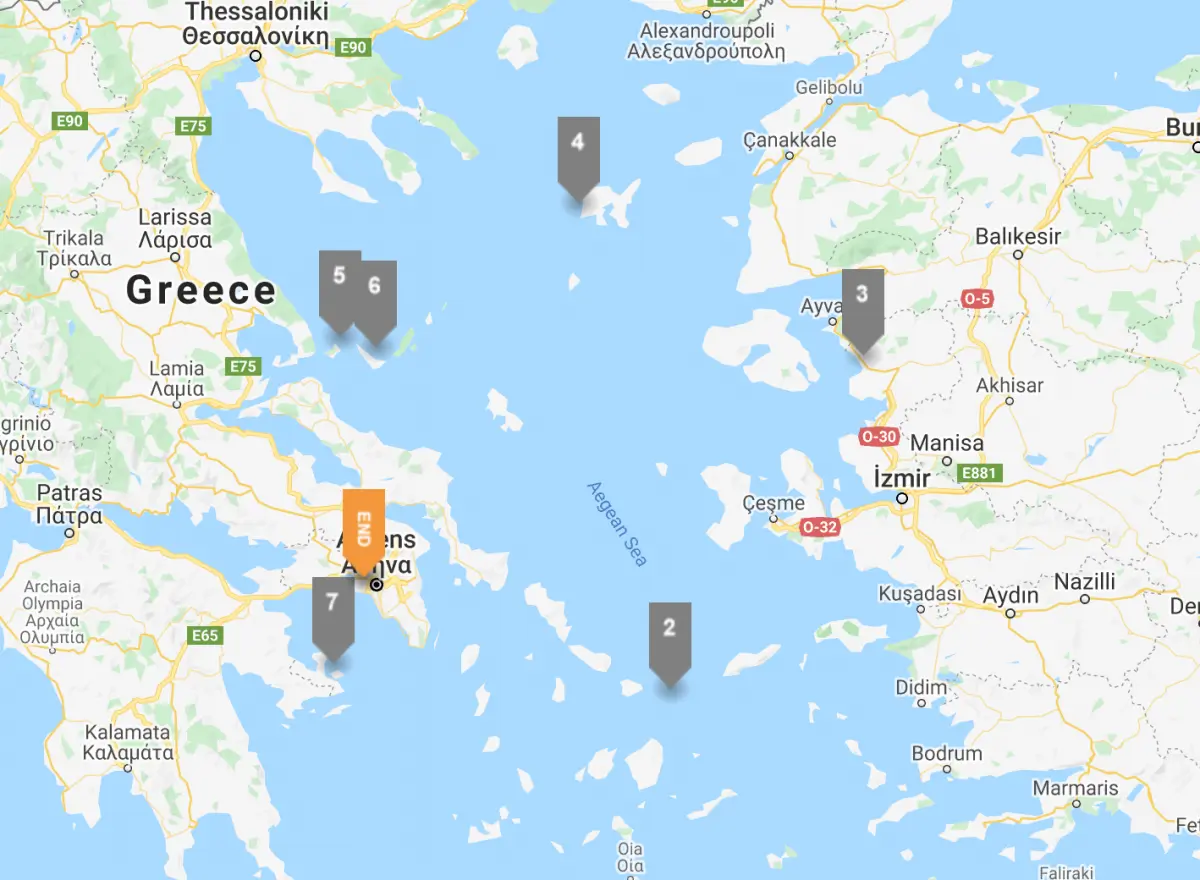 Price
Prices are per person and do not include flights or port tax @ £165pp. Please contact us if you require assistance with your travel arrangements.
Initial deposit - £400pp
PRICES PER PERSON
Cabin Grade
Deck
Price
Owners Suite - 22m2
Clipper Deck
£3,110 - CONTACT FOR LATEST AVAILABILITY
Category 1 - 14.5m2
Sun Deck
£2,810 - CONTACT FOR LATEST AVAILABILITY
Category 1 - 14.5m2
Main Deck
£2,810
Category 2 -12m2
Clipper Deck
£2,520 - CONTACT FOR LATEST AVAILABILITY
Category 3 - 11m2
Clipper Deck
£2,400 - CONTACT FOR LATEST AVAILABILITY
Category 3 - 11m2
Commodore Deck
£2,400
Category 4 - 11m2
Commodore Deck
£2,270
Category 5 - 11m2
Clipper Deck
£2,090
Category 6 - 8m2
Commodore Deck
£1,925 - CONTACT FOR LATEST AVAILABILITY
Category 5 Solo
Clipper Deck
£2,775 - CONTACT FOR LATEST AVAILABILITY
Category 5 Solo
Commodore Deck
£2,775
Category 6 Solo
Commodore Deck
£2,279 - CONTACT FOR LATEST AVAILABILITY
Port Tax £165 per person
Pre-Cruise overnight in a centrally located 4* Hotel Inclusive of B&B + Airport Transfer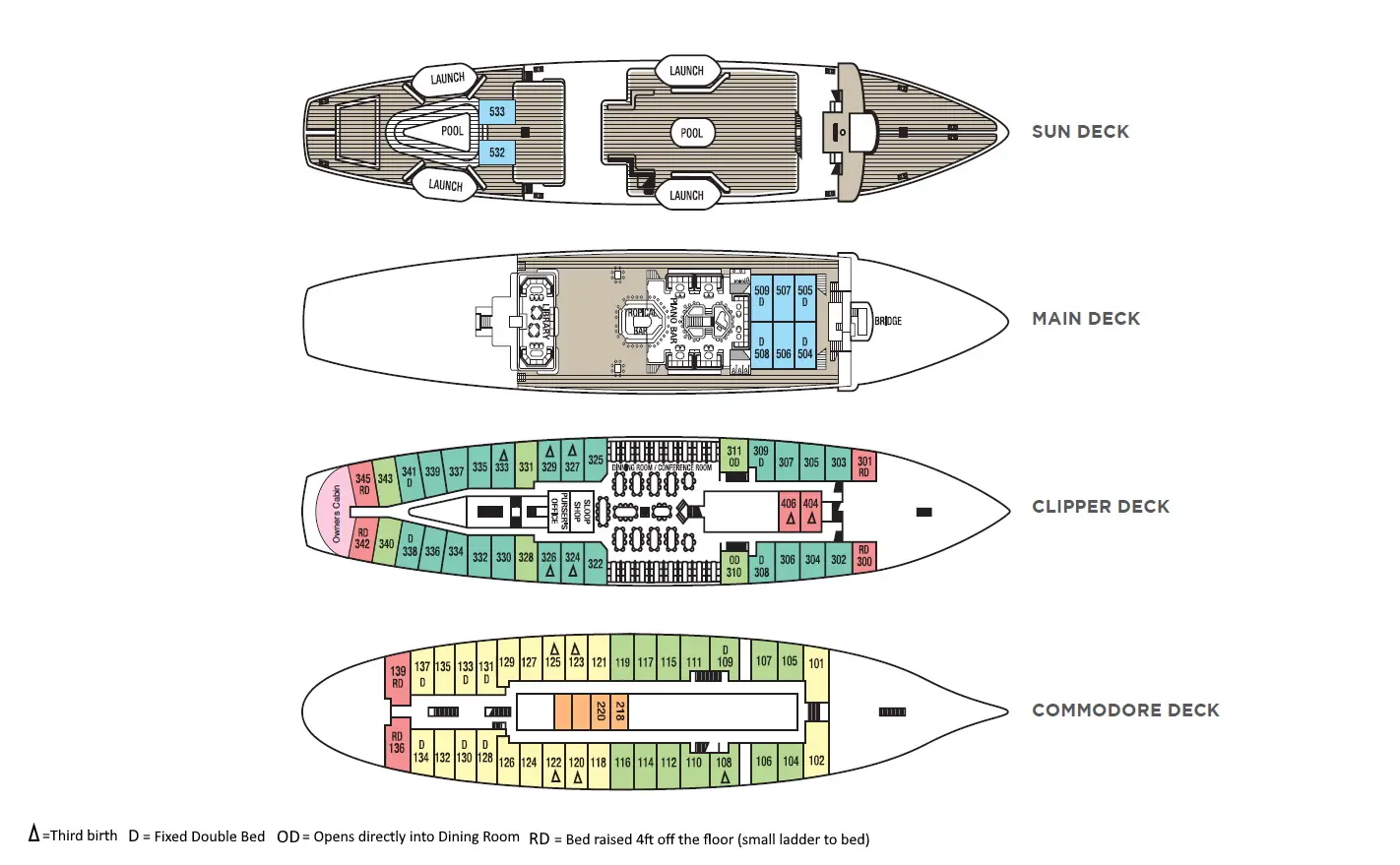 Accommodation
Star Flyer
There is nothing so easy and pleasurable as falling asleep to the gentle rhythms of the ship and sea, unless it's awakening refreshed the next morning to a new-born day.
The many staterooms on board offer everything you need and would expect from any luxury retreat. There is either a double bed or two twin beds that can be easily converted into a queen if required.
The cabin décor is tastefully traditional and you'll find the accoutrements of a luxurious classic yacht, where everything has been cleverly designed for comfort, ease and efficiency. Burnished brass fittings and mahogany features, whilst the use of soft, natural fabrics reflects the colours of the sun, sea and sky.

Everything is maintained impeccably and your steward balances personable service with the remarkable affinity of knowing when to leave you to it.
Take a virtual tour of each section of the Star Flyer here
*All images are examples, due to the nature and design of the ship not all cabins are identical.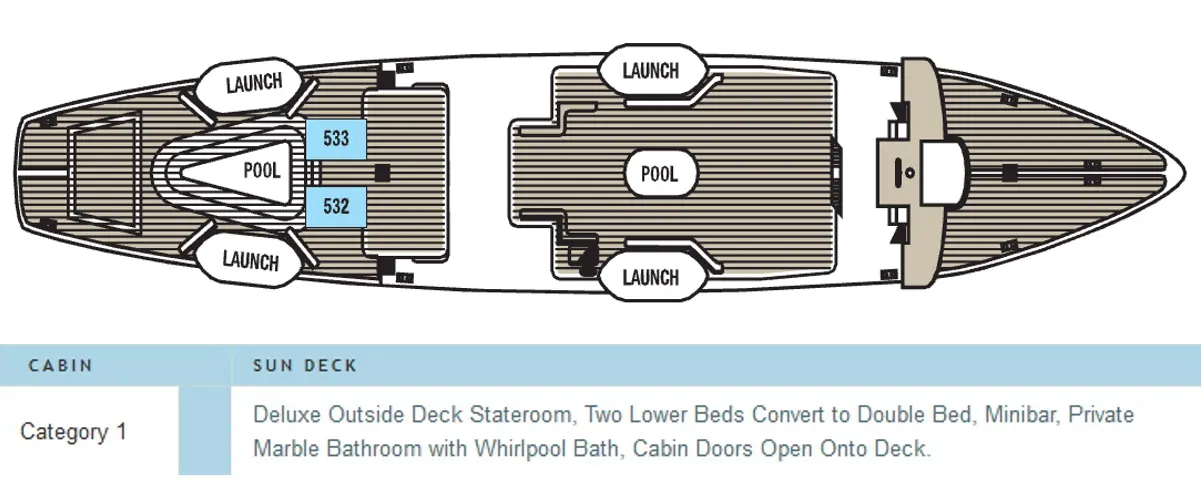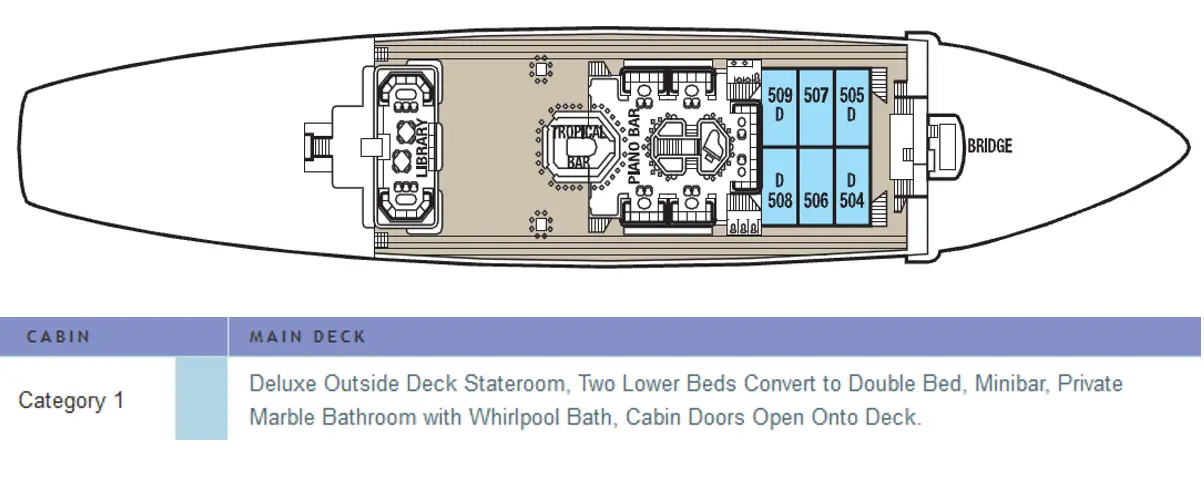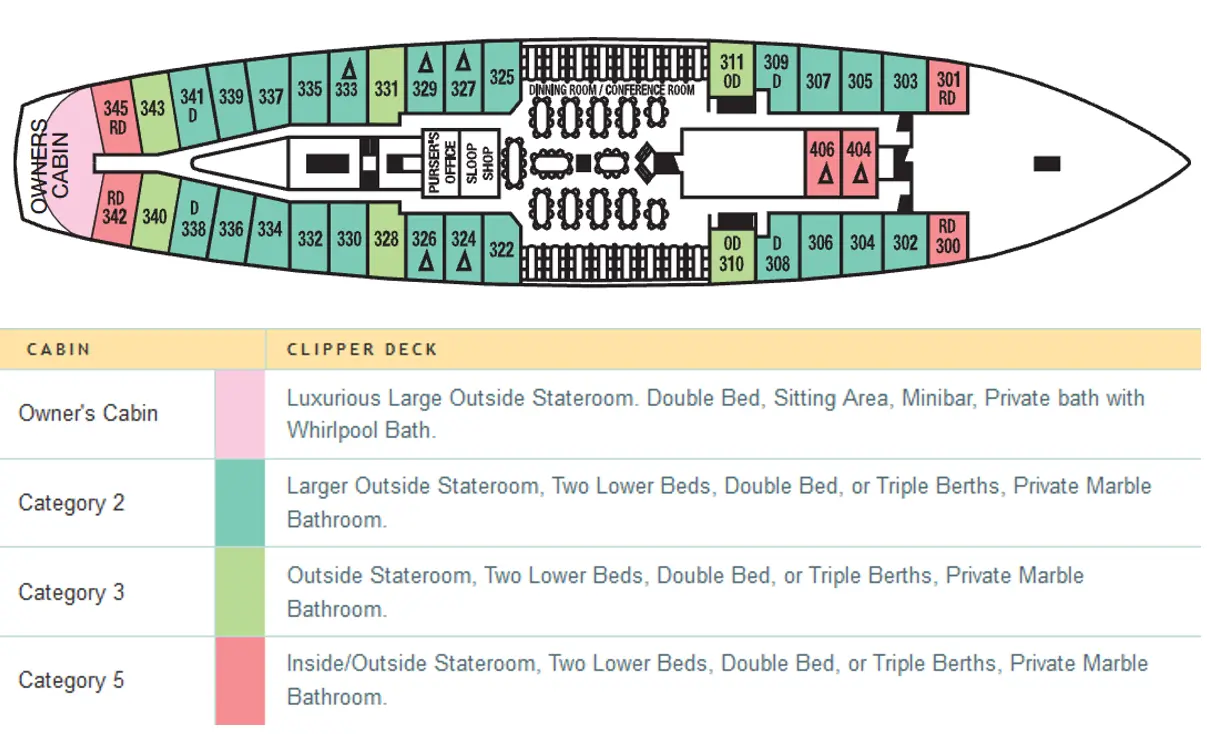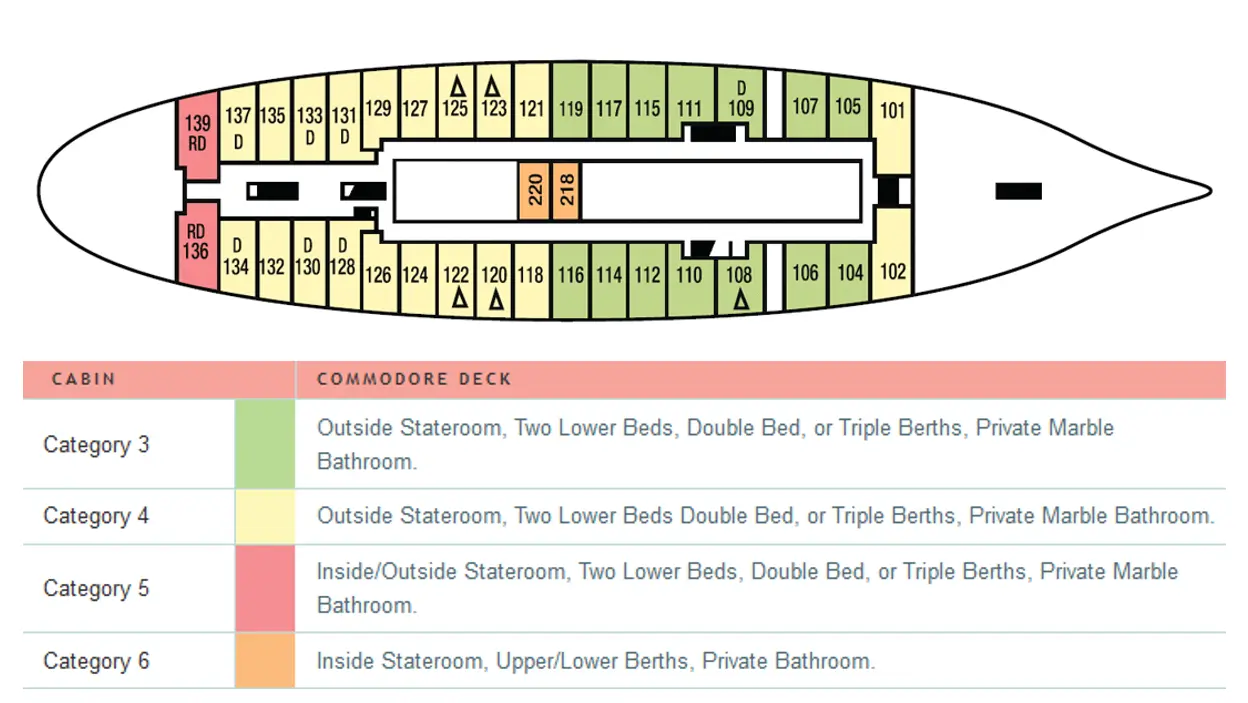 Your ship's accommodations are thoughtfully designed, featuring: private bathrooms, air conditioning, hair dryers, private safe, *television, DVD player, telephone and other amenities an experienced traveller has come to expect. Star Flyer's electrical output is 110 volts. (US plug socket)
*no TV's in Category 6 cabins
FAQ
Q: Are flights included?
A: No, you are responsible for your own travel arrangements to and from Athens. However, we are happy to assist with booking flights on your behalf. Please contact us for details if you require assistance.
Q: Which airport do I need to fly into / home from?
A: The ship departs from and returns to Athens. Aegean Airlines Easyjet & British Airways offer regular direct flights from many UK airports.
Q: Are airport transfers included?
A: Transfers are included from the airport to your Hotel on 16 Sept, to the ship on 17 Sept and back to the airport on 24 Sept
Should you opt to extend your stay at the end of your cruise, you will be responsible for your own transfer to the airport. However, we can pre-book this for you should you wish.
Q: How long must my passport be valid for?
A: Your passport must be valid for 6months after your return home date
Q: What time can I board the ship on Embarkation day?
A: You can normally board from 1pm but your stateroom may not be available until after 3pm. You will be able to enjoy the ship's facilities until your room is ready to be occupied.
Q: What time is disembarkation from?
A: As the ship has a quick turnaround, you will be required to vacate your cabin after breakfast on the day of departure. If you have a late flight or transfer you may be able to store your luggage on board until later in the day, depending on the ship's itinerary. The crew on board will be happy to assist.
Q: Is there WiFi on board?
A: Yes, WiFi is provided in all public areas of the ship. However, during the trip the signal may be weaker in certain sections of the route.
Q: Is there Air Conditioning on board?
A: The dining room and inside bars have air conditioning. Cabins have their own controls..
Q: Is there an elevator on board?
A: There are no elevators.
Q: What is the dress code on board?
A: We want to you feel comfortable on board, the dress code is casual during the day and smart casual in the evening. Think what would I wear for a meal out in a restaurant at home?
Q: What is the electrical current on board?
A: 110 volts and requires an American adapter.
Q: What is the currency on board the ship?
A: The Ship's currency is the Euro.
Q: Are there facilities on board to change money?
No, there are no foreign exchange facilities on board.
Q: What about gratuities?
A: Gratuities for the ship's staff and crew are not included in your cruise price. The suggested amount is Euro 8pppn (Euro 56 for a 7 night cruise).
Q: What to pack:
A: The following items are essential for any destination: sunglasses, sunscreen, hat, and maybe an umbrella. It is recommended that you bring duplicates of prescription eye wear, copies of prescriptions for any medications (generic equivalents are usually easier to obtain), copies of credit card information, and copies of your passport information pages.

An adaptor / transformer may be necessary (the on-board power supply is 110V AC/50 Hz) if you bring any electronic devices with you.
Clothing:
Comfortable, casual clothing is appropriate both onshore and onboard and we suggest lightweight clothing that can be layered. Shorts are appropriate for most tours, however long pants may be required for inside visits on some excursions. Your cruise manager will advise when and if this is required. You may find a significant amount of walking over uneven terrain during your time ashore. We recommend comfortable walking shoes with good ankle support. Sturdy sandals are another good option.
Don't forget to pack a lightweight, waterproof jacket (preferably hooded) or even a heavier-weight wind-breaker for cooler temperatures. Also, keep in mind that the ship, coaches and other venues visited on our itinerary are air conditioned and may be quite cool. We recommend that you pack a lightweight sweater or long sleeve shirts and carry them with you on excursions.
Excursions

Dikkili, Turkey
Dikkili is a sleepy little beach town, authentically Turkish. The harbour is lined with open air restaurants and shops selling local delicacies. Nearby Berama is well worth a visit especially for its two main monuments: the Acropolis perched at a height of 280m and the Asklépéion.
Pergamon
Located in Bergama county in the province of Ismir, Pergamon is one of the major classical sites in Turkey, considered to be one of the most beautiful cities of the ancient world.
On arrival in Pergamon, you will leave the coach and board a cable car to reach the Pergamon Acropolis perched at an altitude of 350 m. The Upper Acropolis was the official city and home to the royal family and aristocracy as well as housing a garrison. Practically all the monuments date from the Hellenistic period except the temple of Trajan which is from the Roman period. You will see the foundations of the Royal Palace, the arsenal where weapons and stores were stocked, the Temple of Trajan, the Temple of Athena, the majestic theatre with its tiered seating built into the south slope of the acropolis, the Temple of Dionysus and the remains of the great library, the biggest in Asia minor, second only to the famous library in Alexandria. Ancient authors tell us that at one time Pergamon library contained 200.000 volumes. Mark Anthony had them taken over to Egypt as a gift for Cleopatra to replace the books that had been lost when the Alexandrian Library was burned down during Caesar's campaign.
After this visit you will board the coach for a short trip to Asklépéion, a site of thermal baths & pilgrimage which attracted visitors from all over the Empire.
You will follow the same route as that taken by the pilgrims and discover ruins that date back from the Roman period and the Emperor Hadrian. The name Asklépéion derives from Asklépios, the Greek god of medicine. This place of pilgrimage included a school of medicine, a philosophical centre a temple and even a theatre.
By coach and on foot – the drive to Pergamon is approx. 30mins
Minimum 12 participants, no maximum
Duration: 4 hrs 30
Euro 65
Myrina, Greece
According to the poet Hesiod, Zeus, the King of the Gods, threw Hephaestus (the Greek equivalent of the Roman God of Fire, Vulcan) off Mount Olympus, because he had come to the aid of his Mother Hera, who had incurred Zeus's wrath. Hephaestus fell for some time before landing on the island of Limnos, and the fall left him with a permanent limp. The story does not say whether he was restored to health by drinking the excellent red and white wines that are produced on the island, but they may well have helped to reconcile him to his fate! The town of Myrina is dominated by the white ramparts of the Kastro, built in 1186, and even earlier ruins (some of the most ancient in Greece) are located in nearby Poliohni.
The time machine tour: Poliochni Kotsinas & Moudros

The tour begins with a drive to Poliochni on the East coast of Lemnos, the site of the island's most significant archaeological discoveries. In 1930 a group of Italian archaeologists discovered no less than seven different layers of civilisation here, one on top of the other. Poliochni is considered to be one of the largest urban centres of the Early Bronze Age and the very first city in Europe with a basic social and civic structure. The Neolithic town predates the Egyptian dynasties, the Minoan Kingdoms of Crete and even the earliest level of Troy.
The next stop is Kotsinas, a small village situated on the north coast of Lemnos which, in the Middle Ages, was an important commercial port belonging to Hephaistia (the capital of the island from the 8th to 6th centuries BC). The seafront is lined with tavernas and on a hilltop overlooking the village the church of Zoodochos Pigi (The Life-Giving Spring) watches over the inhabitants and the Statue of Maroula, the legendary heroine of Lemnos who forced Turkish invaders to flee the island in 1478, bears witness to their proud spirit.
Following your visit to Polochni you will board your coach and head for Moudros, the second biggest town of the island and the first capital of Lemnos. There you will have some free time for a stroll along the seafront before returning back to your port.
Please wear comfortable walking shoes as the ground is uneven at Poliochni. Visits may take place in a different order
In Poliochni cameras (non-professional) and video-cameras can be used. There are 50 steps to climb if you wish to visit the church.

By air-conditioned coach
Minimum 20 participants, maximum 60
Duration: 3hrs
Euro 45
Skiathos, Greece
Boat & Beach tour
Skiathos is part of the Sporades archipelago. Its pine clad hills, coves and beaches lapped by a cobalt blue sea, make this fashionable Aegean island a place of great natural beauty. Skiathos town boasts a pretty harbour, filled with graceful yachts, and its narrow streets and sunlit waterfront are crowded with bars, restaurants and boutiques. In and around the walled town of Skiathos are many monasteries dating from the 17th to the 19th century.
Leaving the port of Skiathos behind us, we will sail along the Eastern coast to reach our first stop – Lalaria beach situated on the northern part of the island and accessible only by boat. It is covered with grey pebbles and is famous for its crystal clear water and a huge arched rock forming a natural bridge between the beach and the sea.
After some leisure time on Lalaria we will get back on board and visit another beach, not too far away, called Castro. Above the beach you can see the remains of the old medieval city of Skiathos (1100-1600) which was once the island's capital.
You can either spend your time relaxing on the beach and swimming or take a walk uphill and explore the old town (15 minutes' walk) admiring the frescoes in the small Byzantine churches and soaking up the unique medieval atmosphere. If you climb to the summit you will be rewarded by breath-taking scenic views from the castle with the opportunity to take some wonderful photos.
From Castro beach we return to the port.
Lalaria beach has no facilities (deckchairs sun umbrellas, restaurant), and pebbles instead of sand. You can take along your snorkelling equipment from the ship if you wish.
Castro beach has a stand where you can buy snacks and drinks.
There are a limited number of deck chairs and sun umbrellas (these cost extra) but they are subject to availability. In high season the beaches may be overcrowded
On the boat guests are entitled to one soft drink free of charge.
In case of adverse weather conditions and strong winds the beaches may not be accessible in which case with no prior notice these stops will be replaced by visits to Tsougria and Vromolimnos.

By boat
Minimum 30 participants, maximum 70
Duration: 4hrs 30
Euro 55
Skopelos, Greece
Skopelos is the largest of the Sporades islands and the capital of the archipelago. Its wealth is derived principally from the fine locally produced wine. The "chora" or main town of Skopelos is considered by many to be one of the prettiest harbourside towns in the Greek islands: the houses are built in tiers ascending the hillside and the port is lined with mulberry and plane trees.
Most of the town's tavernas and cafés are located on the waterfront; relax and enjoy traditional Greek refreshment as you watch the world go by. It is fun to wander down narrow cobblestone streets, discovering hidden courtyards filled with flowers and Byzantine churches, or just browse around the small craft shops and boutiques.
Mamma Mia – Highlights tour
The minibus will be waiting for you at the port, ready to set off for Kastri on the northern part of the island. Here you will see the little church of John the Baptist located at the top of 130 steps carved into the rock face. Climb to the top and you will be rewarded with stunning views of the archipelago.
This modest but picture-perfect chapel shot to fame in 2007 thanks to the box office hit Mamma Mia which was filmed in Skopelos . It was the location chosen for Sophie's wedding in the film. On the same spot, at the bottom of the rock, Donna (Meryl Streep) and Sam (Pierce Brosnan) sang "The Winner Takes it All".
The tour continues to Kastani Beach, one of the best on Skopelos. The beach was the location of the beach bar and jetty featured in the film. It was here that Tanya sings "Does your Mother know" and Sophie and Sky sing "Lay All your Love on Me" . The hit song "I have a dream" was also performed here.
You will not see Donna's bar nor the jetty, as these were constructed for the film and taken down afterwards. However, there is a nice beach bar and you can have a drink or go for a short swim.
On the way back to the port, there will be a short stop at Agnondas beach, and from there you will just glimpse the fantastic
peninsula of Amarandos with the three trees.
Once you are back in Skopelos, you can enjoy time at leisure strolling around or shopping before returning on board.
The drive to Agios Ioannis church takes approx. one hour There are 130 steps up to the church
You will spent one hour on site.
Kastani beach is a 30 minute drive (changing facilities are available)

By air-conditioned minibus
Minimum 15 participants, maximum 50
Duration: 4 hrs 15
Euro 40
Poros, Greece
It is barely a hop, skip and a jump from the Argolid Peninsula to the island of Poros. The island is home to the Greek Naval Academy and in the morning visitors can enjoy the cadet's marching band. The views from the temple of Poseidon are hauntingly beautiful which may explain why the doomed orator Demosthenes chose to end his life here.
Epidaurus
Transfer by ship's tender to the port of Galatas on the Argolid Peninsula. Here you will meet your guide and board the coach for the short drive to Epidaurus. Epidaurus was the site of a shrine devoted to Aesculapaius, the Greek God of Medicine. Patients would flock to the sanctuary seeking a cure for their ailments and Aesculapius would either effect a cure during their sleep or appear in a dream to the priests who would then treat the patient according to his instructions.
Apart from praying to be restored to health, Patients could indulge in thermal baths and hydrotherapy as well as "taking in a show"!
Indeed, as soon as you arrive at the site you will walk through a beautiful grove to discover the famous theatre, one of the best preserved monuments of the ancient world. The theatre can seat 14.000 spectators and is famous for its acoustics. It is still in use today and modern visitors enjoy musical productions and performances of Greek drama there.
You will have some time to wander around, so you can test the wonderful acoustics for yourself.
The nearby museum houses fragments from the Asclepeion sanctuary.
The drive to Epidaurus takes 45 minutes each way. You will spend 1h30 on site before returning to the ship
By air-conditioned motor coach and on foot
Minimum 20 participants, no maximum
Duration: 3hrs 30
Euro 59

Athens, Greece
Athens and the new Acropolis museum
After leaving Piraeus you will drive past the charming yacht harbour of Zea, where the foundations of the 5th century BC dock are clearly visible.
Next comes the Mikrolimanon waterfront, lined with tempting al fresco fish restaurants. From here it is but a short drive to cosmopolitan Athens, where modern buildings cohabit with ancient monuments. You will pass the Temple of Zeus, the Panathenaic Stadium, the Parliament at Syntagma Square (Constitution Square), the National Academy, the University, the Library and Hadrian's Arch, before arriving at the New Acropolis Museum located 300m south east of the Rock of the Acropolis.
The museum was designed by Bernard Tschumi and was opened to the public in 2009. It has a surface area of 14.000 m2 and houses nearly 4000 exhibits displayed on three levels. You will see findings from the Acropolis archaeological site as well as artefacts from the Greek Bronze age right through to Roman and Byzantine Greece. For those passengers staying in Athens, the tour ends in the city centre, while the rest of the passengers will be transferred to the airport.
The tour will end at Syntagma Square in Athens . The guide will then leave the tour and the coach will drive on to the airport arriving around 13h00/13h30.
A minimum of 6 guests is required for the tour to continue to the airport.
The duration of the tour depends on the traffic situation. If the traffic is fluid, arrival at the airport will be somewhat earlier You will spend about 2 hours in the museum
The use of cameras and video cameras is free of charge, but flash photography is forbidden in the museum.
By air-conditioned coach
Minimum 10 participants, no maximum
Duration: 5 hrs, ending at the airport
Euro 89
Gallery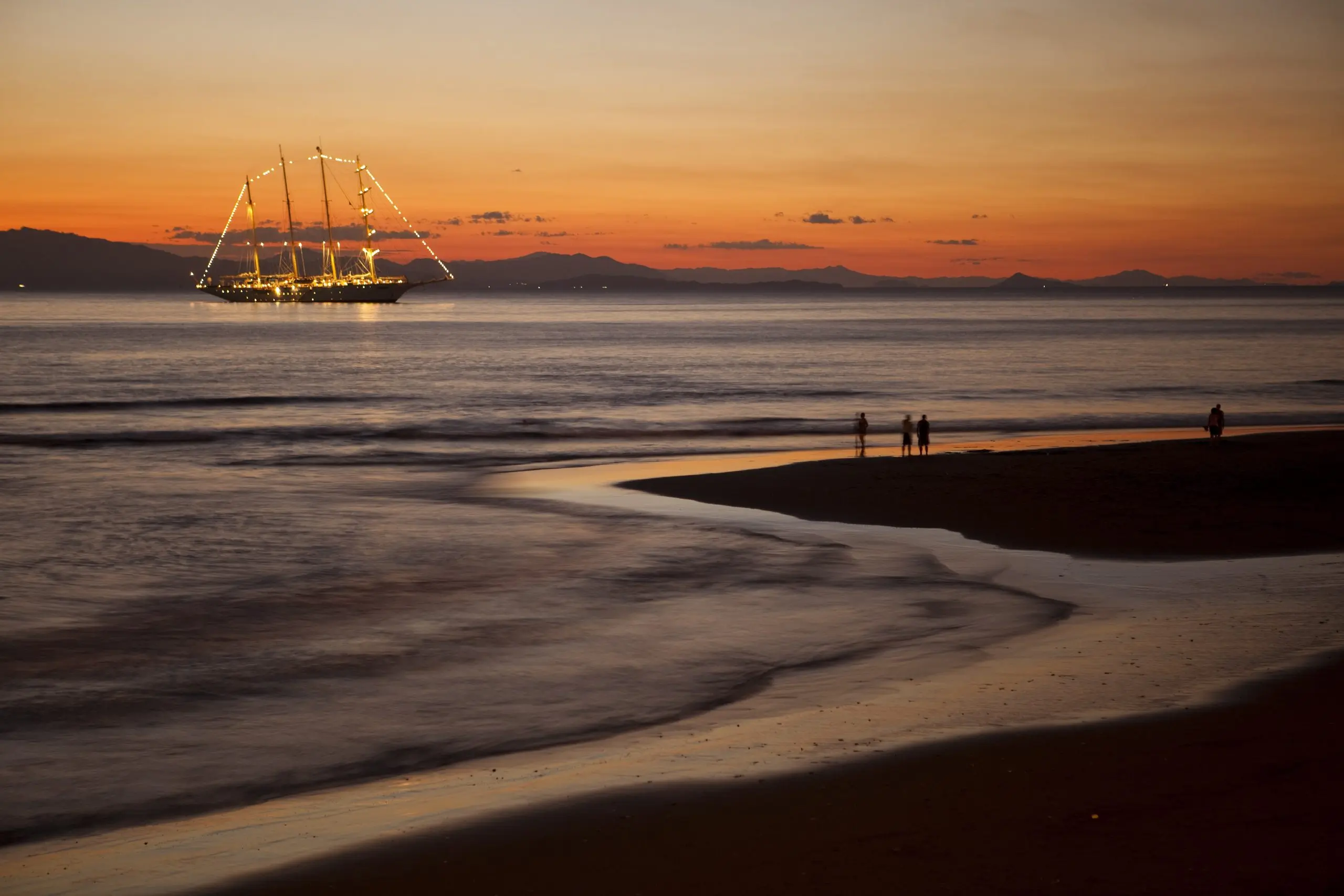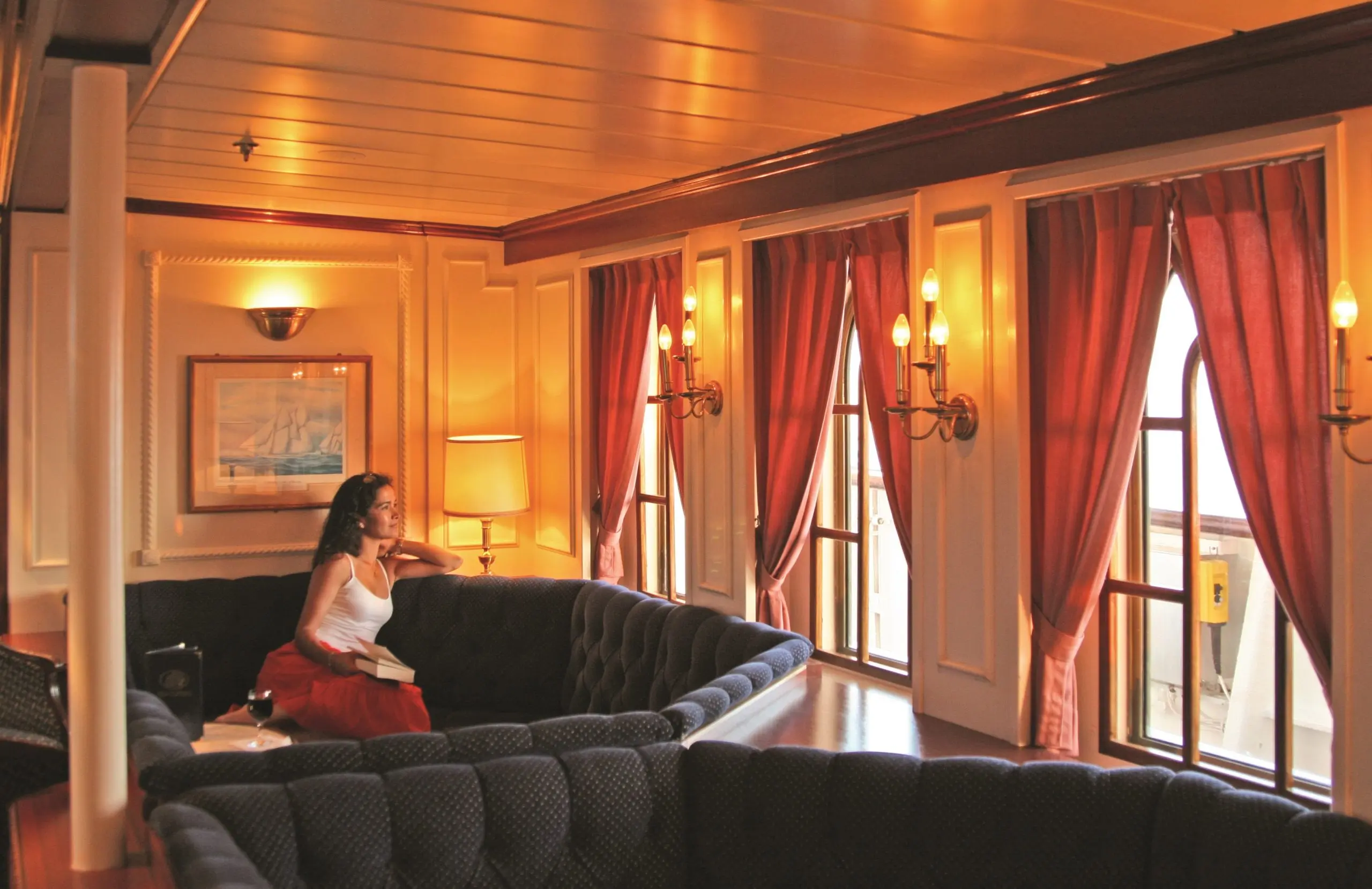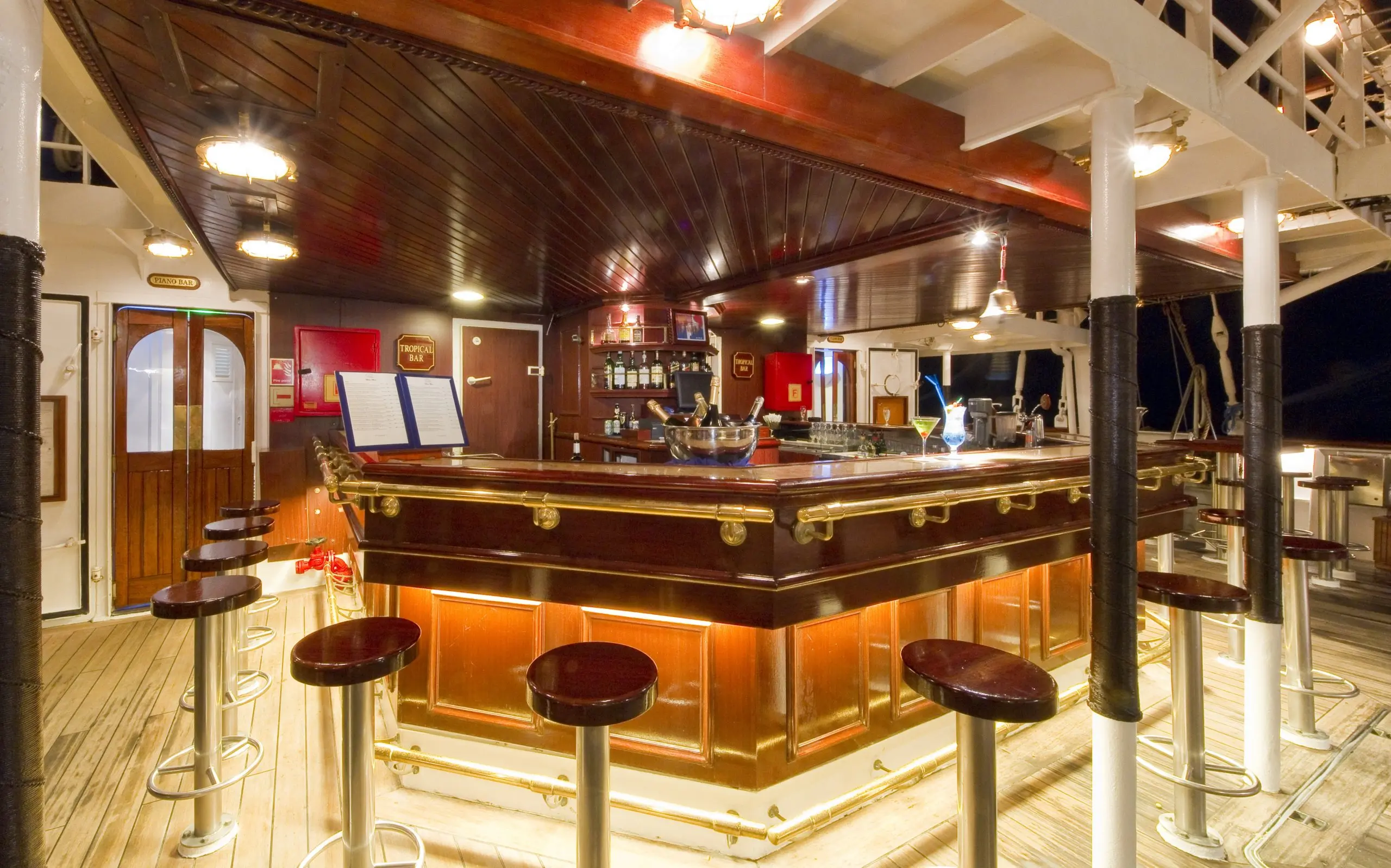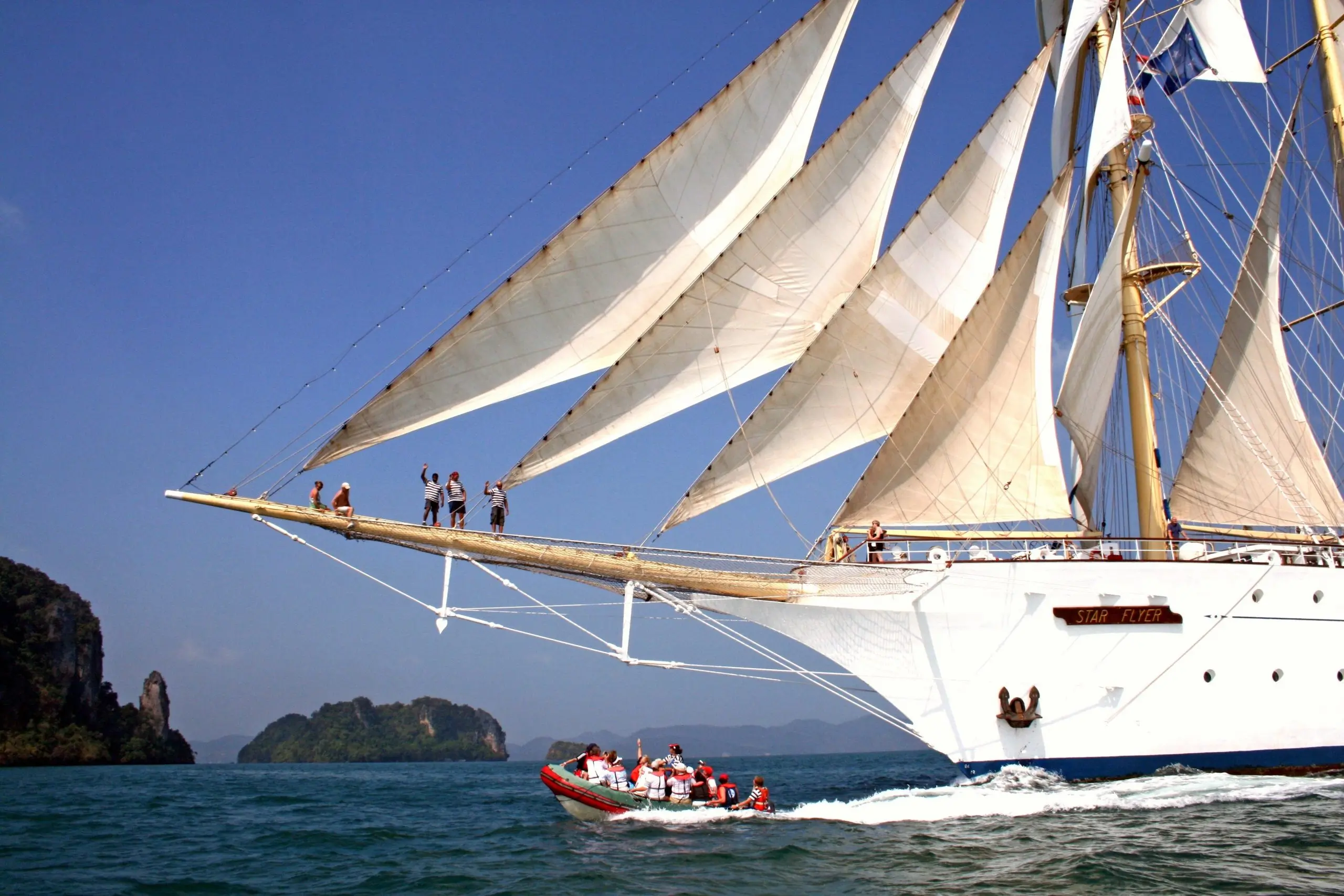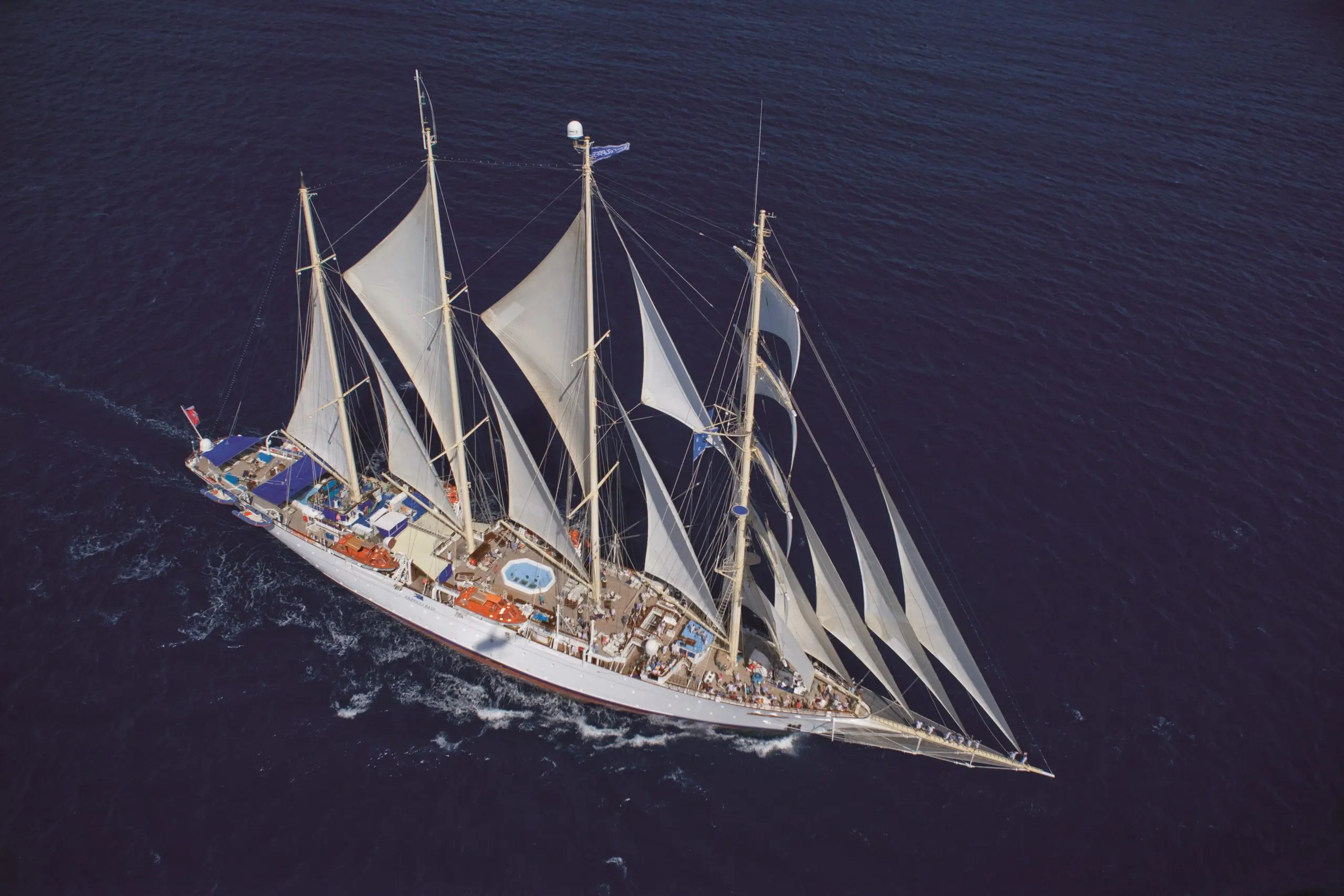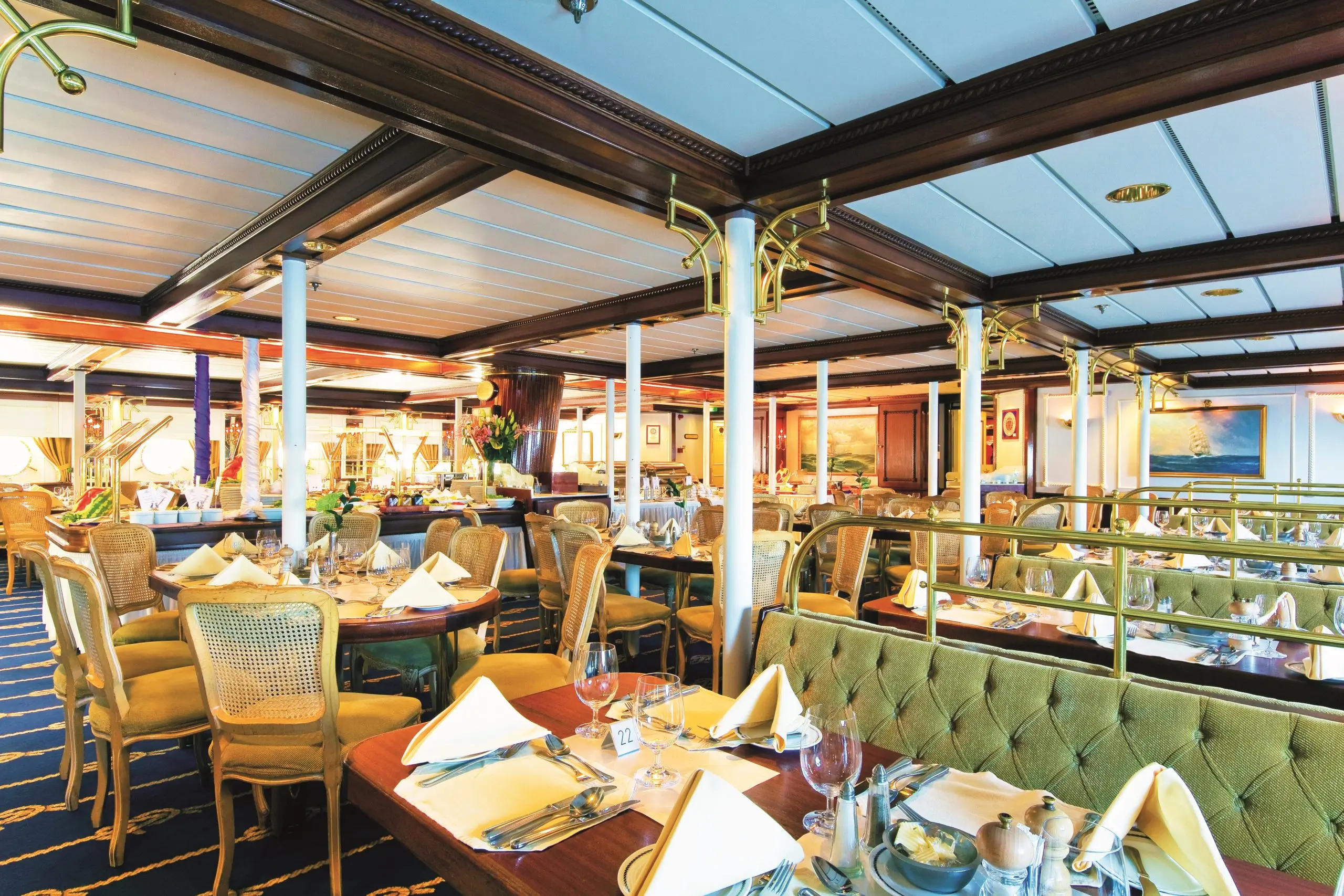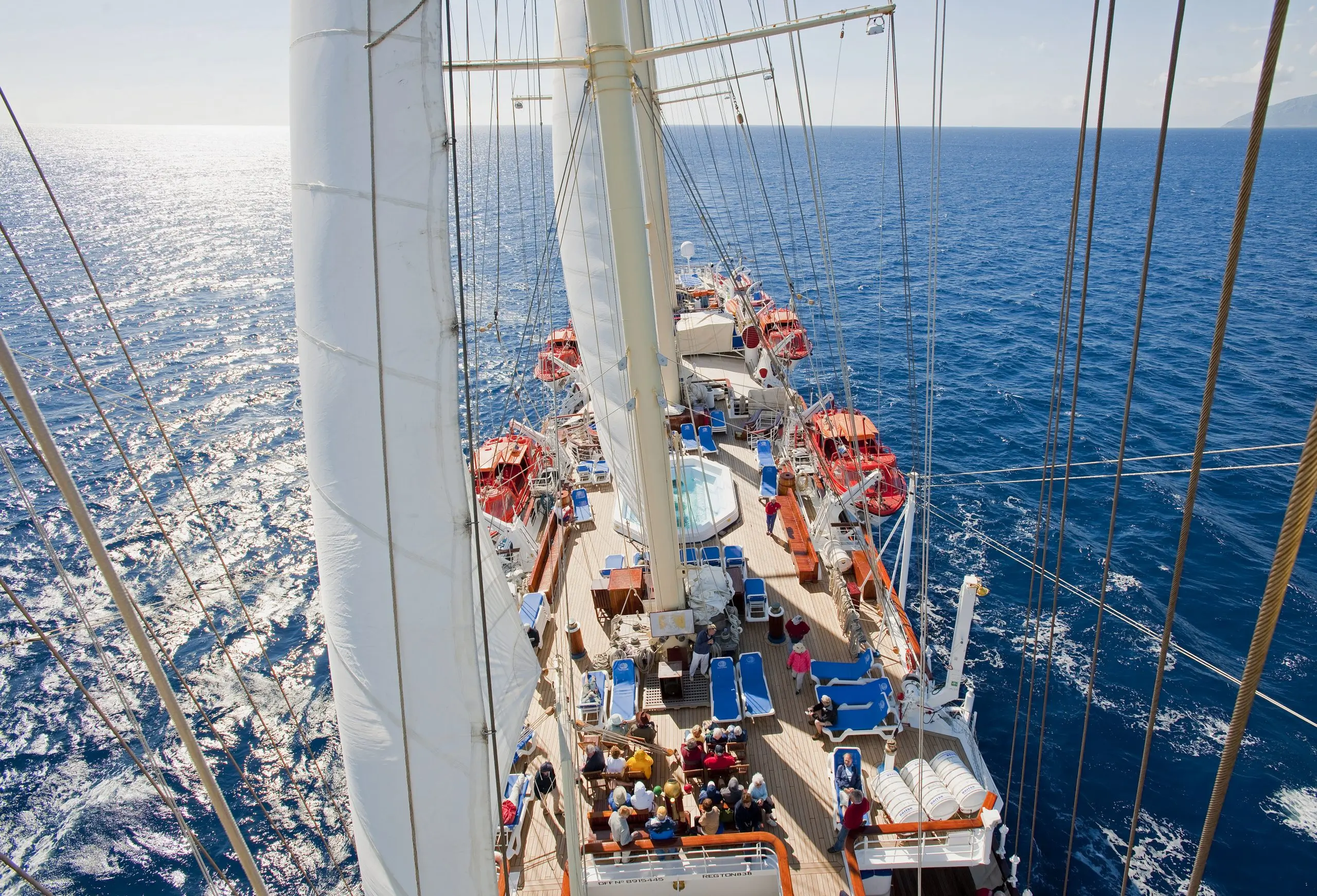 Another fabulous river cruise organised by Harmony Voyages with entertainment from Show of Hands, Broom Bezzums and Flossie Malavialle. Everything was perfect - the accommodation on board, the friendly and attentive crew, the cordon bleu food and of course the live music. Can't wait for the next one!

Booked a Folk Music river cruise along the Danube (Bucharest to Budapest), with 2 nights' stay at both cities either side of the cruise. The attention to detail for preferred flight bookings and hotels, along with transfer arrangements, were marvellous. And the river cruise? FANTASTIC! Lovely ship, food and drinks, and on-board staff. Excellent range of excursions to suit various interests and abilities along the lovely river journey. And to top it all, we were entertained by the amazing Show of Hands, Flossie, and Broom Bezzums! What could be better

We have been on a number of river cruises and folk festivals with you. Andy and Angela, and their team, have always provided a first class, personal, and professional service and are always on hand to answer any queries or resolve any issues promptly and effectively. They are always striving to improve their customer service altering things where necessary. We have no doubt that 'Harmony Voyages' will be a big success and would have no hesitation in giving our highest recommendation.

So well organised, value for money. Unbelievable service. Would definitely book again

Good music, good company, good food, and good ships - what's not to like? Oh, and the organisation is very good as well and that's very important. My trips so far have not been the cheapest but they have been excellent - they wonderfully illustrate why value-for-money is so much better than cheap. Roll on the next one!