DANUBE RIVER CRUISE 2024
WITH SPECIAL GUESTS FAIRPORT CONVENTION, ANNA RYDER
& ANTHONY JOHN CLARKE
29 JUNE - 6 JULY 2024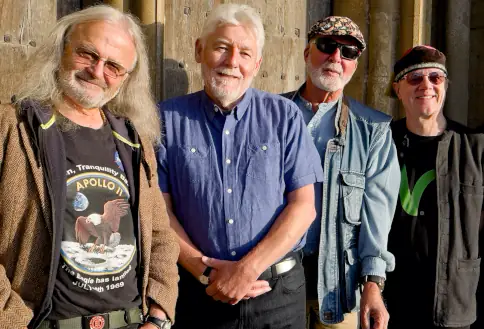 We are delighted that, following their hugely successful Rhine Cruise in June 2022 and Rhone Cruise in 2023, the legends that are Fairport Convention will be hosting another week of fun and frivolity whilst cruising on the 2nd longest river in Europe, the Danube.
There will be magnificent music from the band, mirth and merriment from Ric and maybe even a dazzling display of magic and mystery from Chris as we take in the spectacular scenery along the Danube.
Joining Fairport on board will be Multi-instrumentalist musical dynamo and inventive singer-songwriter Anna Ryder who will entertain you with her thought-provoking poignant and humorous songs.
Also, we are delighted to welcome back Irish born Singer songwriter, all round entertainer, acoustic guitar, feel good comedian Anthony John Clarke to entertain you with his wit and candour through his complex songs and honest story telling.
This Danube river cruise begins with an overnight in the "Queen of the Danube" — the Hungarian capital city of Budapest, which straddles the river with its hilly 'Buda' featuring Fisherman's Bastion & castle district over to the flat 'Pest' side with its iconic Parliament building, to the "Three Rivers City" of Passau at the confluence of the Inn, Ilz and Danube rivers.
Along the way travel through four of Europe's most important countries — Hungary, Slovakia, Austria & Germany. Explore years of history and culture in the Imperial cities of Budapest, Vienna & Bratislava as well as the UNESCO protected Austrian Wachau Valley — blanketed with rolling hills, flourishing vineyards and picturesque villages. Experience the beauty along the Danube River.
With a maximum of only 150 guests on board, you really don't want to miss out on this very special experience.
7 night cruise onboard MS Amadeus Silver III
Large, outside river-view staterooms, most with French balconies or walk-out balconies
Free-flowing red & white wines from Europe's famous wine regions, beer & soft drinks
with every lunch and dinner onboard
Gourmet dining onboard 
Cocktail Reception, Welcome Dinner and Captain's Gala Dinner
Services of your onboard Harmony Voyages Tour Manager and an experienced English-speaking Cruise Director
24 hour coffee station​
Concerts in the lounge after dinner
Bottled water in every stateroom 
In-stateroom infotainment center
Complimentary Wi-Fi onboard
Complimentary use of onboard bicycles
Complimentary state-of-the-art audio headsets for optional excursions
All local taxes & port charges
Optional coach and rail package (see below for details)
AMADEUS SILVER III
A trip on board the elegant AMADEUS Silver III combines the luxuries of a 5-star hotel with innovative design and the first-class service of our crew, who will attend to your every wish.
It has 12 luxurious suites with walk-out balconies, while the majority of the cabins have automatically lowerable panorama windows, offering a spectacular view of the passing river landscapes. In order to make your stay on board as comfortable as possible, all cabins have a modern bathroom and a walk-in closet.
The glass-shielded River Terrace invites you to relax outdoors, while offering a breathtaking view of your surroundings. Enjoy the highest standards of cuisine aboard the AMADEUS Silver III in the stylish Panorama Restaurant, which offers sufficient room for all passengers at one sitting, and where our kitchen crew will ensure that you are spoilt beyond your expectations. Coffee-lovers will enjoy the on-board Café Vienna, which offers a wide variety of authentic Viennese coffee-time specialties.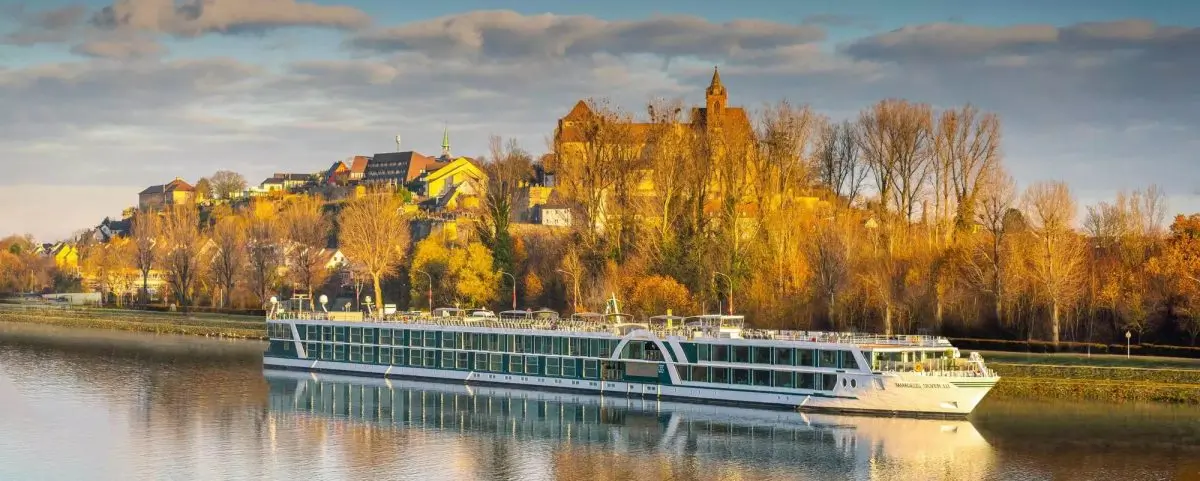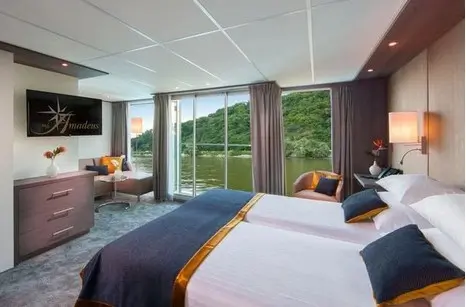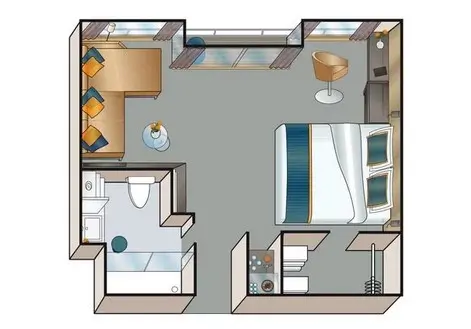 AMADEUS Suite (284.2ft²) with walk-out exterior balcony:
Comfortable corner sofa, luxurious bathroom, walk-out exterior balcony, mini-bar, walk-in wardrobe, choice of bed configuration (double or twin bed), flat-screen television, individual climate control, en-suite bathroom with shower/WC, bathrobe, hair dryer, direct dial telephone and in-room safe.
Mozart Deck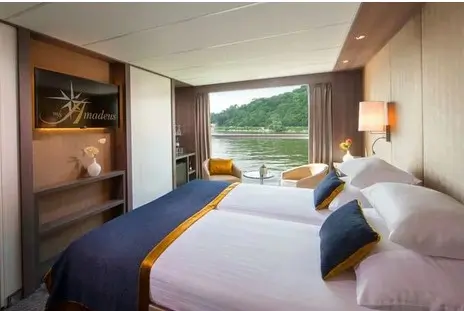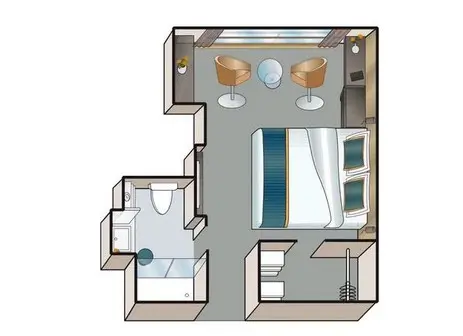 Cabin A-1 (188.4ft²) with drop-down panoramic window:
Spacious bathroom, drop-down panoramic window, mini-bar, walk-in wardrobe, choice of bed configuration (double or twin bed), flat-screen television, individual climate control, en-suite bathroom with shower/WC, hair dryer, direct dial telephone and in-room safe.
Mozart Deck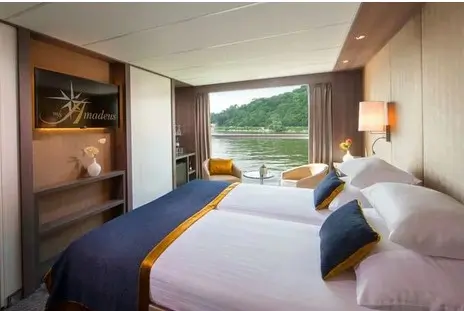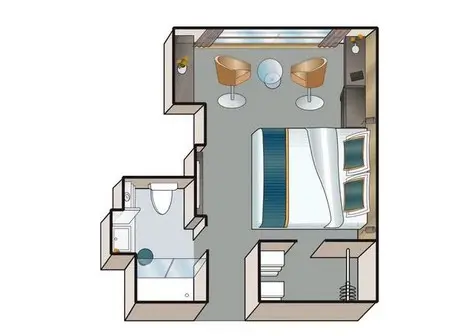 Cabin B-1 (188.4ft²) with drop-down panoramic window:
Spacious bathroom, drop-down panoramic window, mini-bar, walk-in wardrobe, choice of bed configuration (double or twin bed), flat-screen television, individual climate control, en-suite bathroom with shower/WC, hair dryer, direct dial telephone and in-room safe.
Strauss Deck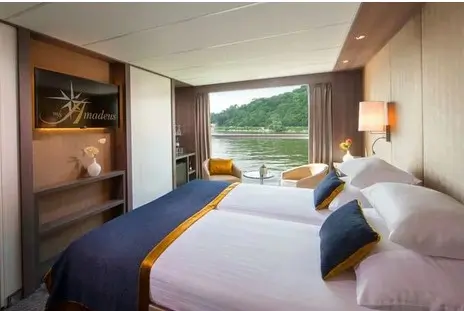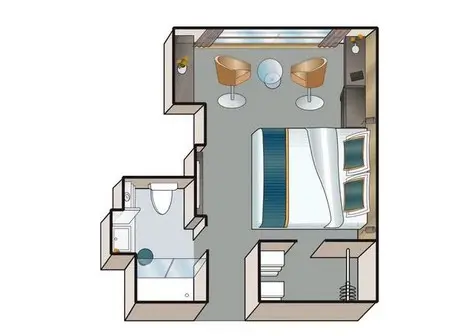 Cabin B-4 (17.5m²) with drop-down panoramic window
Spacious bathroom, drop-down panoramic window, mini-bar, walk-in wardrobe, choice of bed configuration (double or twin bed), flat-screen television, individual climate control, en-suite bathroom with shower/WC, hair dryer, direct dial telephone and in-room safe.
Strauss Deck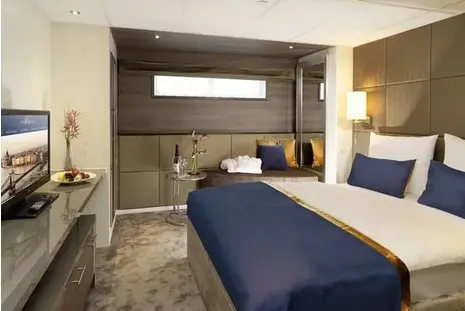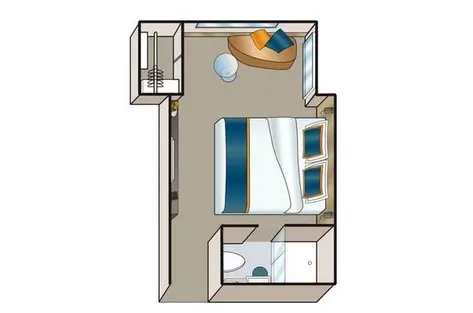 Cabin C-1 (172.2ft²) with panoramic window:
Spacious bathroom, small panoramic window (cannot be opened), spacious wardrobe, choice of bed configuration (double or twin bed), flat-screen television, individual climate control, en-suite bathroom with shower/WC, hair dryer, direct dial telephone and in-room safe. Cabins with connecting doors are available on request.
Haydn Deck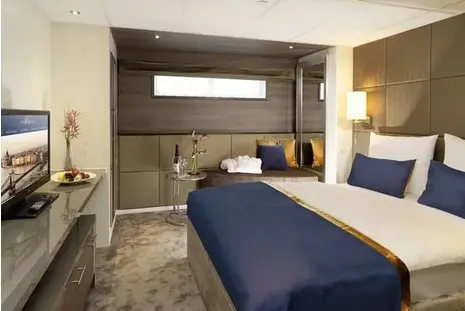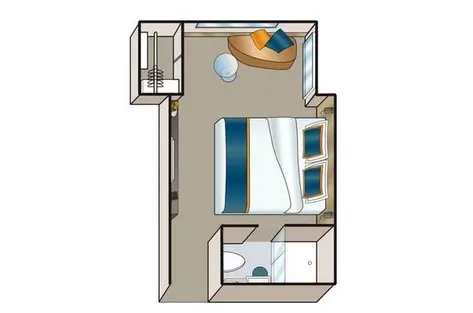 Cabin C-4 (16m²) with panoramic window
Spacious bathroom, small panoramic window (cannot be opened), spacious wardrobe, choice of bed configuration (double or twin bed), flat-screen television, individual climate control, en-suite bathroom with shower/WC, hair dryer, direct dial telephone and in-room safe. Cabins with connecting doors are available on request.
Haydn Deck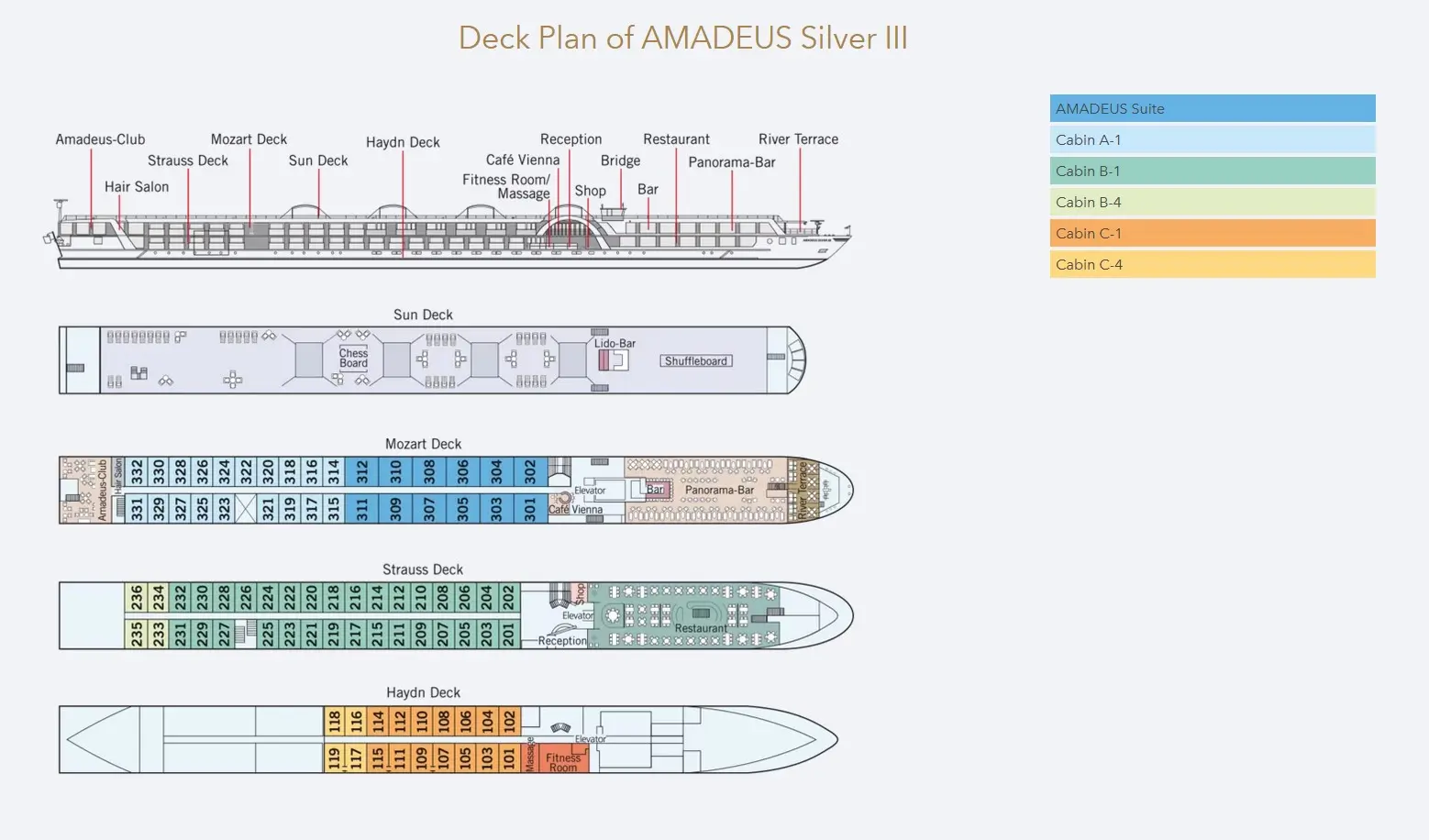 There will be five nights of live music after dinner in the lounge. Full programme to be confirmed.
29 June 2024 - BUDAPEST

Welcome to your Danube cruise! Your journey begins in Budapest, with an afternoon embarkation. This evening, join us for a Welcome Cocktail, followed by a specially-prepared Welcome Dinner. A romantic evening cruise through beautifully illuminated Budapest, as well as a Hungarian folklore show, make for a perfect beginning!
The ship will stay in Budapest over night

30 June 2024 - BUDAPEST>ESZTERGOM

Discover the beautiful sights and attractions of the Hungarian capital. This morning, explore the city which straddles the beautiful Danube, with its Fisherman's Bastion on the Buda side, overlooking the river, and the Pest side with its grand, Neo Gothic style Parliament House.
Depart from Budapest after lunch by coach on an optional excursion to the Hungarian countryside to explore the artists' town of Szentendre, and the former imperial residence and capital of Hungary, Esztergom. Should you choose to remain on board, enjoy an afternoon relaxing on deck as the vessel cruises through the Hungarian landscape, before arriving in Esztergom for dinner, where your fellow passengers rejoin the vessel.
Excursions (optional):
City Tour Of Budapest 08:00 - 11:30

Departure Budapest 1:30pm

Relax onboard as we make our way to Esztergom
Arrive Esztergom 6:30pm
Depart Esztergom 8:00pm
Excursions (optional):
Excursion to Esxtergom and Szentendre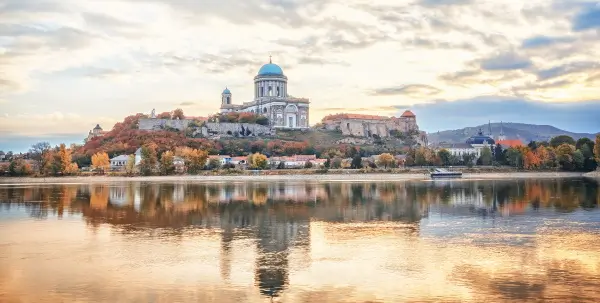 Excursion to Esxtergom and Szentendre
Esztergom, the former residence of the Hungarian kings and seat of the archbishop, is one of the highlights of this excursion. Your tour starts with a visit to the impressive, vast domed basilica, the largest cathedral in Hungary. Built in the early 19th century, it incorporates an ornate red marble chapel from an earlier church. After visiting the cathedral, the excursion continues along the Danube to the imposing ruined fortress of Visegrad where you have a glorious view of the "knee" of the Danube. Drive along the riverbank to the artists' village of Szentendre. The town has been the home of many generations of Hungarian artists since the early 20th century. There are many museums and contemporary galleries representing the rich traditions of the visual arts. One of the most visited museums of the whole country, the Margit Kovács Museum, is also located here. Foetér, the main square, is particularly well worth seeing, as it is surrounded by impressive buildings from the time of the Rococo and the Baroque. From Szentendre you continue south to Budapest along the scenic west bank of the Danube. The towns and villages along this stretch of the river are a popular retreat for the inhabitants of Budapest.
Duration: approx. 5 hours
Walking grade: LEVEL 4: Moderate walking tour. You may need to climb some stairs.
13:30 - 18:30

1 July 2024 - BRATISLAVA

In the morning, we call at our next capital city ̶ Bratislava. Explore the city during a walking tour, or on your own. See the home of the Slovak Philharmonic Orchestra, the old city walls, the summer residence of the archbishop and the current residence of the president of Slovakia.
This afternoon's optional excursions offer a choice – first, the opportunity to visit impressive Schloss Hof with its aristocratic palace, terraced garden and tranquil estate farm. The palace was acquired in 1726 by Eugene of Savoy and redesigned for the Empress Maria Theresia. Wine lovers will want to explore the wine country of Slovakia in the foothills of the Carpathian mountains, on the Small Carpathian wine route. Enjoy dinner on board before the vessel departs from Slovakia late this evening and crosses into Austria.
Arrive Bratislava 8:00am
Excursions (optional):
City tour of Bratislava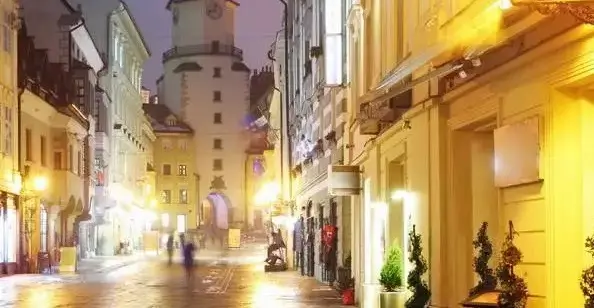 City tour of Bratislava
Get to know the capital of the young Slovakian Republic. The gorgeous old town has maintained its Gothic-Baroque style. The tour passes St. Martin's Cathedral and the Grassalkovich Palace and continues up to the hill above the old town, where you will have a stunning, panoramic view of the city and surrounding areas. Afterwards, a guided walking tour leads you through the restored old town. From Michael's Gate you will take a leisurely stroll through the historic city center, where you can admire sights such as the Primatial Palace and St. Martin's Cathedral, a former coronation cathedral for Hungarian kings, as well as the Academia Istropolitana, the oldest university of the city, which dates back to the 15th century. In addition to numerous palaces, you will also see the main square with the old City Hall, the Opera House and Maximilian Fountain.
Duration: approx. 3 hours
Walking grade: LEVEL 2: The excursion by bus is followed by a moderate walking tour. You may need to climb some stairs.
08:30 - 11:30
Depart Bratislava 11:00pm


2 July 2024 - VIENNA
There is much to see in Imperial Vienna: Palaces, a Museum Quarter displaying works by artists Egon Schiele and Gustav Klimt, the historic buildings along the Ringstrasse, St. Stephen's Cathedral and the famous Vienna State Opera among others.
This afternoon, choose to venture to Schönbrunn Palace, the sumptuous summer palace and gardens of Empress Maria Theresia and the Habsburg Empire. This evening take the chance to attend the "Sound of Vienna" and listen to the "Alt Wien" orchestra play popular pieces from Vienna's classical era ̶ a perfect end to your Vienna experience, before the vessel departs.
Arrive Vienna 7:00am 
Excursions (optional):
City tour of Vienna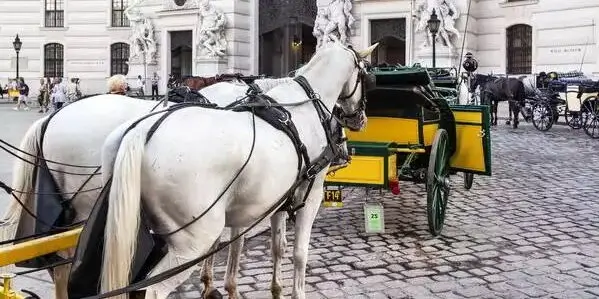 City tour of Vienna
In previous centuries, Vienna was the imperial capital and residence of the Habsburg family and developed into a cultural and political centre of Europe, during this period. While it may take days or weeks to fully discover Vienna, this tour will introduce you to the most important sights Vienna has to offer. Begin with a panoramic drive along the famous Ringstrasse, passing several magnificent buildings like the stunning opera house, the parliament, the Court Theatre and Vienna's imposing city hall. Continue with a guided walk through the city center. Begin at the well-known Hofburg Imperial Palace, walk along the Kohl market and finish at Vienna's iconic St. Stephen's cathedral. Before returning to the ship, enjoy free time to explore the pedestrian area.
Duration: approx. 3.5 hours
Walking grade: LEVEL 2: The excursion is by bus, followed by a moderate walking tour.
08:15 - 11:45
Guided tour of the Schönbrunn Palace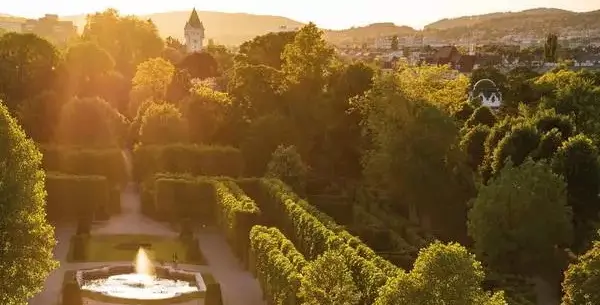 Guided tour of the Schönbrunn Palace
Travel by coach to one of the most beautiful sights of Vienna - Schönbrunn Palace and its gardens - declared a UNESCO World Cultural Heritage site. The reign of Maria Theresia signified the most splendid era for Schönbrunn. The castle and park were the centre of court and political life. Under the personal guidance of the Empress, it was remodelled and expanded to become a royal residence; a complex with a total of 1,441 rooms and halls was created. Visit many of the ceremonial rooms and walk around the beautifully designed gardens.
Duration: approx. 3.5 hours
Walking grade: LEVEL 2: The excursion is by bus, followed by a moderate walking tour.
14:00 - 17:30
Sound of Vienna Classical Concert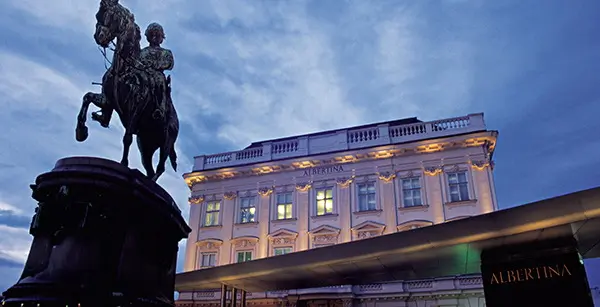 Sound of Vienna Classical Concert
In the very place where Johann Strauss himself once directed his orchestra from his position as first violin, the true essence of Vienna's classical music can once again be heard daily. The "Salonorchester Alt Wien", one of the best-known interpreters of classical Viennese music, presents an evening full of Viennese charm with the lilting sound of waltzes, polkas, arias and duets, as well as operetta and piano concerto melodies. Accompanied by excellent opera vocalists and our enchanting ballet soloists, Vienna's classical music reveals itself as a living firework display for all the senses.
Duration: approx. 3 hours
Walking grade: Minimal walking
19:15 - 22.30

Depart Vienna 11:59pm

3 July 2024 - DURNSTEIN>EMMERSDORF

The romantic Wachau Valley is one of the most beautiful landscapes of Austria. In the morning your AMADEUS ship docks in Dürnstein, with its picturesque blue medieval abbey on the edge of the Danube river. Wander through this quaint village or join a walking tour featuring a visit to the Dürnstein Abbey.
Alternatively, if you wish to explore the wines of the Wachau, a visit to the Krems winery estate to learn about the history and enjoy a tasting is a must. During lunch on board, your cruise continues to Emmersdorf. Spend the afternoon discovering this typical small town in Lower Austria or opt to travel across the river to nearby Melk and its magnificent Benedictine abbey ̶ the largest in Austria. In the evening, your ship leaves the Wachau and heads for Linz.
Arrive Duernstein 8:00am
Excursions (optional):
Durnstein walking tour with visit to Durnstein Abbey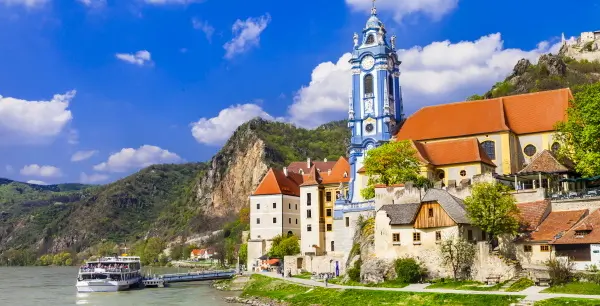 Dürnstein walking tour with visit to Durnstein Abbey
Dürnstein is one of the most beautifully situated towns in the Wachau River Valley, nestled along the side of the Danube River amongst the many terraced vineyards. Your walking tour offers views of breath-taking scenery, traditional architecture and historic sights. Explore the picturesque old town, the city walls, the Prager Platz with a beautiful view of the castle ruins high above, where King Richard I was held captive by Leopold V, Duke of Austria after a dispute during the Third Crusade. Walk along the Clarissan Monastery to the Baroque Canons' Abbey, which was founded in 1410 and rebuilt in the baroque style in 1710. Enter through the monastery portal and discover the beautiful baroque courtyard as you explore the abbey. A highlight is the stunning view from the Danube terrace underneath the iconic blue tower visible from the Danube.
Duration: approx. 2 hours
Walking grade: 4 - Moderate walking tour. You may need to climb some stairs.
08:30 - 11:00
Depart Durnstein 12:00pm

Arrive Emmersdorf 3:00pm

Excursions (optional):
Excursion to Melk Abbey
Excursion to Melk Abbey
Melk Abbey is an Austrian Benedictine abbey and one of the world's most famous monastic sites. The impressive Baroque abbey was built between 1702 and 1736 and is the biggest monastery complex of the Austrian Baroque period. The abbey's church, with frescos by Johann Michael Rottmayr, and the impressive library with countless medieval manuscripts and frescos by Paul Troger are particularly noteworthy. A guided tour takes you through the abbot's chambers, along the imperator's walk, through the marble hall, the balconies and the library.
Duration: approx. 2 hours
Walking grade: 3 - The excursion by bus is followed by a longer walk. You may need to climb some stairs
15.30 - 17:30
Depart Emmersdorf 7:00pm

4 July 2024 - LINZ>ACHACH>PASSAU
Arrive in the erstwhile cultural capital of Linz, where your vessel makes a short stop for the departure of today's excursions ̶ the walking tour of Linz with a scenic drive to Aschach to rejoin the vessel for lunch, or a full day tour to the Mozart town of Salzburg with lunch at a local restaurant.
Late in the afternoon, the vessel arrives at the confluence of the Danube, the Inn and the Ilz Rivers, in the three-rivers city of Passau, which you can explore on a commented walking tour. This evening, celebrate at the Captain's Gala Dinner with multi-courses of regional specialties.
Excursions (optional):
Full-day excursion to Salzburg with Salzkammergut and Lunch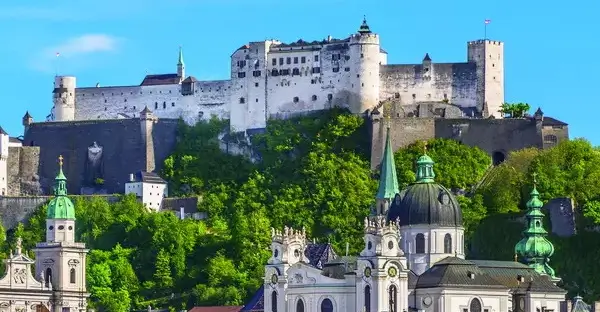 Full-day excursion to Salzburg with Salzkammergut and Lunch
A two-hour coach ride will bring you to Salzburg — the city of music. The old town with its world-famous Baroque architecture is one of the best-preserved city centres north of the Alps. It was adopted by UNESCO in 1997 and is included on its list of World Cultural Heritage Sites. During the guided tour through the old town you will see the birth house of Mozart (exterior only), as well as other well-known attractions, such as the 'Getreidegasse' and the gorgeous cathedral of the town and the area of the Salzburg festival. After enjoying an included lunch, head to the picturesque village of Mondsee, best known as a film location for the famous movie "The Sound of Music". Enjoy the beautiful scenery as you return to the ship.
Duration: approx. 9.5 hours
Walking grade: 3 - The excursion by bus is followed by a longer walk. You may need to climb several stairs.
08:30 - 18:00
Linz walking tour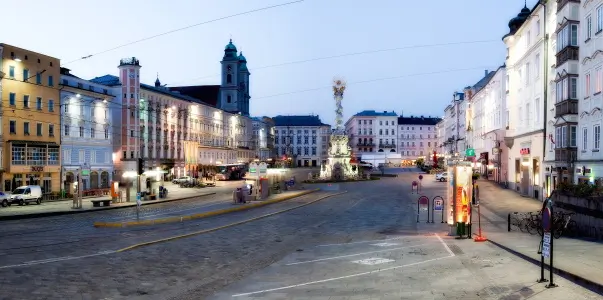 Linz walking tour
Discover the upper Austrian state capital Linz on a walking tour. It was a provincial and local government city of the Holy Roman Empire, and an important trade centre, connecting several trade routes. As the city where the Habsburg Emperor Friedrich III spent his last years, it was, for a short period of time, the most important city in the Empire. It lost its status to Vienna and Prague after the death of the Emperor in 1493. There are many things worth seeing in Linz. Take a stroll down the main street, which leads to the main square. In addition to the medieval town square in the historic old town and the Mozarthaus, you can see Baroque bourgeois family houses, the old cathedral with the Bruckner organ or the new cathedral. Visits depend on Cathedral and Mass openings/times. Visible from afar is the pilgrimage basilica on the mountain Poestling, the landmark of the town. A modern counterpart are the Lentos art museum and the Ars Electronica Center, with its striking glass facade. If time allows, explore the local bakeries for a taste of the famous Linzer Torte (Linzer Cake). Afterwards, your coach takes you to rejoin the ship in Aschach.
Duration: approx. 2 hours
Walking grade: 4 - Moderate walking tour. You may need to climb some stairs.
with Linzer Torte tasting 08:30 - 11:30
Depart Linz 8:30am
Arrive Aschach 11:00am
Excursions(optional):
Passau walking tour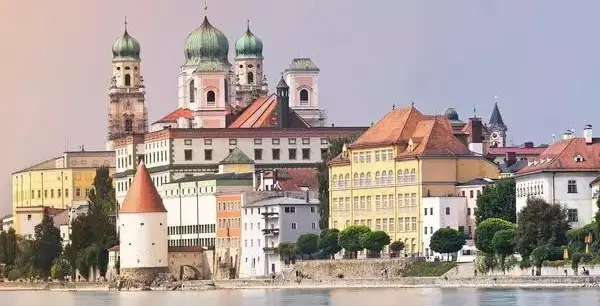 Passau walking tour
Join us on a gorgeous walk through the old city of Passau. The baroque city on three rivers has long been a magnet for traders and travellers. It will astonish you from your first moments in its winding streets. In the heart of the Old Town lies our most known site — St. Stephen's Cathedral, often known as a Baroque cathedral with a Gothic soul. The impressive pipe organ helps make St. Stephen's a true highlight of our three river city. High above the Old Town sits one of the largest fortress complexes in all Europe — the Veste Oberhaus which can be discovered on your own at the end of the walking tour. Accessible via the exterior walls, never conquered, never completely destroyed; it is a prime example of long term historical construction.
Duration: approx. 2 hours
Walking grade: 5 - Considerable walk with longer distances. This may include uneven surfaces and some stairs.
17:00 - 18.30
Depart Passau 6:30pm


5 July 2024 - REGENSBURG
After a leisurely breakfast, arrive in the Bavarian city of Regensburg, which is one of the most beautiful old towns in Germany. This UNESCO World Heritage Site boasts architecture from many centuries, reflective of its varied history. The stone bridge, built in 1135—1146 and the Cathedral of St. Peter are a few of the highlights seen on the guided walking tour.
This afternoon, offers two wonderful options – an excursion to the Danube Gorge and Weltenburg Abbey or a visit to the Thurn & Taxis Palace – both excursions offer the opportunity to sample the local brew. A traditional Bavarian dinner is served as your ship departs for Passau.
Arrive Regensburg 10:00am
Excursions (optional):
Regensburg walking tour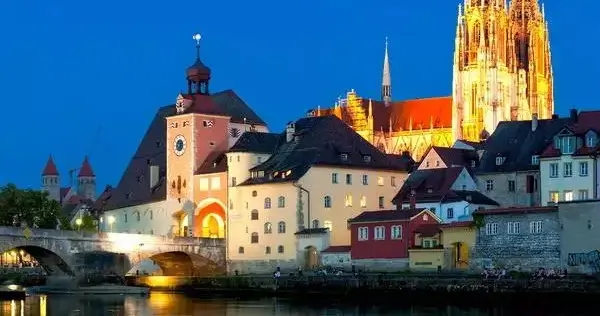 Regensburg walking tour
Regensburg is one of the best-preserved medieval cities in Germany with its impressive historic buildings. Among these architectural treasures are churches, monasteries, the town hall and one of Europe's oldest bridges that has spanned the Danube since the 12th century. During this walk you will feel the former power and wealth of this city, which once controlled the trade route to the Orient. During a short visit to the Regensburg Cathedral, dedicated to St. Peter, you can admire this masterpiece of Gothic architecture in southern Germany. (Visits depend on the opening hours and the celebration of mass).
Duration: approx. 2 hours
Walking grade: 5 - Moderate walking tour. You may need to climb some stairs
10:00 - 12:00
Excursion to Weltenburg Abbey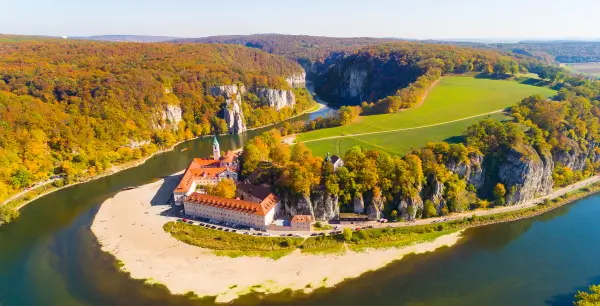 Excursion to Weltenburg Abbey
A coach brings you to Weltenburg, with a brief detour to the "Hall of Liberation", a historical, classical monument on Mount Michels¬berg, above the city of Kelheim. This impressive marble building is fashioned after the Parthenon in Athens. It towers high above the Danube and can be seen from afar. Afterwards, board an excursion boat which will take you past the former city of the Wittelsbacher Dynasty and through the nature reserve "Weltenburger Enge" to the Benedictine abbey of Weltenburg. The monastery, founded by Irish or Scottish monks in about 620 AD, is the oldest monastery in Bavaria. After a short tour of the abbey church taste the famous dark beer of Weltenburg, which is brewed here in the oldest monastery brewery in the world.
Duration: approx. 5 hours
Walking grade: 3 - The excursion by bus is followed by a longer walk. You may need to climb several stairs.
and Danube Gorge with beer tasting 13:30 - 18.30
Depart 8:00pm


6 July 2024 - PASSAU
After breakfast, we bid you farewell. We hope to welcome you again soon!
We are delighted to welcome Paul Clark and Margot Lofts on this cruise to take the watercolour art classes.
Paul Clark is a published author, professional artist, and a world renowned YouTuber with a following of 140,000+ subscribers, who has been teaching watercolour painting and drawing techniques to adult learners of all levels for over 40 years.
Margot Lofts, a watercolourist in her own right, works alongside Paul to take extra classes to provide a varied programme.
A list of equipment required is available and can be downloaded as a pdf by clicking here.
All classes suitable for all levels.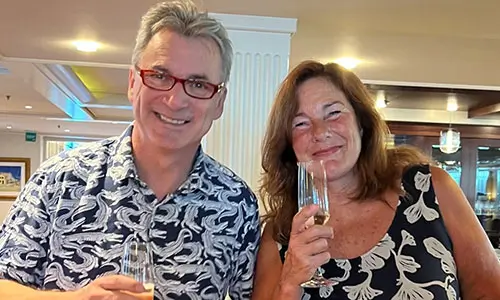 Date
Morning Session
Times Vary
Afternoon Session
Times Vary

29 June
Embarkation
30 June
11:30 - 12:00
Pay for your art classes at the Harmony Voyages Desk
14:00 - 16:30
A short introduction welcome and paint along class
1 July
14:00 - 16:30
Painting on deck (if weather allows) or on shore
2 July
14:00 - 16:30
Paint along on board
3 July
09:30 - 11:30
"En plein air" in Durnstein
13:30 - 14:30
An opportunity to finish your morning painting
4 July
14:00 - 16:30
Paint along on board
5 July
14:00 - 17:00
"En plein air" in Regensburg
Prices are per person and do not include flights. Please contact us if you require assistance with your travel arrangements.
Please note: a deposit of £200pp is required to secure your booking.
Cabin Grade
Deck
Price Per Person

Suite
Mozart Deck
£3,499 - 2 Available
A1
Mozart Deck
£2,649 - 2 Available
B1
Strauss Deck
£2,499 - SOLD OUT

B1 Solo Occupancy
Strauss Deck
£3,349 - SOLD OUT

B4
Strauss Deck
£2,349 - SOLD OUT
C1
Haydn Deck
£1,941 - SOLD OUT

C1 Solo Occupancy
Haydn Deck
£2,691 - SOLD OUT
C4
Haydn Deck
£1,849 - SOLD OUT
There a few different options to consider when planning your journey to Budapest.

You can fly from most major UK airports, rail options available from London to Budapest, you can self-drive, or perhaps consider joining Ric and Chris from Fairport Convention for some pre-cruise merriment aboard the Harmony Voyages coach.
COACH TO CRUISE WITH HARMONY VOYAGES
THE COACH PACKAGE IS NOW FULLY BOOKED - WAITING LIST IN OPERATION
Please call us on 01254 476075 or email info@harmonyvoyages.co.uk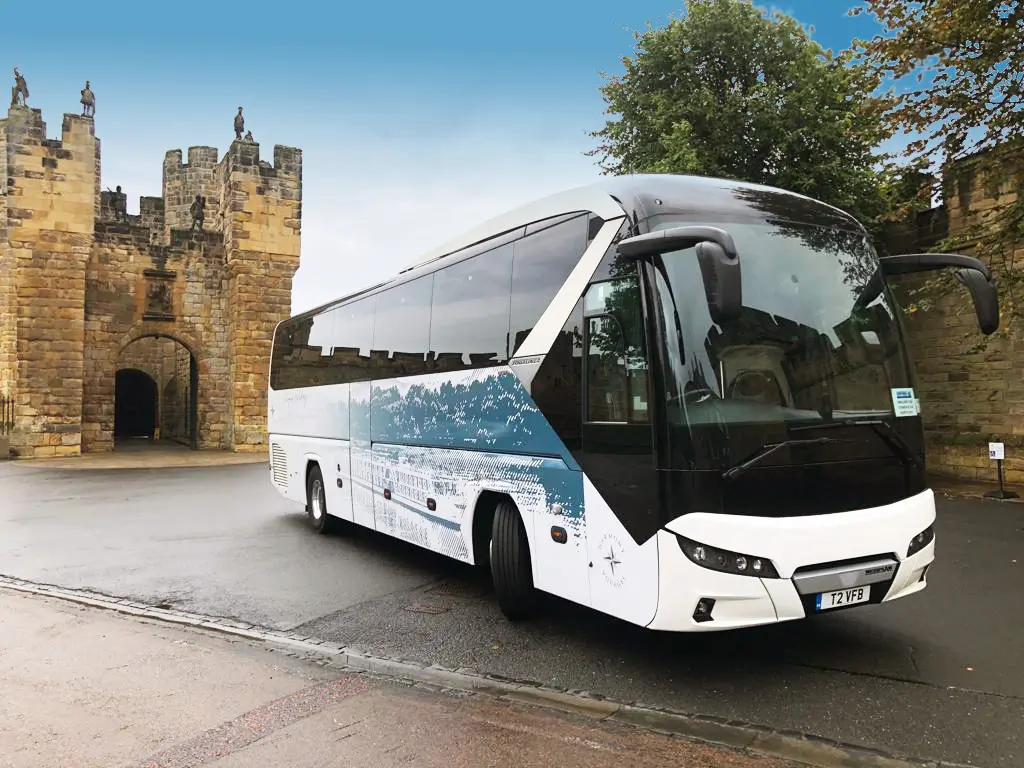 Hostess service on board
Regular, off-motorway comfort breaks
Comfortable 4* hotels
Outbound journey - visits to Brussels, Luxembourg, Heidelberg, Rothenburg-ob-der-Tauber, Scharding, St. Polten, Sopron
Inbound journey - visits to Prague, Pilzen, Nuremburg, Frankfurt, Maastricht and Bruges
Overnight B&B stays: 4 pre cruise and 3 post cruise
Forget about long queues at the airport, pulling heavy suitcases, frustrating flight delays - why not extend your cruise holiday, sit back and unwind on board our luxury coach and take in some of the most sought-after sights and enjoy many beaufity towns along the route.
Once your suitcase is loaded, no need to remove liquids, electrical items or empty your pockets, board the coach, relax and enjoy your land tour to the ship. Let your driver do the hard work whilst you sit back with a cuppa or a glass of something cold, as you travel through the beautiful French countryside.
Tuesday 25 June
We set off from home today for a mid-afternoon ferry to France. Once on the continent we cross into Belgium and the wonderful city of Brussels, where we will stay overnight.  From fascinating museums and antique markets to an impressive selection of restaurants, bars and numerous shopping experiences Brussels offers something for everyone and a visit is not complete without a walk around the Grand Place which houses the Town Hall and other merchant guild houses. Other popular attractions include the Atomium and the Mannekin Pis statue. 
Wednesday 26 June
We leave the hotel after breakfast and travel to Luxembourg where we make a stop around lunchtime. The old city of Luxembourg is a UNESCO World Heritage site, with one third being landscaped green spaces.  There will be time to take the tourist bus in order to discover the best of the sights. Or just take time for lunch, sightseeing or shopping. After leaving Luxembourg we continue on to Heidelberg, which sits with the Rhine Valley to the north and the Black Forest to the south in the Rhine-Neckar triangle. The town was rebuilt in the 18th century with baroque buildings either side of its historic Gothic streets.  The oldest and most impressive building is Zum Ritter Sankt Georg which was built in 1592 during the Renaissance and its façade is abundantly decorated by ornaments. We stay near Heidelberg overnight. 
Thursday 27 June
After breakfast we make a short hop to Rothenburg-ob-der-Tauber, a well preserved medieval town. You can enjoy views of the fortified town from the perfectly intact town walls, complete with 42 gates and towers. Take a stroll through the winding streets to see half-timbered buildings, flower boxes, fountains and lovingly restored house fronts. And no visit to Rothenburg is complete without visiting the Christmas Store, housing more than 30,000 Christmas decorations, a museum and an exhibition. In the afternoon we visit Regensburg, considered one of Europe's best-preserved medieval cities. See one of the largest groupings of 13th- and 14th-century church spires, towers and patrician houses north of the Alps. You also see the 12th-century Old Stone Bridge, St. Peter's Cathedral and a number of idyllic courtyards. Take time to stroll the streets, shop or visit Germany's oldest restaurant, the Alte Würstküche. Crossing the border into Austria we stay overnight in Scharding. The Bavarian Wittelsbach family owned the town until 1779. Schärding's best feature is its central square, the north end of which sits the Silberzeile row of gabled-roof houses. Other features include the church of St. George. The castle is gone but in its gateway there is a local museum with religious sculptures. 
Friday 28 June
We arrive into St. Polten, the city that replaced Vienna as the capital of Lower Austria in 1986. The oldest part of the city is built on the site of the ancient Roman city of Aelium Cetium that existed between the 2nd and the 4th century, making it the oldest documented city in Austria and one of the oldest in Europe. Stroll through several delightful old town squares, adorned with beautiful Baroque and Jugendstil facades that rival the splendour of Vienna. After leaving Austria behind we enter Hungary for our overnight stay near Sopron. Now in Western Hungary the area was once a province of the Roman Empire and a city called Scarbantia stood here. Its forum was located where the main square of Sopron can be found today. Sopron is one of the most romantic towns in Hungary, with its winding, cobbled streets, historical gates and colourful houses.
Saturday 29 June
Today we will visit Budapest before you embark your river cruise ship later this afternoon. On boarding the ship you will be greeted by the captain and crew to explore the ship, meet your fellow sailors and enjoy a drink in the bar after a delicious dinner.
29 June – 6 July - Cruise Itinerary

Saturday 6 July
Your river cruise may be over but your land cruise continues as today we visit Prague, the capital and largest city of the Czech Republic. The Czech name Praha is derived from an old Slavic word, práh, which means "ford" or "rapid", referring to the city's origin at a crossing point of the Vltava river. Home to a number of well-known cultural attractions, many of which survived the violence and destruction of 20th-century Europe, the historic centre of Prague has been included in the UNESCO list of World Heritage Sites.  Main attractions include Prague Castle, Charles Bridge, Old Town Square with the Prague astronomical clock, the Jewish Quarter, Petřín hill and Vyšehrad. We stay overnight near Prague. 
Sunday 7 July
Staying in the Czech Republic we reach Pilzen, the city known worldwide for Pilsner beer and also the birthplace of Skoda. The most prominent sights of Plzeň are the Gothic St. Bartholomew's Cathedral, whose tower is the highest in the Czech Republic, the Renaissance Town Hall, and the Moorish Revival Great Synagogue, the second largest synagogue in Europe. There is also a 12 mile historic tunnel and cellar network, among the longest in Central Europe. Reaching Germany, we stay overnight near Nuremburg, Bavaria's second largest city after Munich. The majority of the city walls still stand and inside you can enjoy a wonderful atmosphere, which combines medieval and modern life in an area filled with Gothic churches and aristocratic houses - all dominated by the Kaiser Castle.  Our overnight hotel is a short distance away. 
Monday 8 July
Today we visit Frankfurt, the largest financial hub in Europe. It was originally one of the most important cities in the Holy Roman Empire until it lost its sovereignty in 1856. The medieval city centre was destroyed in WW11 and the former Alstadt (Old Town) was redeveloped as the Don-Romer quarter including the reconstruction of 15 historical houses. Frankfurt Cathedral and St. Paul's church were also partially destroyed and rebuilt, the former in the original style and the latter now having a modern interior. Leaving Germany we continue our journey with a visit to Maastricht, one of the oldest cities in Holland. Crossing the river you will discover the historic inner city, churches, city walls, monumental merchant houses and big squares merging seamlessly with a comprehensive and varied range of shops. We stay here overnight. 
Tuesday 9 July
Just a short distance this morning from Maastricht to Bruges. Thanks to its large number of canals and bridges (of which there are more than 80) Bruges is often referred to as Venice of the North. There will be time to have a look around and also purchase lunch if required. 
We then make our way towards Dunkirk and our late-afternoon crossing to Dover.  We start our drops off as we make our way back up north with the last disembarkations being late that night. 
 
Price per person sharing a twin/double: £989
Price per person sole occupancy: £1497
Depart Manchester Airport *06:00 /Birmingham Airport *09:00 /London Heathrow *11:00 with motorway service pick-ups on request. (times to be confirmed)
Why not extend your stay with our optional Prague city break?
Fly to Prague for a 3 night 4* hotel stay in Prague and take time to immerse yourself in the rich history and architectural wonders of this stunning city. On the day of embarkation take a direct rail journey to Budapest where you will meet and embark the Amadeus Silver III. At the end of your cruise holiday make your way to Munich airport for your flight home.
 
Price per person sharing a twin/double: TBC
Price per person sole occupancy: TBC
An option to send luggage directly to Port is available at £250 for one bag and £350 for two.
You are responsible for your own travel arrangements to and from the ship. However, we are happy to assist with booking flights on your behalf. Please contact us for details if you require assistance - our phone number is 01254 476075
2
Which airport do I need to fly into/home from?
You will need to fly into Budapest and home from Munich. Please contact us if you require assistance with your flight arrangements.
3
Are airport transfers included?
Airport transfers will be provided on embarkation and disembarkation days only. Should you require a transfer to/from the ship on any other day, please contact the office and we will be happy to provide you with a price for a private transfer. Please note; we cannot transfer from railway stations.
4
What time can I board the ship on embarkation day?
You can normally board from 2pm but your stateroom may not be available until after 3pm. You will be able to enjoy the ship's facilities until your room is ready to be occupied.
5
What time is disembarkation from?
As the ship has a quick turnaround, you will be required to vacate your cabin after breakfast on the day of departure. If you have a late flight or transfer you may be able to store your luggage on board until later in the day, depending on the ship's itinerary. The crew on board will be happy to assist, however embarkation/disembarkation day is a day when the crew are busy cleaning, loading supplies and preparing for new passengers.  There will be no food or beverage service once the restaurant has closed after breakfast for disembarking passengers.
Yes, WiFi is provided in all public areas of the ship. However, during the trip the signal may be weaker in certain sections of the route.
7
Is there an elevator onboard?
All AMADEUS ships have a guest elevator, which operates between the Mozart and Haydn decks. The sun deck is not accessible by elevator.
8
What is the dress code onboard?
We want to you feel comfortable on board, the dress code is casual during the day and in the evening smart casual. Think what would I wear for a meal out in a restaurant at home?
9
What is the electrical supply voltage onboard?
The voltage in hotels and onboard ship is 230V, European standard. To use any electrical product that is not dual voltage (e.g. from the US, Canada, Australia or the UK), you will need a plug adaptor and some devices will require an electrical converter. Many electronic devices have built-in electrical converters, however please check the manufacturer's specifications for details. A two-pole adaptor is also available at reception.
Local river authorities allocate docking space around ship arrivals and departures in port. Occasionally port conditions require ships to tie up alongside each other, in which case guests may be required to walk through another ship to access their own ship. This is part of the river cruise experience and is perfectly normal and beyond our control. Guests may experience obstructed views from staterooms when the ship is docked.
11
What Is The Currency On Board?
The currency on board all AMADEUS ships is EURO. However, you may also settle your account in (GBP) Sterling or (USD) American Dollars
Gratuities for the ship's staff and crew are not included in your cruise price. You may pre-pay gratuities through our office with a suggested amount of USD 12.00 / EUR 11.00 per person per day. Alternatively, you may wish to tip onboard in cash or add a gratuity to your onboard account.  Gratuities for drivers and guides for optional excursions are not included in the excursion price. A suggested amount is 1-2 EUR per person for half day excursion & 2-3 EUR per person for the full day excursion given directly to the guide and driver.
The following items are essential for any destination: sunglasses, sunscreen, hat, and maybe an umbrella. It is recommended that you bring duplicates of prescription eye wear, copies of prescriptions for any medications (generic equivalents are usually easier to obtain), copies of credit card information, and copies of your passport information pages. An adaptor / transformer may be necessary (the on-board power supply is 230V AC/50 Hz) if you bring any electronic devices with you.
Comfortable, casual clothing is appropriate both onshore and onboard and we suggest lightweight clothing that can be layered. Shorts are appropriate for most tours, however long pants may be required for inside visits on some excursions. Your cruise manager will advise when and if this is required. You may find a significant amount of walking over uneven terrain during your time ashore. We recommend comfortable walking shoes with good ankle support. Sturdy sandals are another good option. Don't forget to pack a lightweight, waterproof jacket (preferably hooded) or even a heavier-weight wind-breaker for cooler temperatures. Also, keep in mind that the ship, coaches and other venues visited on our itinerary are air conditioned and may be quite cool. We recommend that you pack a lightweight sweater or long sleeve shirts and carry them with you on excursions.
15
What happens if the artist that I booked to see is unable to perform at the festival / holiday?
As you have booked a holiday, then the holiday will still take place. In the event of a festival where there are multiple artists, the full programme will still be performed and any artists unable to travel will be replaced. In the event of a river cruise or other holiday where only one artist is performing, the artist will be replaced with an alternative artist of a similar genre. The cost of the holiday is not refundable.
16
How do I get from the station in Budapest to the Port?
It is a 10-15 minute drive from Keleti station to the river. There is a taxi rank directly outside Budapest station. Be sure to know where in Budapest your specific ship is docked and write it on a small piece of paper. Show your driver the dock or pier information. alternatively you can use a meet and greet taxi service such as this one http://www.taxibudapest.eu
17
How do I get from Passau to Munich airport?
The train is the cheapest option and takes around 2h 15m, otherwise crew on board can book you a local taxi which will take around 1hr 45
18
Is a river cruise ship suitable for someone with limited mobility?
Harmony Voyages does not discriminate against persons with special needs. All means of transport used during our cruise itineraries comply with European standards. Most of the vessels have lifts that allow for easy access between decks (except for the Sun Deck). However, the route between the ship and the shore may have major obstacles that must be overcome by all passengers without the use of, for example, a wheelchair. Likewise, often embarkation, disembarkation can be via another ship moored alongside where access to the sun deck is necessary. For this reason, any person with special needs must decide themselves whether a river cruise is for them, before making a booking. In addition, for safety reasons, the transportation of wheelchairs may be prohibited by the ship's management.
We look after you every step of the way
We are a small experienced team who look after you from first enquiry, right through to the end of your holiday. The same people who help you with your booking, will be in the resort or on the cruise to look after you. We are extremely proud of the personal service that we provide and when you need to get in touch, there are no call centres, just the same people you've always being dealing with. Need help with flights, care hire or extra nights? ...we are just a phone call away.