SHOW OF HANDS RHONE & SAONE RIVER CRUISE
2 - 9 SEPTEMBER 2021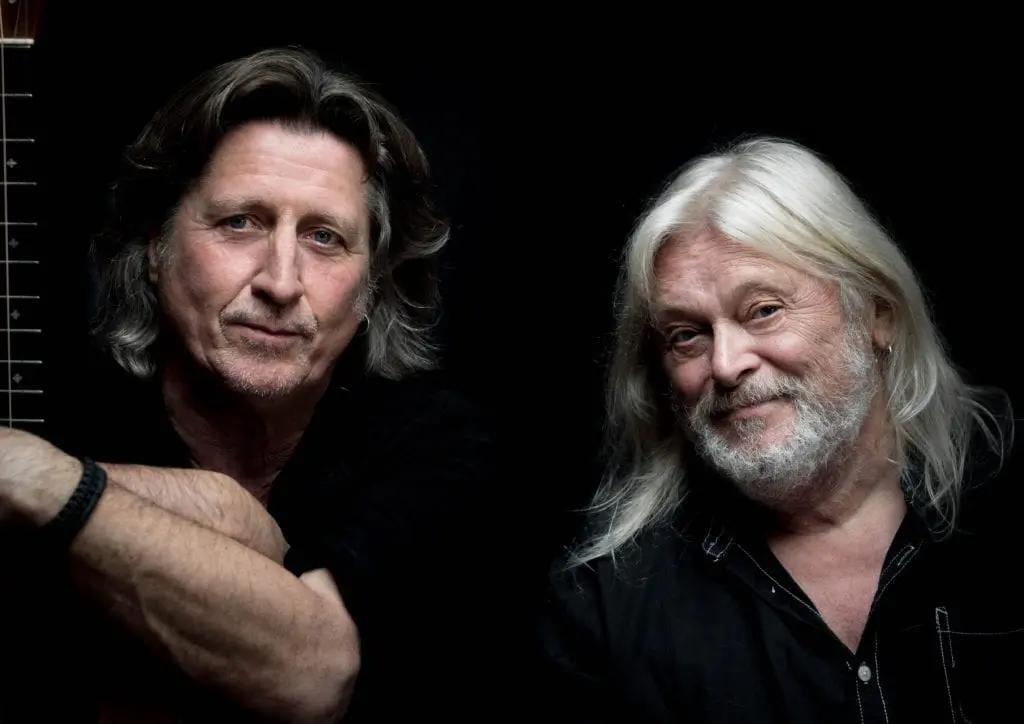 WINE TASTING ALONG THE RHONE AND SAONE

Enter a world of wonderful contrasts: of bustling cities that turn into dreamy, romantic villages and cultural landmarks that make way for impressive natural wonders. Just breathe deeply, enjoy, discover.

Experience a new sensation every day as you relax. Learn about French culture and of course the wine!
But above all make new friendships. Sit back and admire the fabulous panorama as you float past, taking in some stunning scenery. You can be assured of a very warm welcome and fine dining from the moment you step aboard to your last breakfast on departure day.




More than 2 decades on the road, 25 album releases, 2 Honorary Doctorates, 3 BBC Folk Awards, 4 Royal Albert Hall sell-outs, tours in 14 countries from America to Australia and now they're inviting you to join them aboard Amadeus Provence to experience the best food, wine, art, architecture, scenery and history along with some amazing music. Steve & Phil will perform 5 concerts on board during the 7 night cruise. A more detailed programmed itinerary will be available closer to departure and you can be assured that there will be songs old and new, plus solo sets and perhaps appearances from a 'friend' or two of the band. With only 140 guests on board, you really don't want to miss this extraordinary opportunity ....It all comes together in glorious harmony in the South of France.
If you're not ready to book but have further questions then please feel free to email us at info@harmonyvoyages.co.uk and we'll be happy to help
---
What's included
Large, outside river-view staterooms, most with French balconies or walk-out balconies

Free-flowing red & white wines from Europe's famous wine regions, beer & soft drinks with every lunch and dinner onboard

Gourmet dining onboard

Services of an experienced English-speaking onboard Cruise Director

24 hour coffee station

Onboard entertainment

Bottled water in every stateroom

In-stateroom infotainment centre

Complimentary Wi-Fi onboard

Complimentary use of onboard bicycles

Complimentary state-of-the-art audio headsets for optional excursions

All local taxes & port charges
Itinerary
DAY 1 - LYON
This afternoon, embark the vessel and get settled into your cabin. This evening, enjoy a specially-prepared Welcome Dinner and chance to relax in the lounge and meet your fellow sailors.
Carolyn will provide a 30 minute presentation before dinner, explaining why Burgundy and the Rhone are such fine wine regions, and what to look for in the local grape varieties.

DAY 2 - MACON
This morning we arrive in the town of Mâcon, located in southern Burgundy. This region produces some of the most expensive wines in the world. Spend the morning exploring the city, and perhaps visit the wine museum, dedicated to the history and production of Burgundy wines. Near the city of Macon is the Cluny Abbey, dedicated to St Peter. This afternoon offers the opportunity to visit the 'spiritual heart of medieval Europe'. Founded in 910 by Guillaume d'Aquitaine, the abbey is comprised of three abbey churches. At its height, it was home to over 10,000 monks.
After dinner enjoy the evening concert in the lounge

DAY 3 - CHALON-SUR-SAON > TOURNUS
Continue to explore the wine region with a stop in the town of Chalon sur Saône. Half-timbered houses overlook the square, and it offers art galleries, speciality shops as well as a museum dedicated to photography.
The countryside is filled with famous vineyards such as Pommard and Puligny, a wine lover's delight. This afternoon enjoy the scenery as we continue our way along the Saône, or perhaps choose to explore the medieval towns of Brancion and Cormatin and rejoin the vessel in Tournus.
Concert in the lounge after Dinner

DAY 4 - LYON
At the confluence of the Rhone and the Saône rivers, sits the third-largest city in France. This UNESCO World Heritage city is known for its cuisine as well as historical and architectural landmarks such as the Basilica of Notre-Dame de Fourviere and the Vieux Lyon (Old Lyon) which is the Renaissance area along the bank of the Saône.
Relax this afternoon as we sail through the picturesque countryside. Join Carolyn in the lounge for another interesting presentation.
Following another delicious dinner on board relax in the lounge for another evening with Show of Hands

DAY 5 - AVIGNON
The Provencal city of Avignon is home to the Papal Palace, once the seat of Western Christianity in the 14th century. The Papal Palace, was home to six papal conclaves but became obsolete when the papacy decided to return to Rome.
The area of Provence is also home to the Pont du Gard, a three-level aqueduct constructed over 2000 years ago by the Romans and is one of the architectural masterpieces of the ancient world.
Music in the lounge after dinner

DAY 6 - ARLES
Arles captured the imagination of the brilliant Impressionist painter, Van Gogh. Walking through the town, many of the settings may seem familiar as some of Van Gogh's best known pieces reflect the beauty of the town.
Outside of Arles, the Camargue Nature Park is located. The Park covers 86,000 hectares and is known for its unique flora and fauna as well as semi-wild bulls and white Camargue horses. Following another amazing day, relax in the lounge after dinner and enjoy another evening of music

DAY 7 - CHATEAUNEUF-DU-RHONE > LE POUZIN
This morning your optional excursion offers the opportunity to view the Ardeche Gorge, another natural wonder of the area. Visit the 'Grand Canyon of Europe' and re-join the ship in time for lunch. Alternatively, spend the day onboard relaxing.

DAY 8 - LYON - FAREWELL
After a generous breakfast it's time to disembark and join your transfer to the airport/train station or enjoy a few extra days holiday. (Optional pre-post cruise add-ons available, please contact us for details).
Treasures of Burgundy & Provence : Rhóne & Saóne
DATE
DAY
HARBOUR
ARR/DEP
TIME
REMARKS
02.09.21
Thu
LYON
DEP
22:00
Embarkation
03.09.21
Fri
MACON
ARR
08:00
* Maconnaise Exursion incl. Wine Tasting
03.09.21
Fri
MACON
DEP
19:00
* Visit to Cluny Abbey
04.09.21
Sat
CHALON s. SAONE
ARR
08:00
* Excursion to Beaune incl. Wine Tasting
04.09.21
Sat
CHALON s. SAONE
DEP
14:30
* Excursion to Brancion & Cormatin
04.09.21
Sat
TOURNUS
ARR
17:30
04.09.21
Sat
TOURNUS
DEP
19:30
05.09.21
Sun
LYON
ARR
06:00
* City tour of Lyon
05.09.21
Sun
LYON
DEP
12:00
06.09.21
Mon
AVIGNON
ARR
09:00
* Avingnon tour incl. Papal Palace
07.09.21
Tue
AVIGNON
DEP
05:00
* Excursion to Pont du Gard & Uzés
07.09.21
Tue
ARLES
ARR
08:00
* Arles walking tour
07.09.21
Tue
ARLES
DEP
18:30
* Excursion to Camargue Nature Park
08.09.21
Wed
CHATEAUNEUF DU RHONE
ARR
04:30
08.09.21
Wed
CHATEAUNEUF DU RHONE
DEP
08:30
* Excursion to Ardéche Gorge
08.09.21
Wed
LE POUZIN
ARR
12:00
08.09.21
Wed
LE POUZIN
DEP
14:00
09.09.21
Thu
LYON
ARR
08:00
Disembark
* Excursions optional extra
Price
Prices are per person and do not include flights. Please contact us if you require assistance with your travel arrangements.
Please note: a deposit of £200pp is required to secure your booking.
CABIN GRADE
DECK
PRICE
Suite
Mozart Deck
£3,149
SOLD OUT
A1
Mozart Deck
£2,699
B1
Strauss Deck
£2,499
B1 Solo Occupancy
Strauss Deck
£3,599
SOLD OUT
B4
Strauss Deck
£2,349
C1
Haydn Deck
£1,799
C1 Solo Occupancy
Haydn Deck
£2,609
SOLD OUT
C4
Haydn Deck
£1,699
SOLD OUT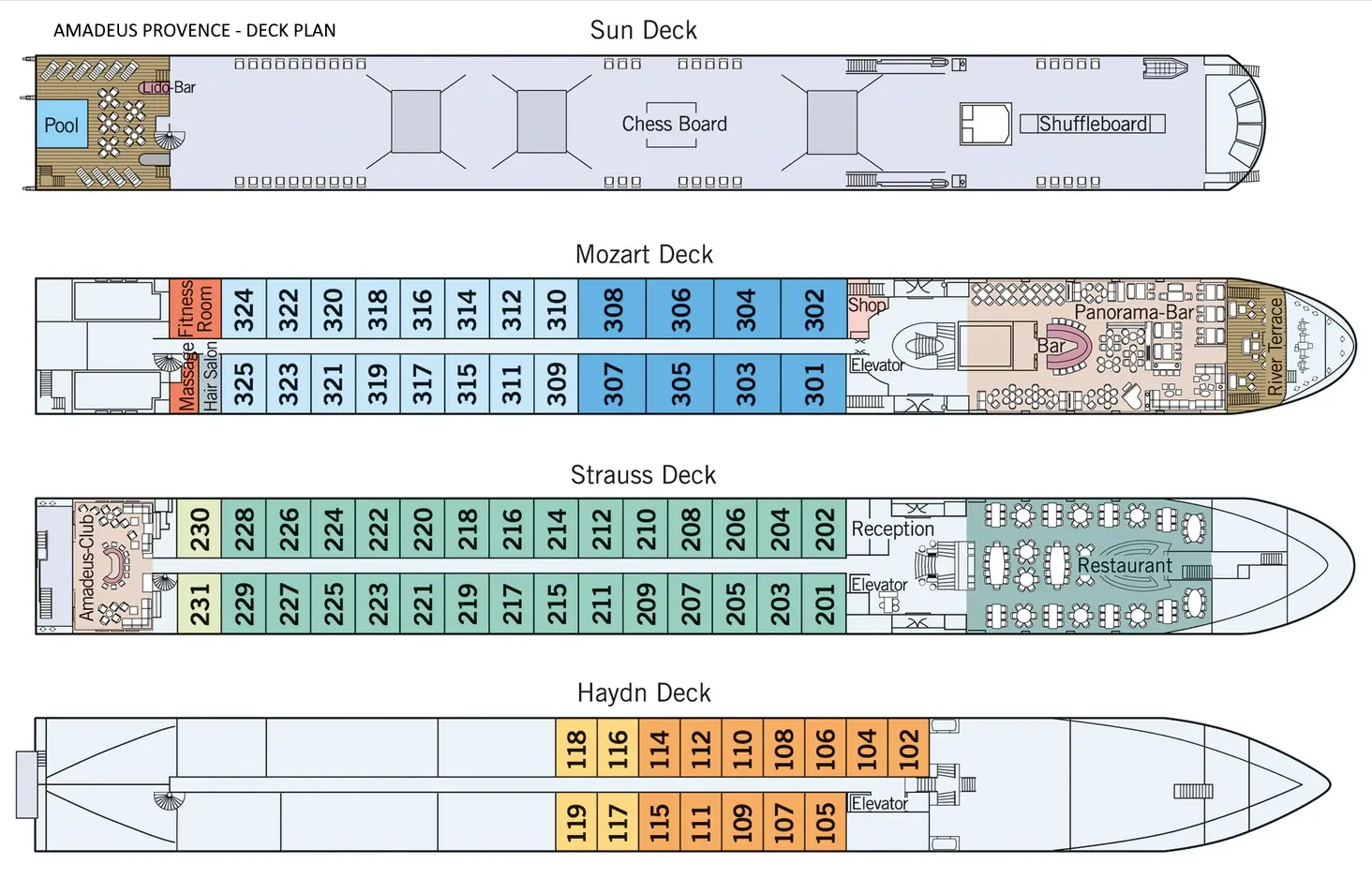 Accommodation
AMADEUS PROVENCE
Dive into an unforgettable adventure and enjoy the typically provincial feel aboard the AMADEUS Provence. This vessel travels exclusively along the Rhône and the Saône, two of France's most beautiful rivers, and takes you to dream destinations in the south of France.
FAQ
Q: Are flights included?
A: No, you are responsible for your own travel arrangements to and from the ship. However, we are happy to assist with booking flights on your behalf. Please contact us for details if you require assistance.
Q: Can you travel there by Eurostar?
A: It is possible to travel by Eurostar from London St Pancras to Paris Gare du Nord. Change here to Paris Gare de Lyon (approx. 20mins by taxi) TGV to Lyon.
This can be booked as a package together with the Cruise, please ask for details.
Q: Which airport do I need to fly into / home from?
A: The ship departs from and returns to Lyon. Easyjet & Jet2 offer regular direct flights from many UK airports. Please contact us if you require assistance with your flight arrangements.
Q: Are airport transfers included?
A: Transfers are included to the ship on 2 September and from the ship to Lyon Airport on 9 September.
Should you opt to extend your stay at the end of your cruise, you will be responsible for your own transfer to the airport.
Q: What time can I board the ship on Embarkation day?
A: You can normally board from 1pm but your stateroom may not be available until after 3pm. You will be able to enjoy the ship's facilities until your room is ready to be occupied.
Q: What time is disembarkation from?
A: As the ship has a quick turnaround, you will be required to vacate your cabin after breakfast on the day of departure. If you have a late flight or transfer you may be able to store your luggage on board until later in the day, depending on the ship's itinerary. The crew on board will be happy to assist.
Q: Is there WiFi on board?
A: Yes, WiFi is provided in all public areas of the ship. However, during the trip the signal may be weaker in certain sections of the route.
Q: Is there an elevator on board?
A: All AMADEUS ships have a guest elevator, which operates between the Mozart and Haydn decks. The sun deck is not accessible by elevator.
Q: What is the dress code on board?
A: We want to you feel comfortable on board, the dress code is casual during the day and in the evening smart casual. Think what would I wear for a meal out in a restaurant at home?
Q: What is the electrical current on board?
A: The voltage in hotels and onboard ship is 230V, European standard. To use any electrical product that is not dual voltage (e.g. from the US, Canada, Australia or the UK), you will need a plug adaptor and some devices will require an electrical converter. Many electronic devices have built-in electrical converters, however please check the manufacturer's specifications for details. A two-pole adaptor is also available at reception.
Q: Mooring and Docking
A: Local river authorities allocate docking space around ship arrivals and departures in port. Occasionally port conditions require ships to tie up alongside each other, in which case guests may be required to walk through another ship to access their own ship. This is part of the river cruise experience and is perfectly normal and beyond our control. Guests may experience obstructed views from staterooms when the ship is docked.
Q: What is the currency on board the ship?
A: The currency on board all AMADEUS ships is EURO. However, you may also settle your account in (GBP) Sterling or (USD) American Dollars
Q: What about gratuities?
A: Gratuities for the ship's staff and crew are not included in your cruise price. You may pre-pay gratuities through our office with a suggested amount of USD 12.00 / EUR 11.00 per person per day. Alternatively, you may wish to tip onboard in cash or add a gratuity to your onboard account. 
Gratuities for drivers and guides for optional excursions are not included in the excursion price. A suggested amount is 1-2 EUR per person for half day excursion & 2-3 EUR per person for the full day excursion given directly to the guide and driver.
Q: What to pack:
A: The following items are essential for any destination: sunglasses, sunscreen, hat, and maybe an umbrella. It is recommended that you bring duplicates of prescription eye wear, copies of prescriptions for any medications (generic equivalents are usually easier to obtain), copies of credit card information, and copies of your passport information pages.

An adaptor / transformer may be necessary (the on-board power supply is 230V AC/50 Hz) if you bring any electronic devices with you.
Clothing:
Comfortable, casual clothing is appropriate both onshore and onboard and we suggest lightweight clothing that can be layered. Shorts are appropriate for most tours, however long pants may be required for inside visits on some excursions. Your cruise manager will advise when and if this is required. You may find a significant amount of walking over uneven terrain during your time ashore. We recommend comfortable walking shoes with good ankle support. Sturdy sandals are another good option.
Don't forget to pack a lightweight, waterproof jacket (preferably hooded) or even a heavier-weight wind-breaker for cooler temperatures. Also, keep in mind that the ship, coaches and other venues visited on our itinerary are air conditioned and may be quite cool. We recommend that you pack a lightweight sweater or long sleeve shirts and carry them with you on excursions.
Excursions
On all our excursions you'll be provided with a wireless AMADEUS listening device. The receiver can be worn quite comfortably around the neck or carried in a bag. The comfortable headphones allow you to hear your experienced tour guide's explanations with the very best acoustic quality. Enjoy complete freedom of movement, without missing any of the interesting commentary.
Important Information:
All excursions can be booked in advance or aboard. (For organisational reasons, some excursions can only be booked aboard).
Minimum participation for excursions by bus: 20 people.
Minimum participation for excursions on foot: 12 people.
The schedule of individual excursions can vary; this is partly due to the volume of traffic in the cities and the opening hours of facilities.
Please remember to wear sturdy shoes as well as comfortable, waterproof clothing when attending the excursions.
When exploring on your own, please remember to return to the vessel in time for its departure. If you miss the departure, you have to travel to the next port at your own expense. You will find the all aboard time in the daily programme.
Itineraries and prices are subject to alterations.
Walking Grade:
Some excursions involve a fair amount of walking, sometimes over uneven surfaces. The following coding system has been used to assist with identifying which excursions are appropriate for you. Please ask your cruise director for additional information as required.
LEVEL 1: Minimum walking; excursion by bus with short photo stops.
LEVEL 2: The excursion by bus is followed by a moderate walking tour. You may need to climb some stairs.
LEVEL 3: The excursion by bus is followed by a longer walk. You may need to climb several stairs.
LEVEL 4: Moderate walking tour. You may need to climb some stairs.
LEVEL 5: Considerable walk with longer distances. This may include uneven surfaces and some stairs.
Excursion Package - Lyon - Lyon
Owing to the variety of available excursions it's often difficult to choose between them - so on this cruise we offer you tailor-made and carefully composed sets of excursions that you can book in advance with 15% discount.
All excursions can of course also be booked individually at regular rates
PACKAGE PRICES
CRUISE HIGHLIGHTS
Price
A
B
C
Excursion to Macón including wine museum
£61
✔
✔
✔
Guided tour of Cluny Abbey
£51
✔
✔
Burgundy excursion to Beaune wine tasting
£59
✔
✔
✔
Excursion to Brancion & Cormatin
£51
✔
City tour of Lyon
£34
✔
✔
✔
Avignon walking tour including Papal Palace
£34
✔
✔
✔
Excursion to the Pont du Gard and Uzés
£41
✔
Arles walking tour
£25
✔
✔
Excursion to Camargue Nature Park
£40
✔
✔
Excursion to the Ardéche Gorge
£40
✔
✔
On Board Package Price
£213
£319
£436
Price for packages booked in advance less 15%
£180
£272
£371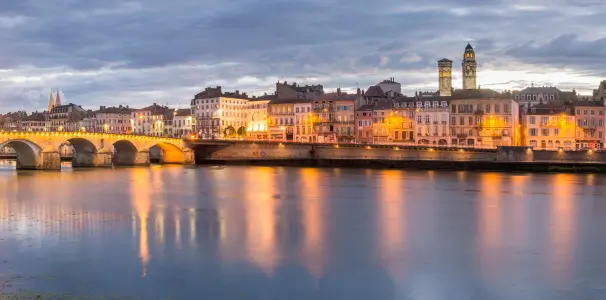 EXCURSION TO MÂCON Incl. TOUR OF THE WINE MUSEUM
With its pastel buildings and tiled roofs, the town of Mâcon has a Mediterranean charm. The tour crossing the Beaujolais and Mâconnais region will captivate you. While crossing the impressive vineyards, discover the castles and mansions which are the witness of the wealth in this region. The highlight of this excursion is the visit of the Georges Duboeuf's Wine Theme Park. In an original setting, a reconstruction of a 1900-style train station, discover splendid exhibition halls related to the history and culture of the wine making process. Find out about wine growing from audiovisual shows: theatre, winery trading house, 3D film, dynamic cinema. Finish the visit with a tasting of Beaujolais wines in a Parisian cabaret-style room housing a barrel organ, also called "Bouteillophone".
Duration: approx. 3.5 hrs
Walking Grade: 2 - The excursion by bus is followed by a moderate walking tour. You may need to climb some stairs.
---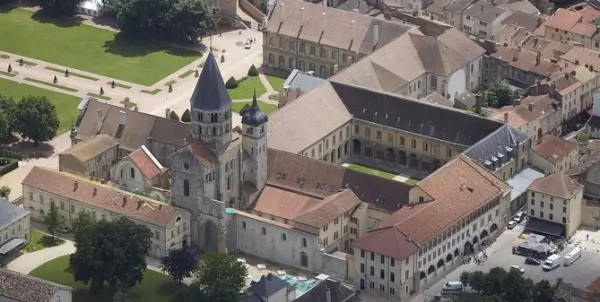 GUIDED TOUR OF CLUNY ABBEY
The Abbey of Cluny in Burgundy was the centre of a major monastic movement in the Middle Ages. Its church was the largest Christian building in the world until St. Peter's Basilica was rebuilt in Rome in the 16th century. Although most of the great Abbey of Cluny is in ruins, you can still see remnants showing the size and glory the abbey possessed at its zenith, and imagine it as it once was.
Today, one transept of the 12th-century abbey church remains, along with the 15th-century abbots' residences and 18th-century convent buildings. The site also includes beautiful gardens and a museum with Romanesque artifacts. Your guide will show you around the ancient Benedictine abbey. This church, with its unusual dimensions, was completed under the abbacy of Pierre the Venerable and consecrated in 1130. The principal architect was Hézelon de Liège. The idea for its construction is said to have originated from a monk's dream.
Duration: approx. 3.5 hrs
Walking Grade: 2 - The excursion by bus is followed by a moderate walking tour. You may need to climb some stairs.
---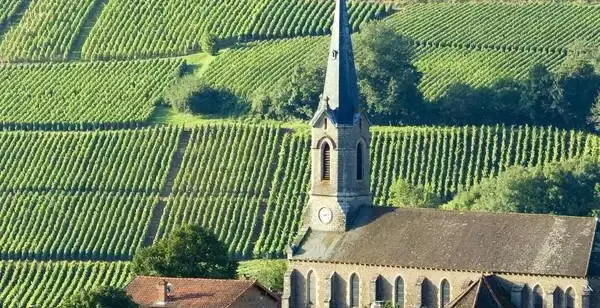 BURGUNDY EXCURSION TO BEAUNE WITH WINE TASTING
After breakfast, take a scenic drive along France's Burgundy wine route through Pommard, Volnay and Meursault. In Beaune, the wine capital of Burgundy, enjoy a guided tour of the beautiful Hôtel-Dieu, founded as a hospice in 1443. Today, it covers a large area of the town with its museum, three courtyards, outbuildings, 15th-century bastion and hundreds of meters of cellars, which are notable for containing the personal reserve of the Hospices. The four buildings open to the public are situated around the Court of Honor and represent the Hôtel-Dieu of former times. The great Salle des Pauvres ("hall of the poor") is decorated with multi-coloured beams which are unique in the world. Serenity reigns here which will leave no one unmoved. The rooms overflow with treasures: statues, furniture, pottery, paintings, tapestries and more. The kitchen has been restored to look exactly as it did in the 19th century. The polyptych of "The Last Judgement", a masterpiece by the Flemish painter Rogier Van Der Weyden, is particularly well presented. Later, enjoy a wine tasting experience at one of Beaune's famous cellars.
Duration: approx. 4 hrs
Walking Grade: 2 - The excursion by bus is followed by a moderate walking tour. You may need to climb some stairs.
---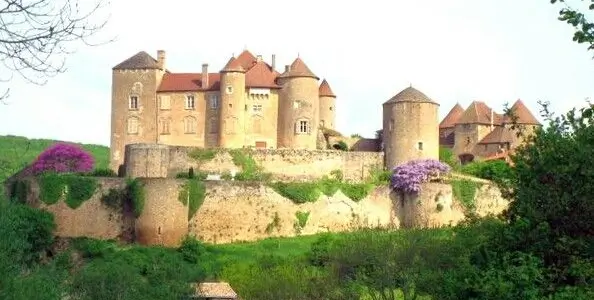 EXCURSION TO BRANCION AND CORMATIN
We leave Chalon-sur-Saône and drive to Brancion for a short photo stop before continuing to the Castle of Cormatin. Behind its understated exterior lies inestimable splendor. The castle is undoubtedly one of the most sumptuous castles in Burgundy, and, in addition, it boasts a Renaissance garden. The sculpted yews break up the symmetry as you enter this moated château. The rich, colourful interior reflects the French and more particularly, the Parisian fashion during the reign of Louis XIII. Built between 1605 and 1629 by the du Blé family, it chronicles the history of the arts at this time in France. The formal Renaissance garden has the "fountain of life" at its centre. Beyond this is a maze with a charming wrought-iron aviary. From the top of this you can get an overview of the park.
Duration: approx. 4 hrs
Walking Grade: 2 - The excursion by bus is followed by a moderate walking tour. You may need to climb some stairs.
---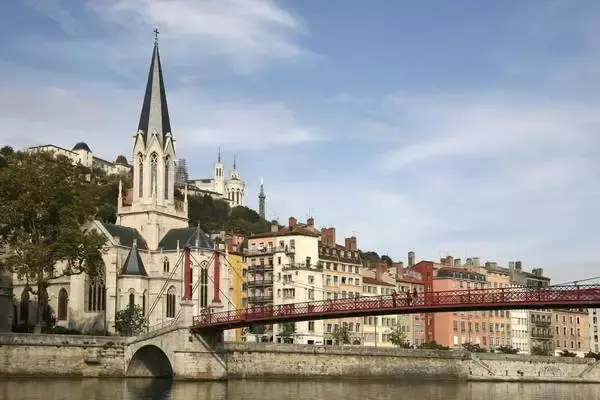 CITY TOUR OF LYON
Lyon not only marks the meeting of the Saône and Rhône Rivers, but it is also the gastronomic capital of France. Its rich, ancient history includes Roman ruins and early Christian sites. The city tour begins with a coach trip to the Basilica of Notre-Dame de Fourvière. The well-known pilgrimage church stands on a hill, offering an unforgettable view of the city. After a brief stop, continue with a drive along the banks of the Sâone, with views of various sights including the Cathedral of St. John and the Palace of Justice. Afterwards take a gentle stroll through Lyon's Old Town, a UNESCO World Heritage Site, with the famous Roman theatre and buildings reflecting the influence of the Italian Renaissance.
Duration: approx. 3 hrs
Walking Grade: 2 - The excursion by bus is followed by a moderate walking tour. You may need to climb some stairs.
---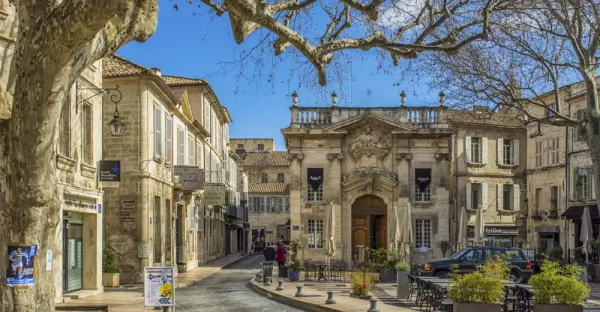 AVIGNON WALKING TOUR INCL. PAPAL PALACE
Today's excursion is a guided walk through Avignon, also known as the "City of Popes" due to the role the city played in the Avignon conspiracy of the 14th century, when a pope abandoned Rome and fled to Avignon. Avignon's lavish Palais des Papes (Palace of the Popes), is a fortress, church and palace all in one and was considered the centre of the Christian world during the 14th century. From 1309 to 1377, seven popes resided in this impressive building, one of the world's most fascinating examples of Gothic architecture. A must-see is the Pont d'Avignon, a ruined 12th-century bridge that once spanned the Rhône and is immortalised in a folk song about dancing on the bridge.
Duration: approx. 2 hrs
Walking Grade: 4 - Moderate walking tour. You may need to climb some stairs.
---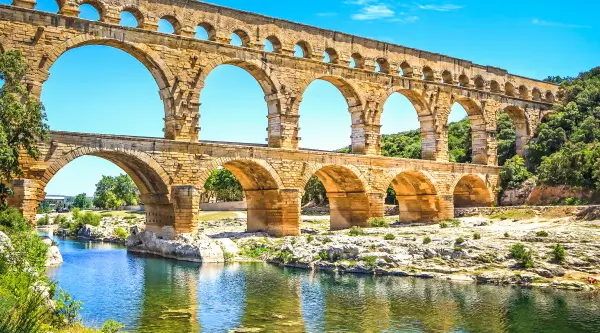 EXCURSION TO THE PONT DU GARD AND UZÈS
The Pont du Gard is the greatest surviving stretch of a fifty-kilometre-long (thirty one miles) aqueduct, built by the Romans in the middle of the first century to supply fresh water to the city of Nimes. With just a seventeen-metre difference in altitude between beginning and end, the aqueduct was quite an achievement for its time. Some miles further on, near the start of the aqueduct, visit the city of Uzès. This lovely old town perches on a hill above the River Alzon. Half a dozen medieval towers rise above its tiled roofs. The most fetching is the windowed, Pisa-like Tour Fenestrelle, tacked onto the cathedral. The narrow lanes are lined with Renaissance and Neoclassical houses which were once the residences of the 17th- and 18th-century bourgeoisie, who had grown rich on textiles.
Duration: approx. 4.5 hrs
Walking Grade: 2 - The excursion by bus is followed by a moderate walking tour. You may need to climb some stairs
---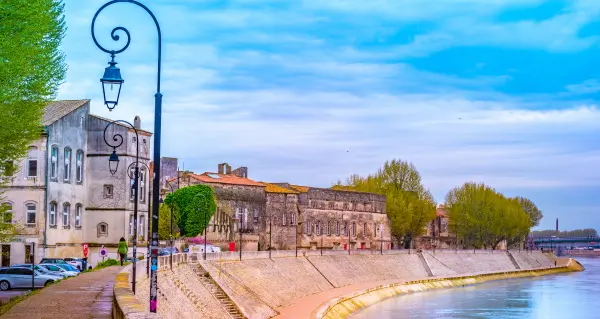 ARLES WALKING TOUR
Arles is a city steeped in history. During the course of centuries, it was home to archbishops, became part of the Kingdom of the Franks and, later on, capital of the Kingdom of Burgundy. During our two-hour city walk, view many ancient or Roman sights and monuments and see why UNESCO has chosen to declare Arles a World Heritage Site. A visit to the Roman arena is a must while in Arles. If time allows, take a break in the café that served as the model for Vincent Van Gogh's "Café Terrace at Night". While strolling through the city, you might even meet pilgrims walking the Way of St. James, which begins in Arles!
Duration: approx. 2 hrs
Walking Grade: 4 - Moderate walking tour. You may need to climb some stairs.
---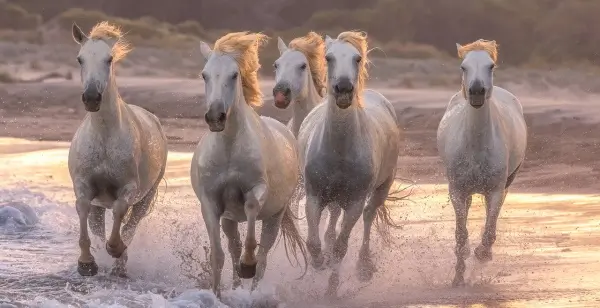 EXCURSION TO THE CAMARGUE NATURE PARK
The Camargue is like a little country in its own right. Once you're a few minutes south of Arles, you enter the unique atmosphere of the area, with its series of long, level roads crisscrossing the marshes and farmlands. For the protection of the exceptional fauna and flora, part of the Camargue was listed as a nature reserve as early as 1927. In 1970, the whole Island of Camargue (the delta of the Rhône River) was listed as the Regional Nature Park of Camargue. It is home to an astonishing range of wildlife, including the renowned Camargue bulls and horses that live in semi freedom, and many hundreds of species of birds. You will also visit Saintes-Maries-de-la-Mer, located on the Mediterranean Sea where the Rhône joins the ocean. This village is steeped in history and boasts stunning beaches which meet the blue waters of the Mediterranean Sea.
Duration: approx. 4.5 hrs
Walking Grade: 2 - The excursion by bus is followed by a moderate walking tour. You may need to climb some stairs.
---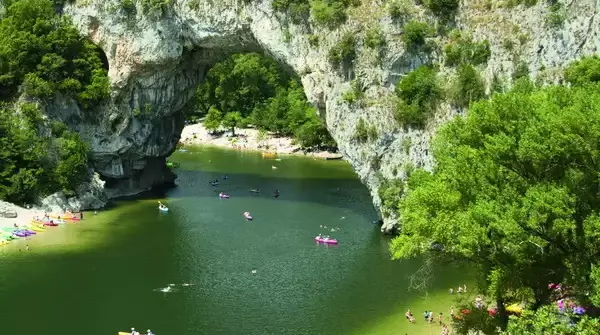 EXCURSION TO THE ARDÈCHE GORGE
Often referred to as the Grand Canyon of Europe, the Ardèche Gorge has spectacular limestone cliffs towering up to 1,000 ft above the meandering river below. The entrance to the Ardèche Gorge is through the famous Pont d'Arc near Vallon which, at 192 feet is, according to the Natural Arch and Bridge Society, "the largest natural bridge in Europe". You will take the famous Gorge Trail, from which you can see the harmonious meanderings of the river. Beautiful viewpoints such as the Pont d'Arc and Serre de Tourre offer the greatest views onto the canyon and the river Ardèche.
Duration: approx. 4.5 hrs
Walking Grade: 2 - The excursion by bus is followed by a moderate walking tour. You may need to climb some stairs.
Gallery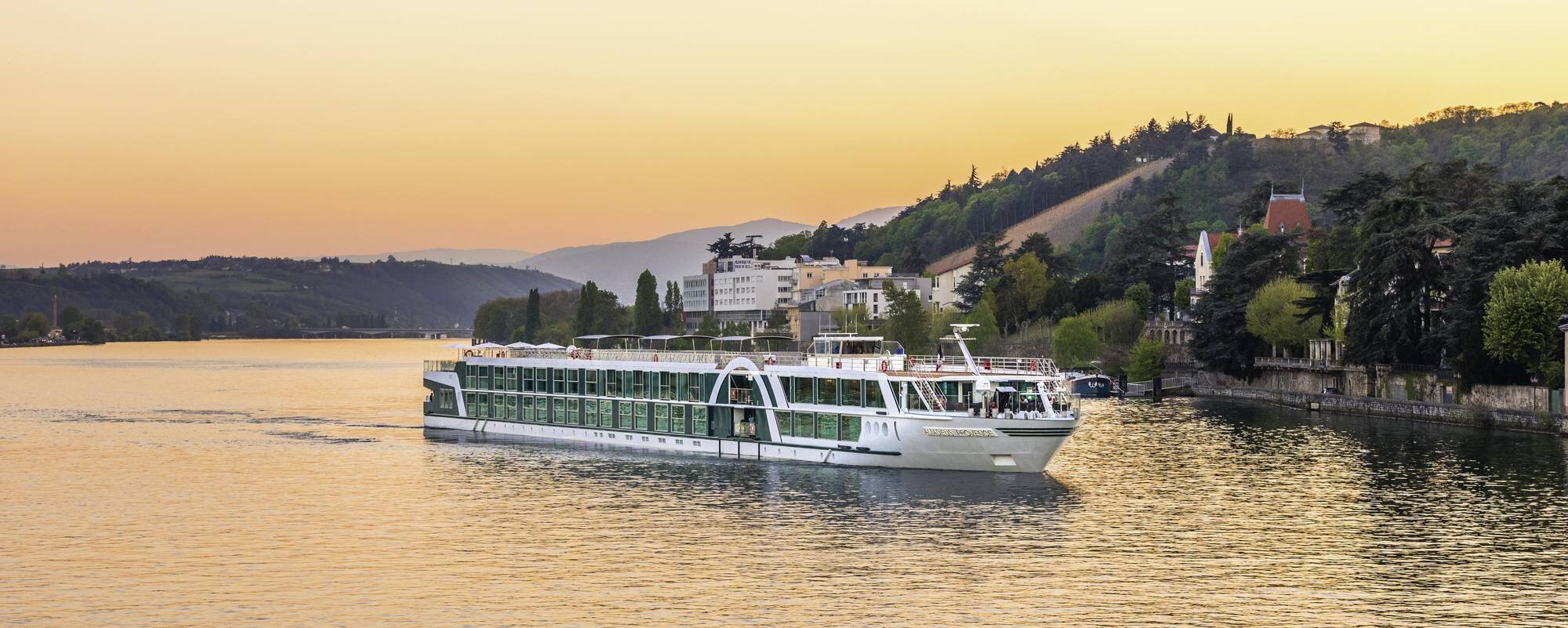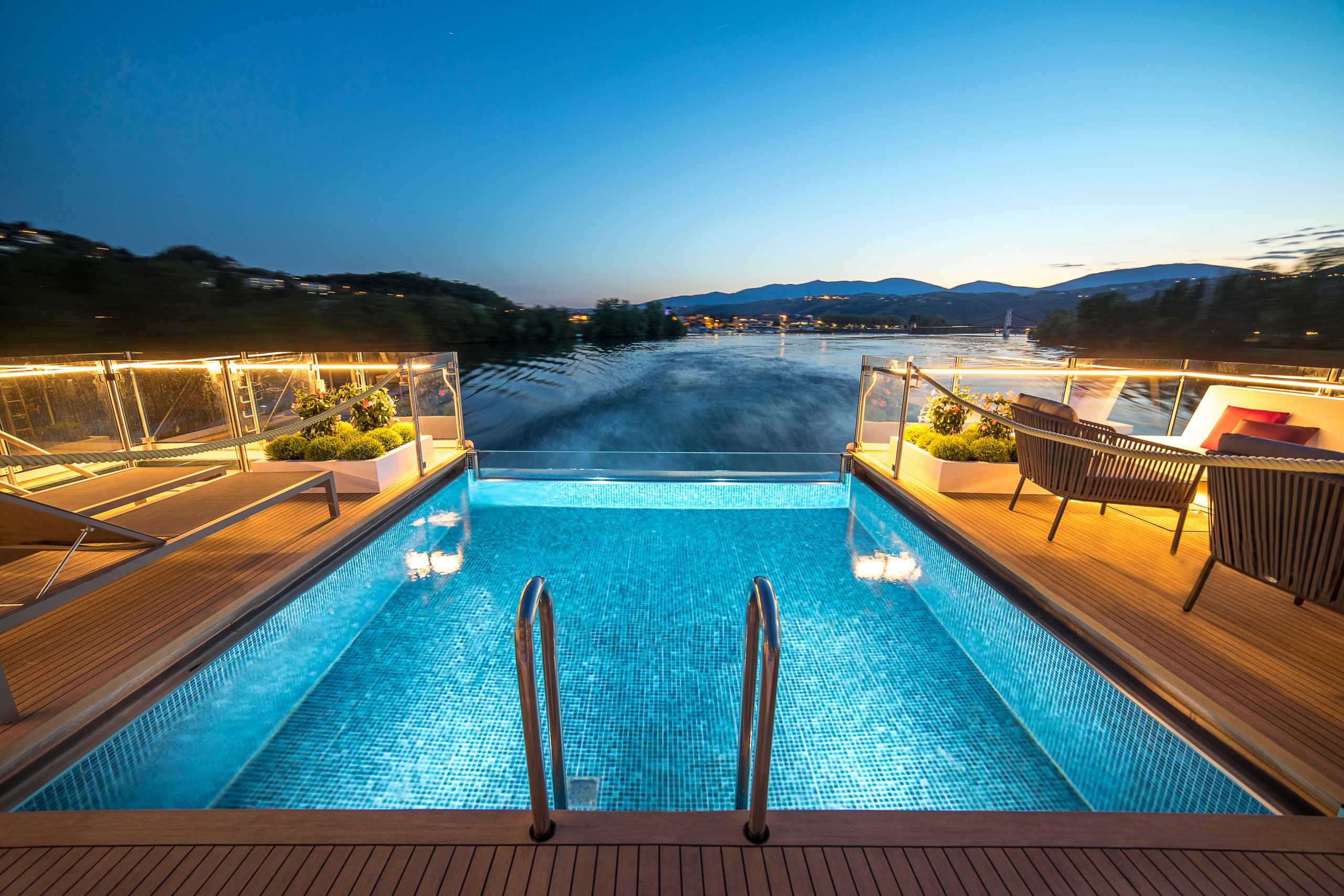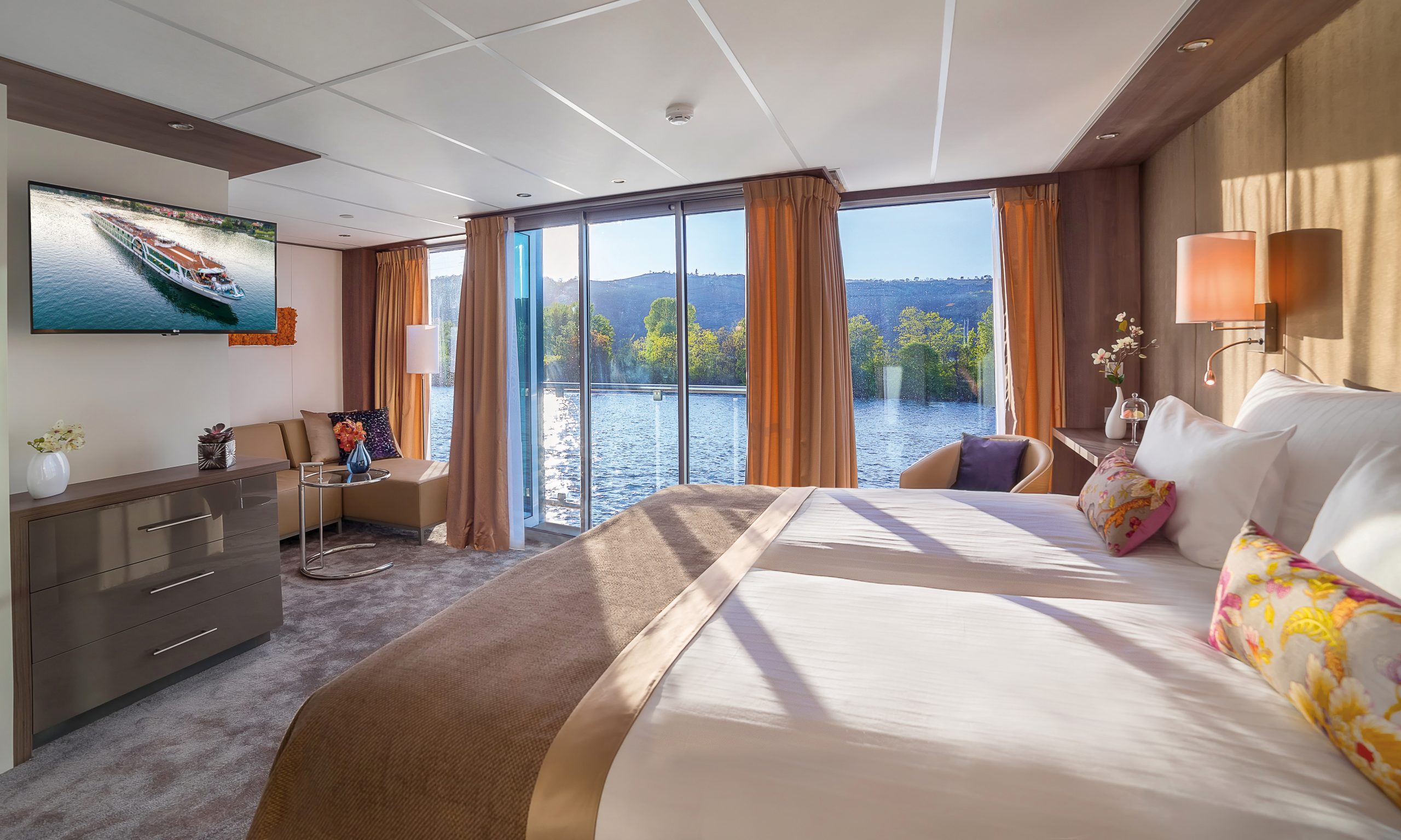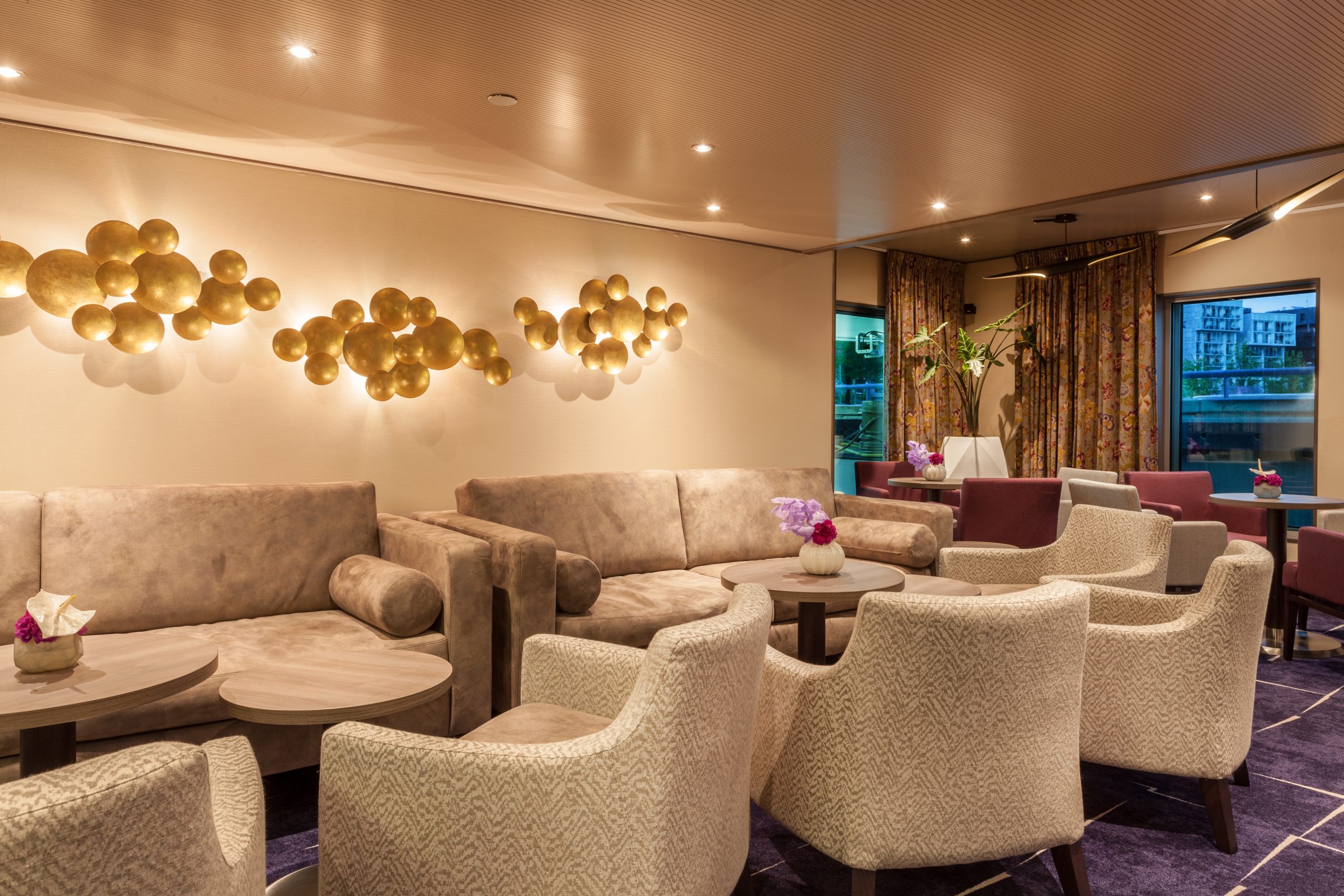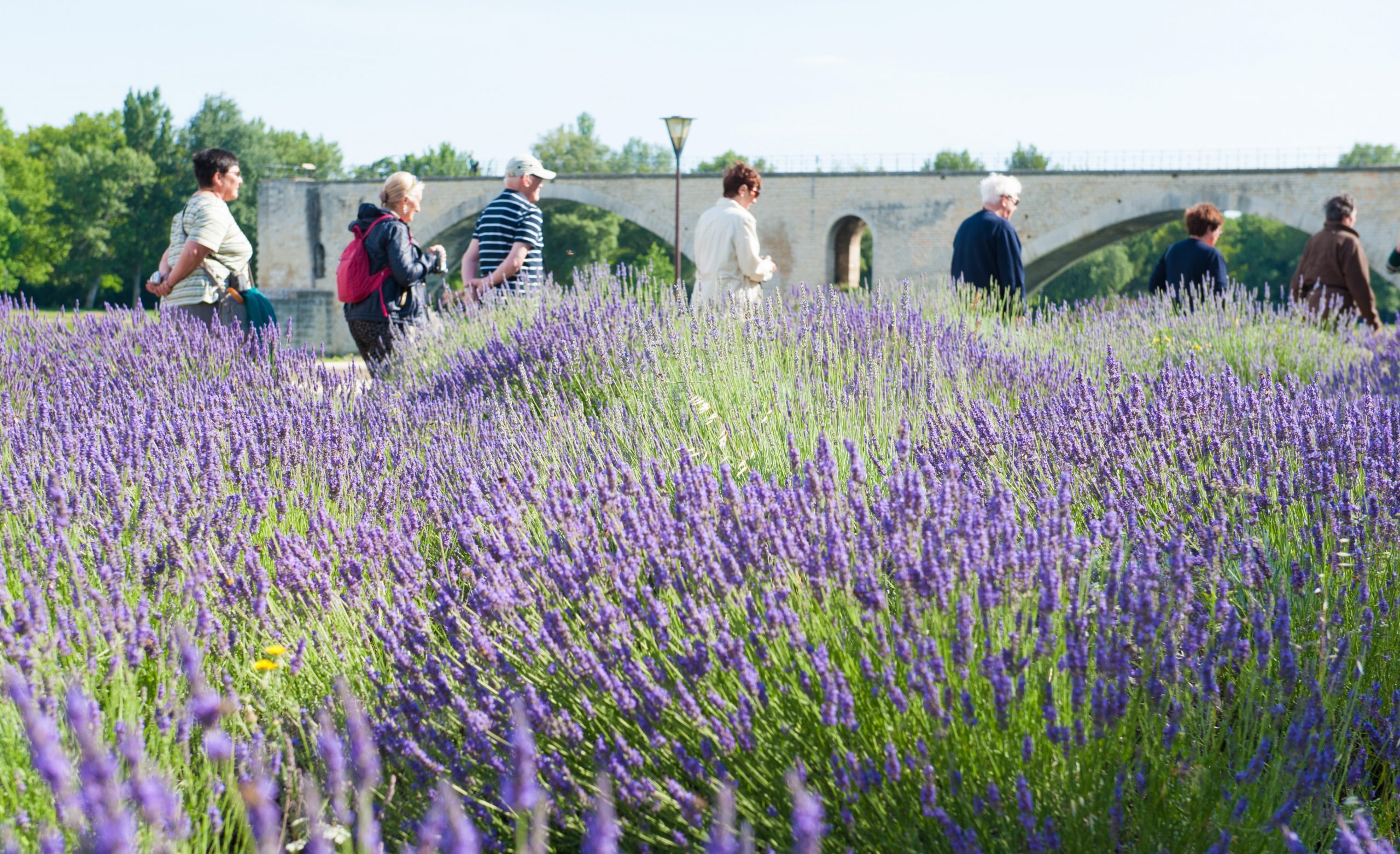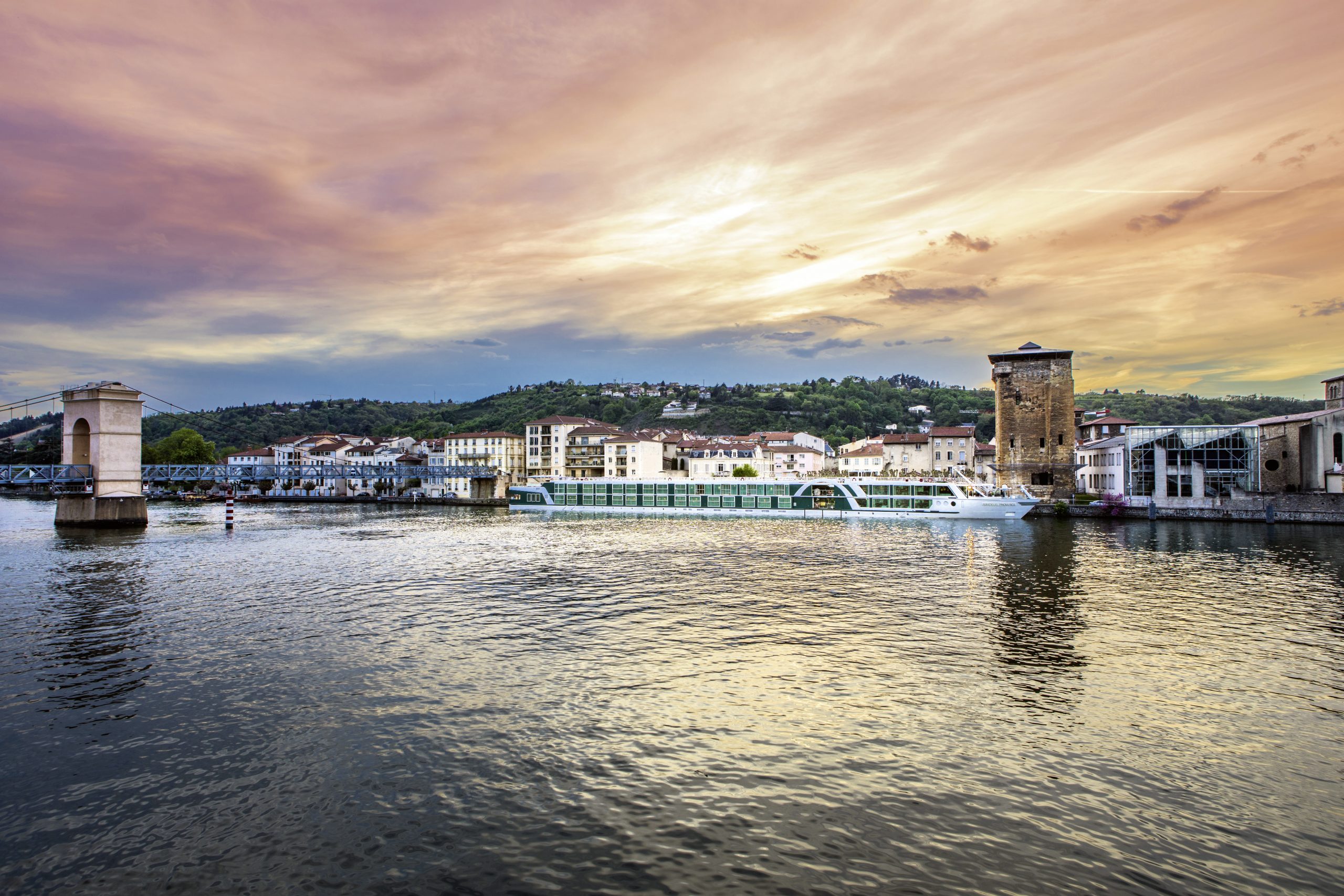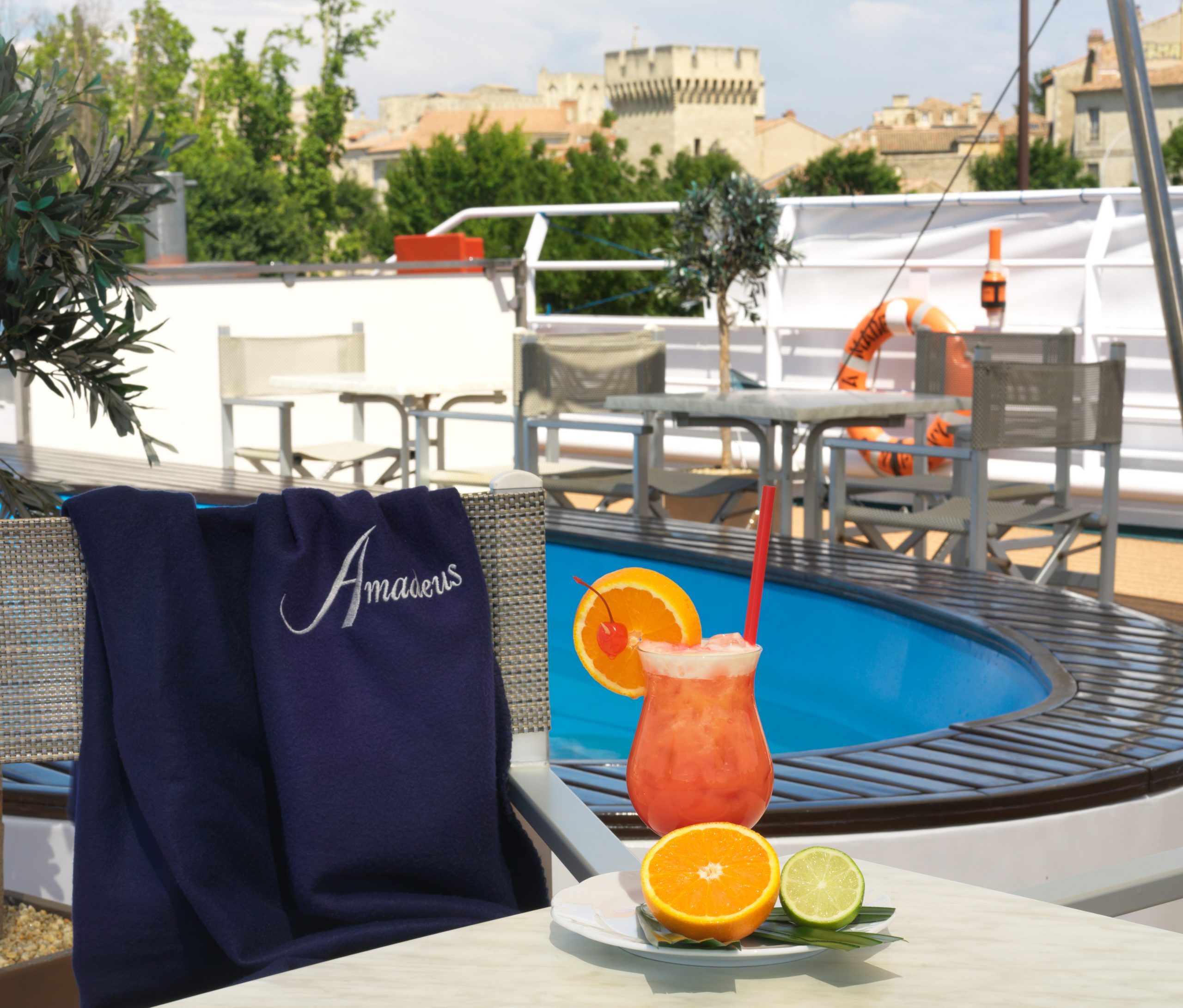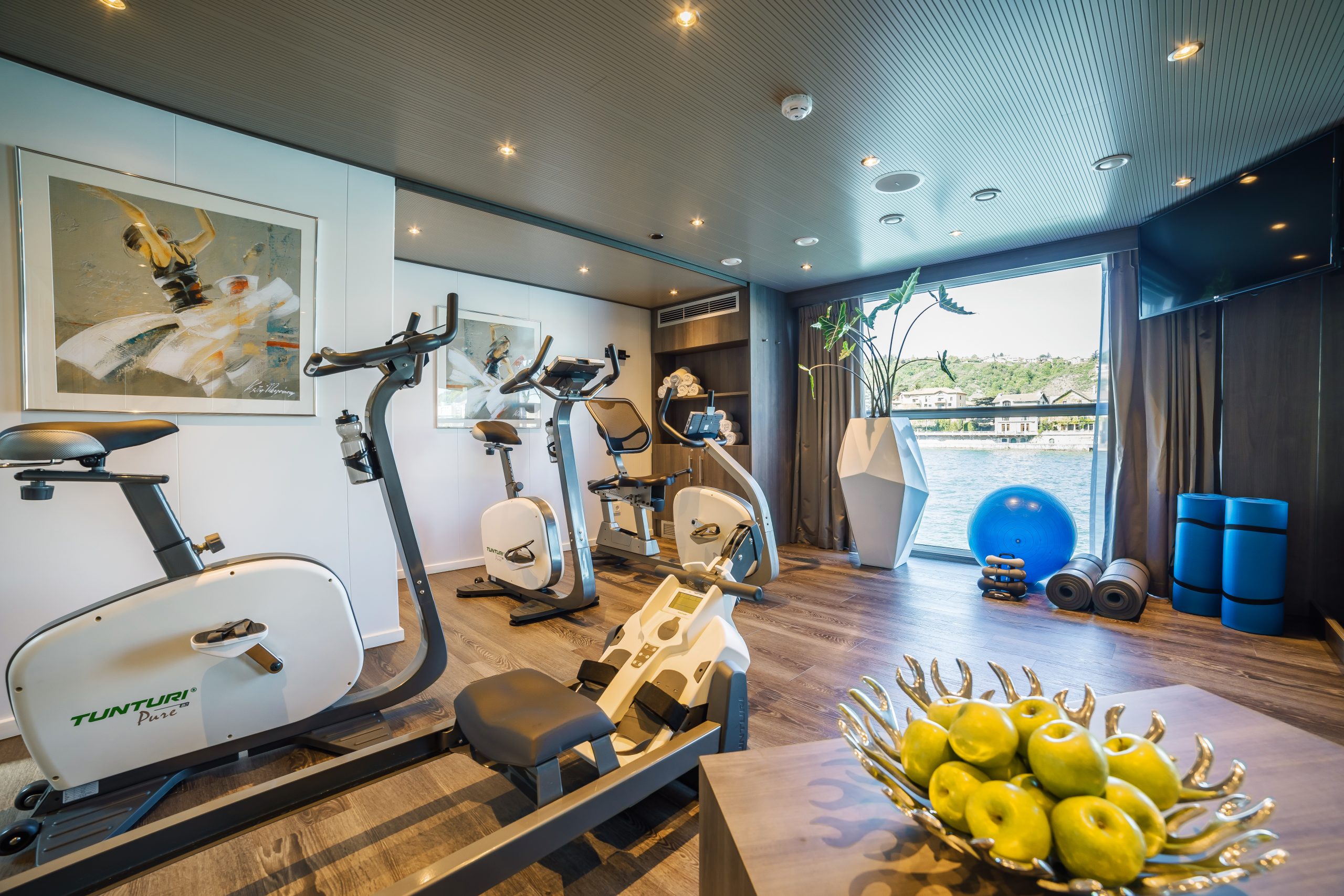 Carolyn Bosworth-Davies - Your Wine Curator
We are delighted to introduce Carolyn Bosworth-Davies, who will join us on board to share her extensive knowledge. The geographical area of the Rhone & Saone contains some of the most valuable and sought-after wine regions in Europe, and the ship will sail through some varied and different wine zones. On the first night, Carolyn will give a short explanation of why Burgundy and the Rhone are such fine wine regions, and what to look for in the local grape varieties. Carolyn will be available throughout the voyage to present her daily recommended wines and to answer any questions you may have.
Another fabulous river cruise organised by Harmony Voyages with entertainment from Show of Hands, Broom Bezzums and Flossie Malavialle. Everything was perfect - the accommodation on board, the friendly and attentive crew, the cordon bleu food and of course the live music. Can't wait for the next one!

Booked a Folk Music river cruise along the Danube (Bucharest to Budapest), with 2 nights' stay at both cities either side of the cruise. The attention to detail for preferred flight bookings and hotels, along with transfer arrangements, were marvellous. And the river cruise? FANTASTIC! Lovely ship, food and drinks, and on-board staff. Excellent range of excursions to suit various interests and abilities along the lovely river journey. And to top it all, we were entertained by the amazing Show of Hands, Flossie, and Broom Bezzums! What could be better

We have been on a number of river cruises and folk festivals with you. Andy and Angela, and their team, have always provided a first class, personal, and professional service and are always on hand to answer any queries or resolve any issues promptly and effectively. They are always striving to improve their customer service altering things where necessary. We have no doubt that 'Harmony Voyages' will be a big success and would have no hesitation in giving our highest recommendation.

So well organised, value for money. Unbelievable service. Would definitely book again

Good music, good company, good food, and good ships - what's not to like? Oh, and the organisation is very good as well and that's very important. My trips so far have not been the cheapest but they have been excellent - they wonderfully illustrate why value-for-money is so much better than cheap. Roll on the next one!