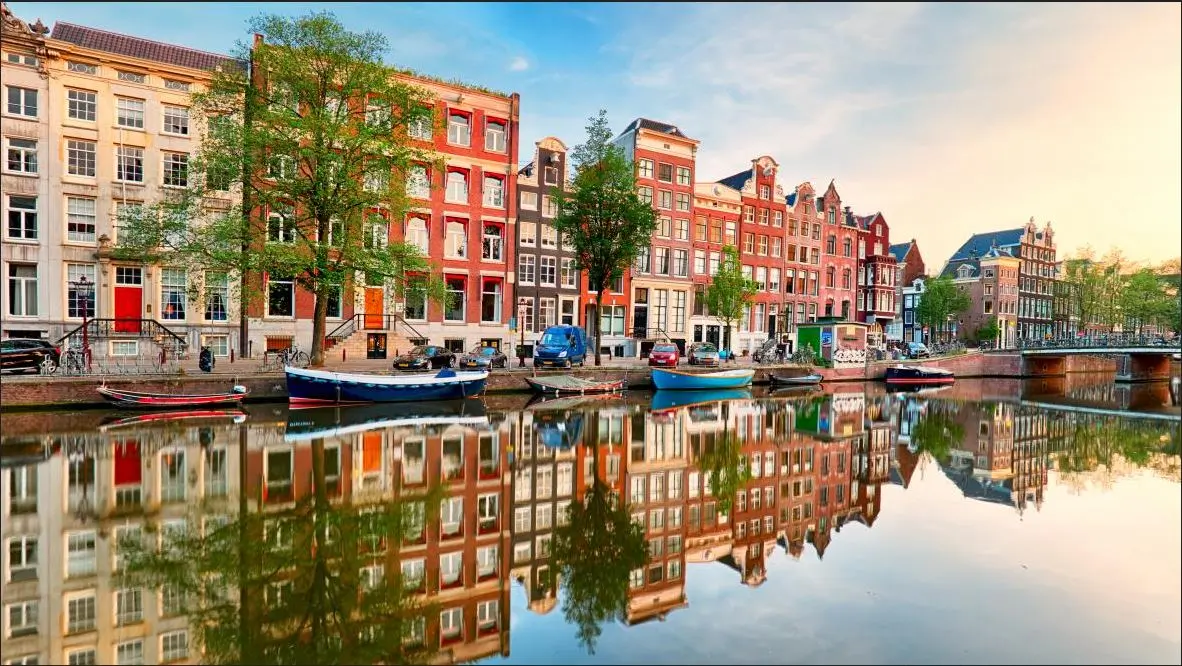 AMSTERDAM SHORT BREAK featuring
FAIRPORT CONVENTION & FASCINATING AIDA
1 - 4 APRIL 2022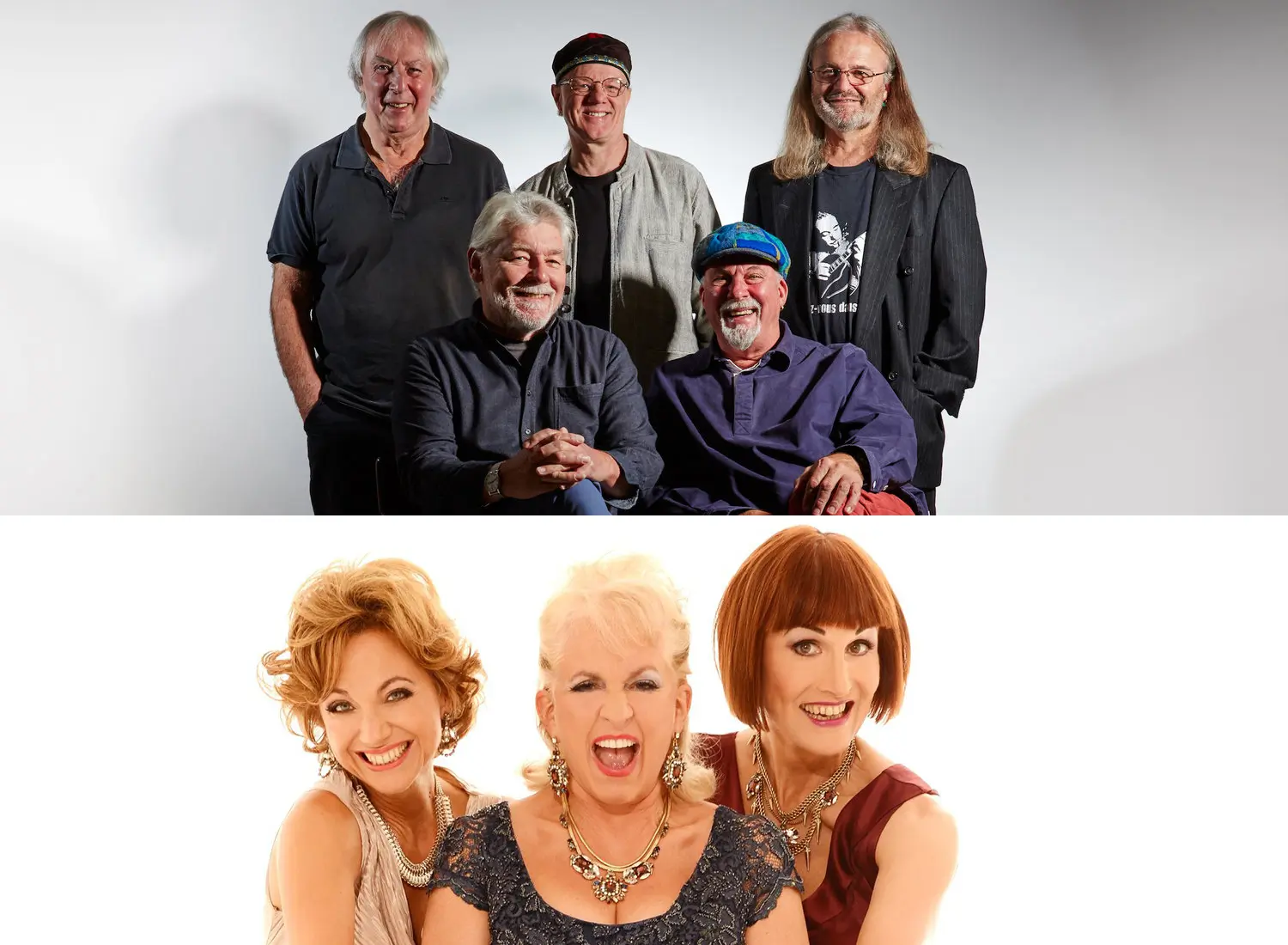 With direct Eurostar links to the City or a short 40-minute flight, a luxury weekend in cosmopolitan Amsterdam with its labyrinth of waterways, heady mix of art galleries, independent shopping boutiques and striking architecture is the perfect early Spring break.

Explore the delights of the city by day and return to your floating boutique hotel for a sociable evening with a delicious 3-course dinner, followed by entertainment from the fabulous Fairport Convention one night and the frankly outrageous Fascinating Aida the next. This is just too good an opportunity to miss!

We are delighted to offer this 'taster' weekend to introduce the five star, fine-dining, friendly experience that is Harmony Voyages river cruising.






Fairport Convention and Fasinating Aida are delighted to invite you to join them on this luxury weekend and enjoy top class entertainment in a comfortable, relaxed intimate setting.
If you're not ready to book but have further questions then please feel free to email us at info@harmonyvoyages.co.uk and we'll be happy to help
What's included
Inclusive of ALL meals, DRINKS with meals, LUXURY Accommodation, 24-hr Tea & Coffee station, ONE sailing to Hoorn and back to Amsterdam.

The Harmony Voyages experience....
Prepare to be spoiled .... Our goal is to ensure that you enjoy an unforgettable and stress-free stay with our partners Amadeus River Cruises and enjoy top class entertainment in a comfortable, relaxed environment.
A floating luxury boutique hotel that leaves no wish unfulfilled; wide panoramic windows, spacious magnificence and timeless elegance, coupled with excellent hospitality. Allow yourself to be looked after by attentive staff who will endeavour to serve you with whatever you require.
It's often said that when you go to Amsterdam, Amsterdam visits you. A city so rich in culture, sitting up to four metres below sea level with its myriad of canal systems and hundreds of thousands of bicycles, Amsterdam is truly unique. Around every corner there is something new to explore. The many extraordinary districts around the city centre are something not to be missed, with the museum district housing the Van Gogh museum and works by Rembrandt and Vermeer at the Rijksmuseum. The trendy Jordaan district is flanked by indie boutiques, cozy pubs and hip eateries. You'll understand why there's always something to draw you back to Amsterdam.
Included in your 3 night mini-break is a short sailing to the picturesque Dutch town of Hoorn: a welcoming place, rich in tradition, and not far from Amsterdam. Enjoy Hoorn at your own pace or join the guided optional relaxed walking tour. Step back in time to the Dutch Golden Age of the 17th century, when Holland was one of the most influential countries in the world. Visit the lively harbour and shopping street, and learn about Jan Pietersz Coen, son of Hoorn and founder of the former Indonesian city Batavia (now Jakarta). Touching the façade of the Saint John Hospice is said to bring luck, visit the hidden love chapel — once built as a secret place for a forbidden Catholic/Protestant couple to wed.
Itinerary
Friday 1 April 2022
Check in from midday and relax aboard your ship - Amadeus Queen or Amadeus Star
Afternoon at leisure
7pm enjoy dinner on board your ship (with wine, beer & soft drinks included)
Relax in the lounge on board either ship or explore Amsterdam by night
Saturday 2 April 2022
Delicious breakfast on board
Morning cruise to Hoorn departing at 09:00 and arriving at 13:00. Enjoy lunch on board the ship
Optional walking tour of Hoorn£16pp
Depart for our return to Amsterdam at 16:00
7pm enjoy dinner on board your ship (drinks as above included)
After dinner concert on board
Overnight on board in Amsterdam
Sunday 3 April 2022
Enjoy breakfast on board
Optional city tour of Amsterdam with canal trip and flower market visit £46
City tour of Amsterdam with canal trip & flower market - £46pp 08:00 - 12:00
Optional visit to Keukenhof flower gardens £64pp (includes entrance fee) 14:00 to 19:00
Day at leisure in Amsterdam for anyone not joining the optional tours
7pm dinner on board your ship (drinks as above included)
After dinner concert on board
Monday 4 April 2022
Breakfast on board
Disembark
All timings and itinerary subject to amendment. Excursions are bookable on board or in advance.
Price
Prices are per person and do not include transport. A return coach option will be available from the UK to Amsterdam, including overnight en-route & Dover-Dunkerque sailing. Please call for details
A deposit of £100pp is required to secure your booking.
| | | |
| --- | --- | --- |
| Cabin Grade | Deck | Price |
| Suite | Mozart Deck | |
| A1 | Mozart Deck | £699 |
| B1 | Strauss Deck | £599 |
| B1 Solo Occupancy | Strauss Deck | £899 |
| B4 | Strauss Deck | £569 |
| C1 | Haydn Deck | £499 |
| C1 Solo Occupancy | Haydn Deck | £749 |
| C4 | Haydn Deck | £499 |
**Please note: As the ships will be moored up along the port side for much of the time, the windows in the cabins on 'Haydn Deck' may be obscured.
Deckplan
Please note, there will be two ships moored alongside one another in Amsterdam for this unique short break. If you are travelling with friends please ensure you request the same ship when you book. Fairport Convention will play aboard Amadeus Queen and Fascinating Aida aboard Amadeus Star. The facilities aboard each ship will be available, regardless of which ship you are staying on. Any purchases charged to your cabin may only be charged to the ship you are staying aboard. Otherwise, cash payments in Euros are necessary. The artists will perform the same set each night allowing you an opportunity to see both acts over the course of the three nights.
AMADEUS QUEEN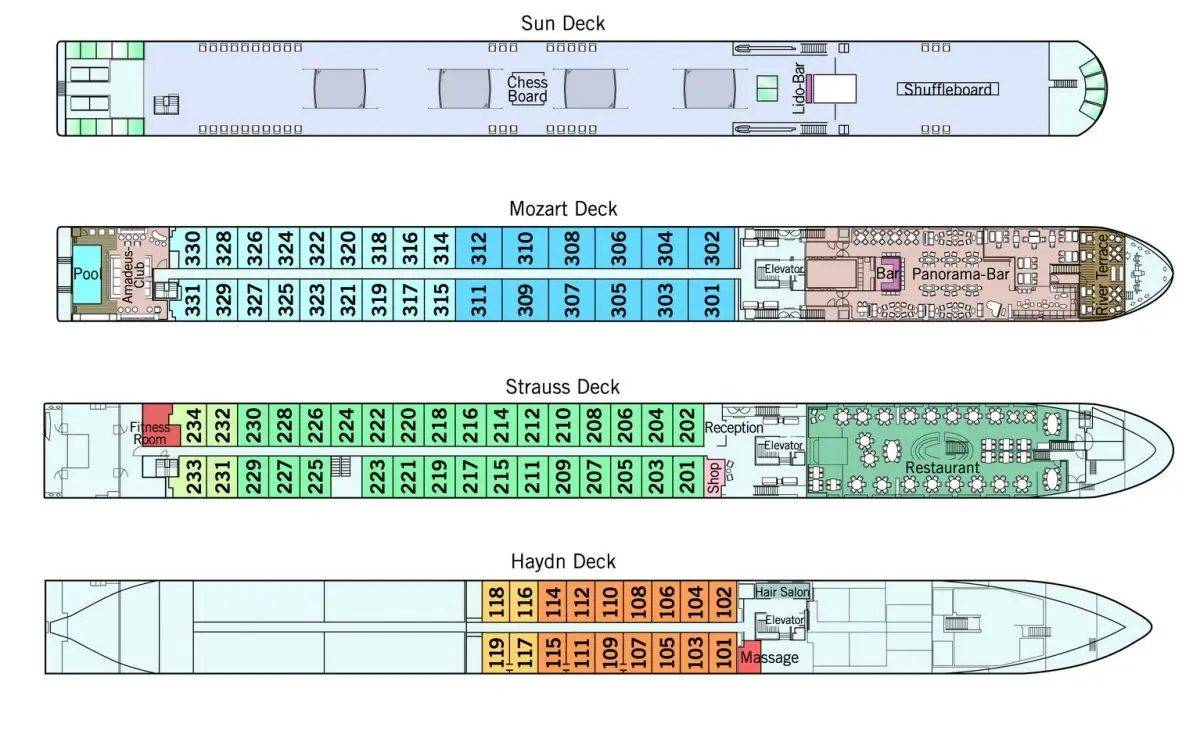 AMADEUS STAR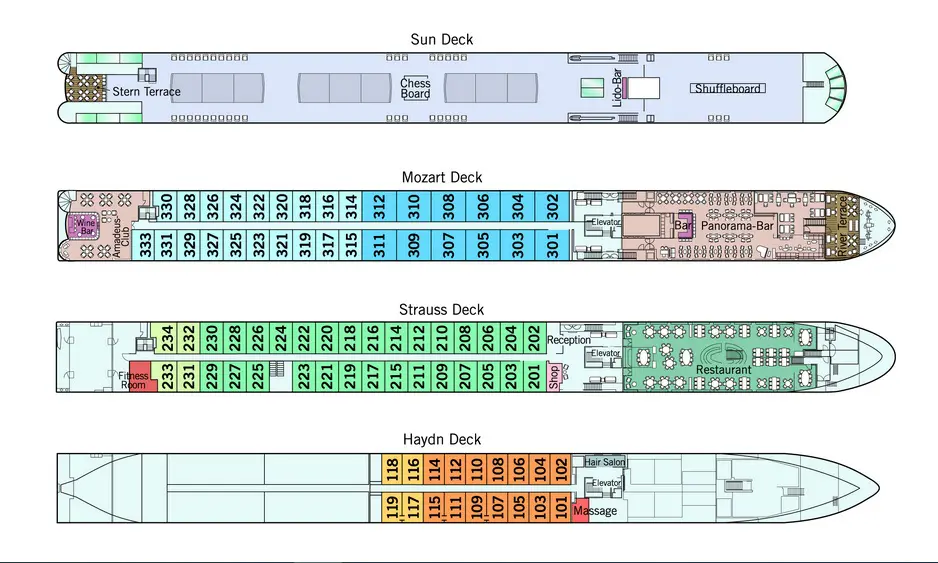 Accommodation
AMADEUS STAR STATEROOMS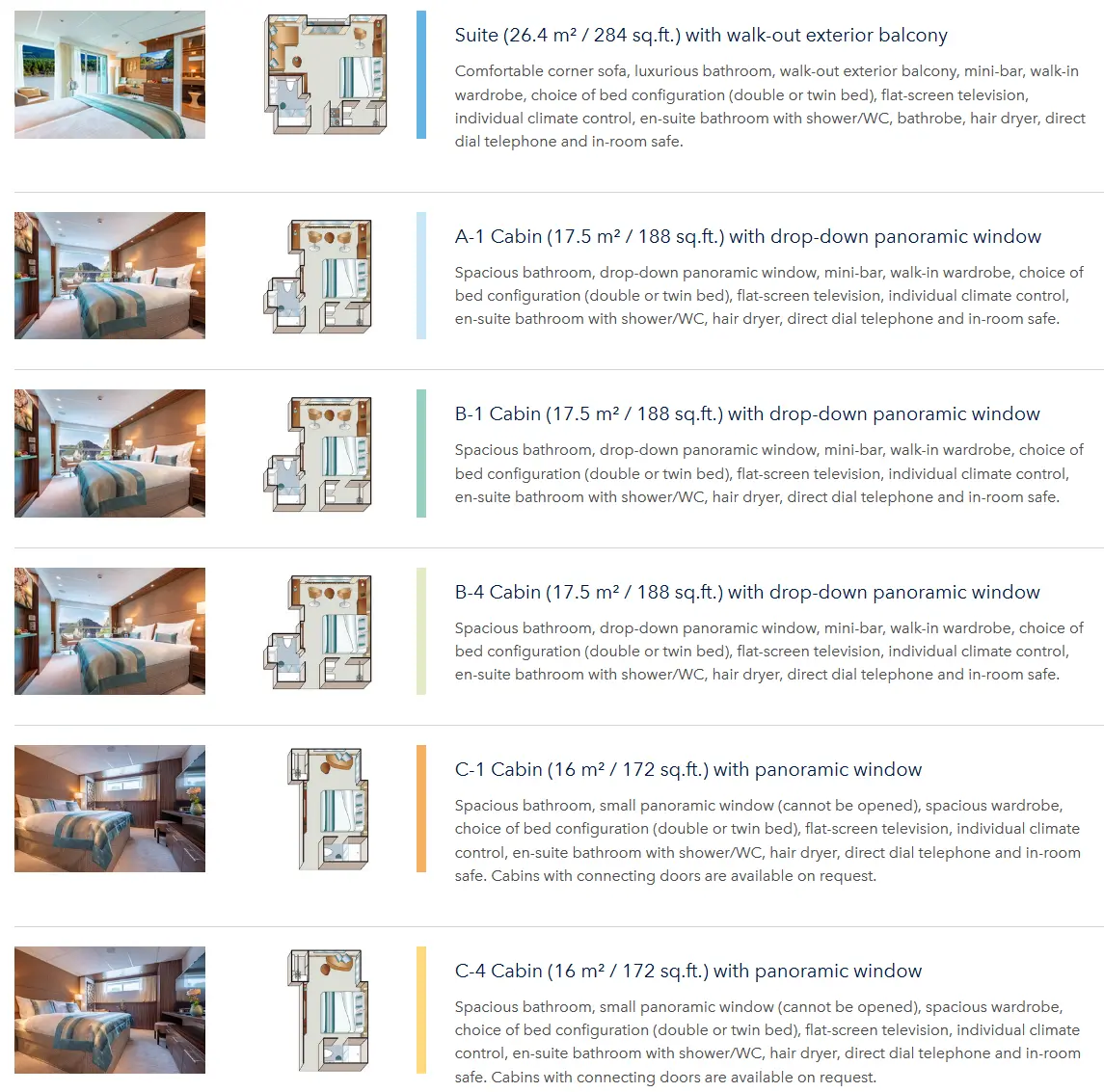 AMADEUS QUEEN STATEROOMS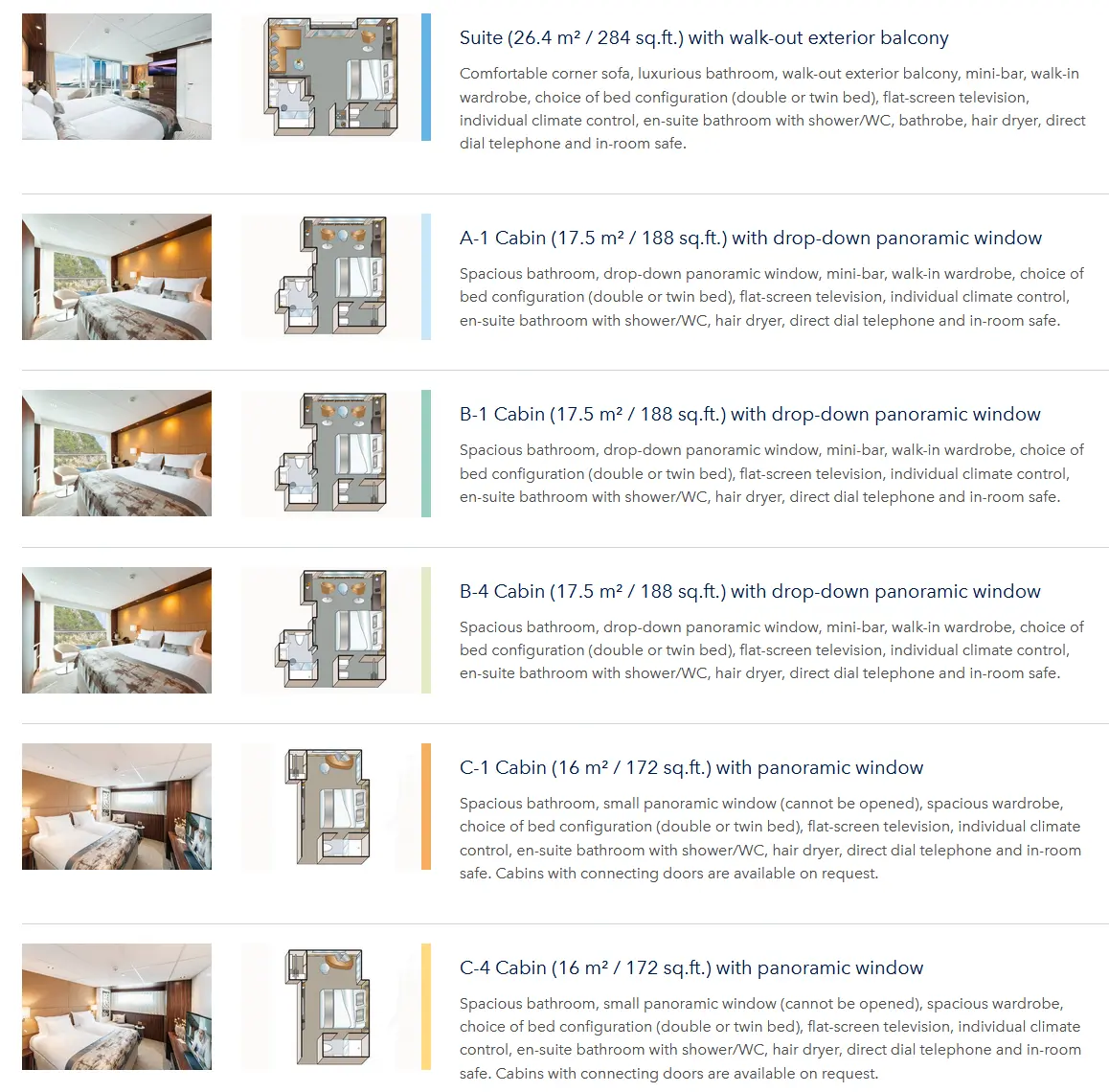 FAQ
Q: Are flights included?
A: You are responsible for your own travel arrangements to and from the ship. However, we are happy to assist with booking flights on your behalf. Please contact us for details if you require assistance. Full information regarding getting from the Airport to the ship will be provided with your final documents
Eurostar offer a direct service from London St Pancras to Amsterdam Centraal Station. The ship will be moored close to the station, although depending on the birthing point this may be up to half a km away and you may prefer to get a cab from the station.
The Eurostar can be booked as a package together with the accommodation, please ask for details.
Q: Which airport do I need to fly into / home from?
A: Amsterdam Schiphol airport.
Q: Are airport transfers included?
A: Transfers are not included but we are happy to assist with information regarding getting from the airport to the ship.
The ship will be moored in the vicinity of Amsterdam Centraal Station which is easily accessed by train from the airport.
Q: What time can I board the ship on Embarkation day?
A: You can board from midday but your stateroom may not be available until after 3pm. You will be able to enjoy the ship's facilities until your room is ready to be occupied.
Q: What time is disembarkation from?
A: You will be required to vacate your cabin after breakfast on the day of departure. If you have a late flight or transfer you may be able to store your luggage on board until later in the day, depending on the ship's itinerary. The crew on board will be happy to assist.
Q: Is there WiFi on board?
A: Yes, WiFi is provided in all public areas of the ship. However, during the trip the signal may be weaker in certain sections of the route.
Q: Is there an elevator on board?
A: All AMADEUS ships have a guest elevator, which operates between the Mozart and Haydn decks. The sun deck is not accessible by elevator.
Q: What is the dress code on board?
A: We want to you feel comfortable on board, the dress code is casual during the day and in the evening smart casual. Think what would I wear for a meal out in a restaurant at home?
Q: What is the electrical current on board?
A: The voltage in hotels and onboard ship is 230V, European standard. To use any electrical product that is not dual voltage (e.g. from the US, Canada, Australia or the UK), you will need a plug adaptor and some devices will require an electrical converter. Many electronic devices have built-in electrical converters, however please check the manufacturer's specifications for details. A two-pole adaptor is also available at reception.
Q: Mooring and Docking
A: Local river authorities allocate docking space around ship arrivals and departures in port. Occasionally port conditions require ships to tie up alongside each other, in which case guests may be required to walk through another ship to access their own ship. This is part of the river cruise experience and is perfectly normal and beyond our control. Guests may experience obstructed views from staterooms when the ship is docked.
PLEASE NOTE: Cabins on Haydn Deck may have a restricted view as the ship will be moored up for the majority of the time.
Q: What is the currency on board the ship?
A: The currency on board all AMADEUS ships is EURO. However, you may also settle your account in (GBP) Sterling or (USD) American Dollars.
PLEASE NOTE: You can only charge beverages or purchases to your on-board account from the ship that you are staying on. If you make a purchase on the other ship, you will need to pay with EUROS.
Q: What about gratuities?
A: Gratuities for the ship's staff and crew are not included in your cruise price.
Gratuities for drivers and guides for optional excursions are not included in the excursion price. A suggested amount is 1-2 EUR per person for half day excursion & 2-3 EUR per person for the full day excursion given directly to the guide and driver.
What to pack:
The following items are essential for any destination: sunglasses, sunscreen, hat, and maybe an umbrella. It is recommended that you bring duplicates of prescription eye wear, copies of prescriptions for any medications (generic equivalents are usually easier to obtain), copies of credit card information, and copies of your passport information pages.
An adaptor / transformer may be necessary (the on-board power supply is 230V AC/50 Hz) if you bring any electronic devices with you.
Clothing:
Comfortable, casual clothing is appropriate both onshore and onboard and we suggest lightweight clothing that can be layered.
Don't forget to pack a lightweight, waterproof jacket (preferably hooded) or even a heavier-weight wind-breaker for cooler temperatures. We recommend that you pack a lightweight sweater or long sleeve shirts and carry them with you on excursions.
Excursions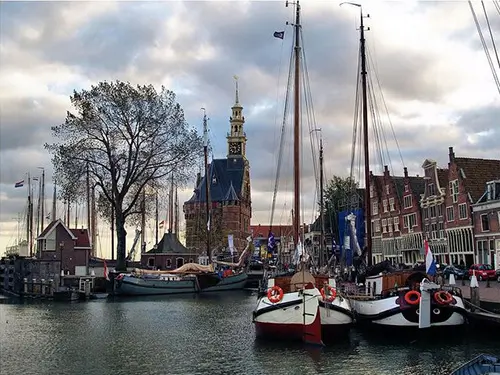 Walking tour of Hoorn - £16pp
Walking through the historic centre of Hoorn, step back in time to the Dutch Golden Age of the 17th century, when Holland was one of the most influential countries in the world. See the lively harbour and shopping street, and learn about Jan Pietersz Coen, son of Hoorn and founder of the former Indonesian city Batavia (now Jakarta). Pass by the Main Tower, one of Hoorn harbour's main landmarks. Touch the façade of the Saint John Hospice for luck, and visit the hidden love chapel — once built as a secret place for a forbidden Catholic/Protestant couple to wed.
Duration: approx. 2 hrs
Walking Grade: 2 - moderate walking tour.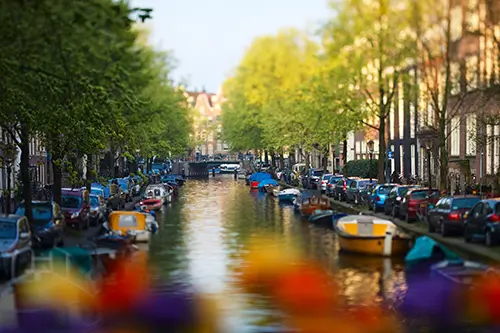 City Tour of Amsterdam including a canal trip  & flower market visit - £46pp
Founded as a small fishing village in the late 12th century, Amsterdam became one of the most important ports in the world during the Dutch Golden Age as a result of its innovative developments in trade. Today, the city has one of the largest historic centres in Europe, with about 7,500 registered historic buildings. The street pattern is largely unchanged since the 19th century. The centre consists of 90 islands, linked by 400 bridges. On the city tour through the Dutch metropolis, you will see the Royal Palace, numerous canals and the Museum Quarter. Aside from touring  Amsterdam by coach, you will also stop and stroll along the flower market. As there is no better way to see the city than cruising on the water, the tour will end by a canal cruise boat trip.
Duration: approx. 4 hrs
Walking Grade: 3 - The excursion by bus is followed by a longer walk. You may need to climb several stairs.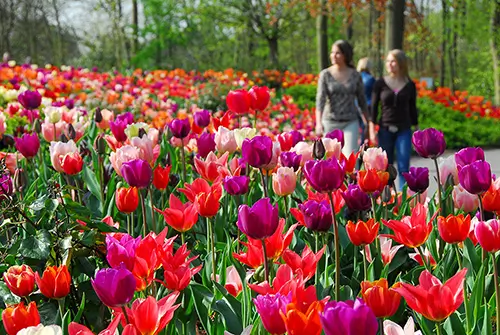 Keukenhof flower gardens - £64pp (includes entrance fee)
During this excursion you will see one of Europe's largest garden displays, the Keukenhof Gardens, which is located close to Amsterdam. This park, with its art, royal flair and creative diversity attracts over a million visitors each year. Seven million tulips, narcissi and hyacinths form a colourful carpet of blooms. Round, oval, triangular and rectangular borders line the park's driveways, making a cheerful ensemble of colours, shapes and scents. Alternating exhibitions, known as parades, bloom in several pavilions. Numerous sculptures also lurk between the flowerbeds, as harmony between art and nature is a major feature of this park.
Duration: approx. 4.5 hrs
Walking Grade: 3 - The excursion by bus is followed by a moderate walking tour. You may need to climb some stairs.
There is a 20% discount for all three if booked together as a package = £100pp
Gallery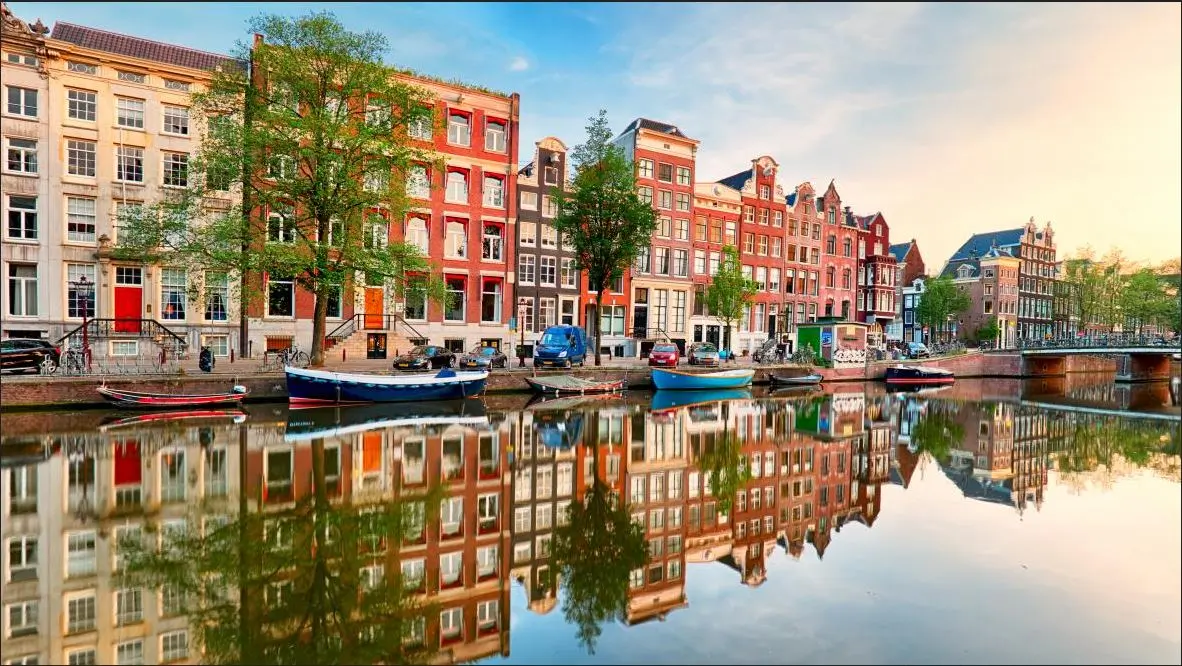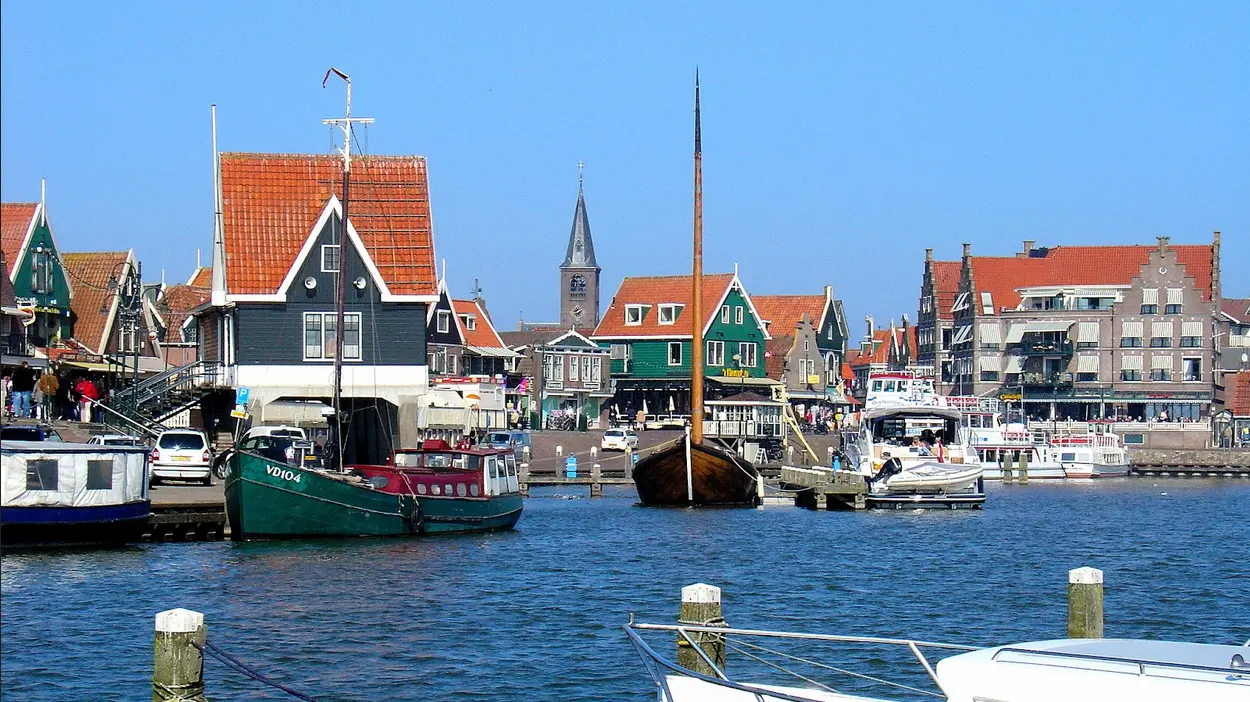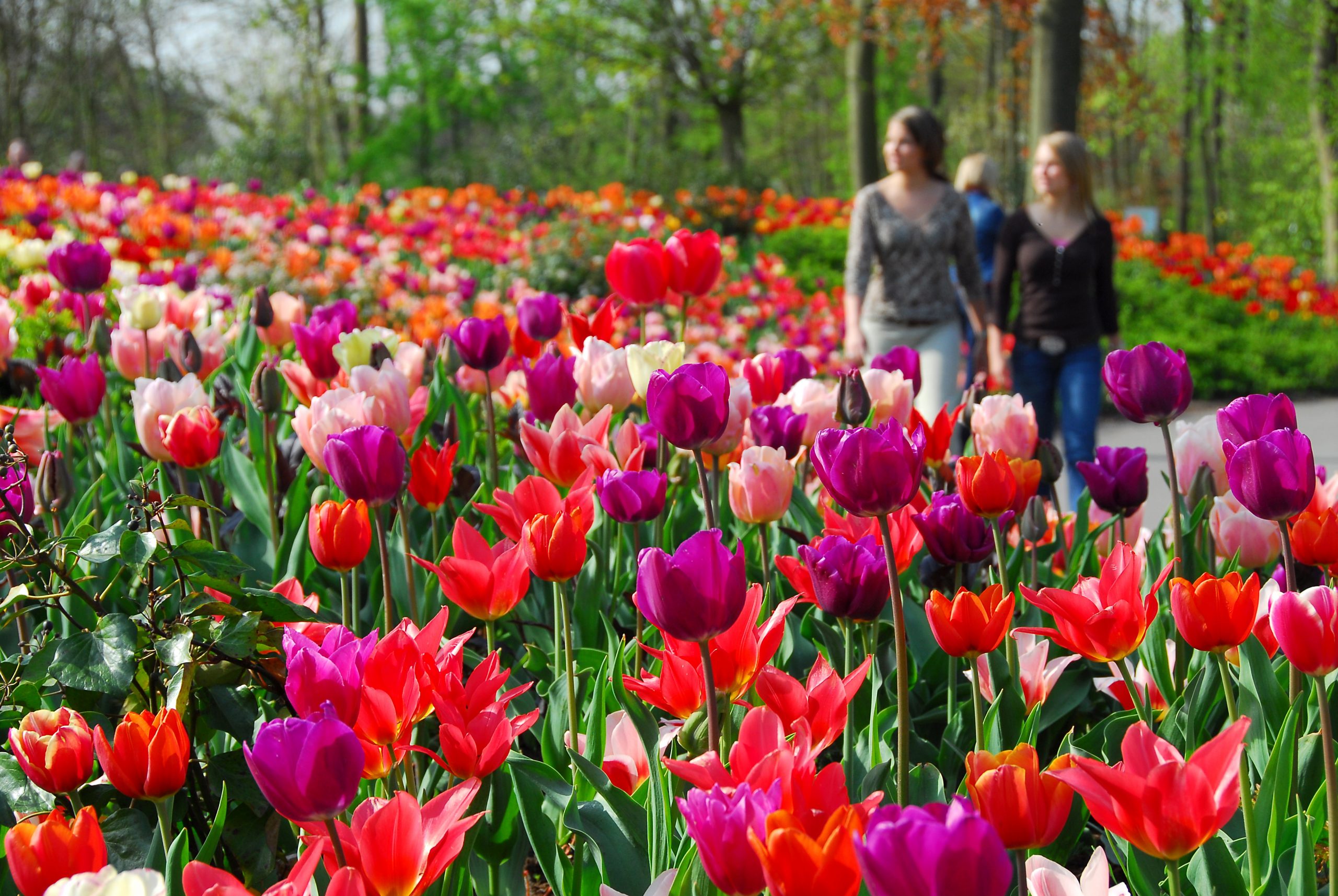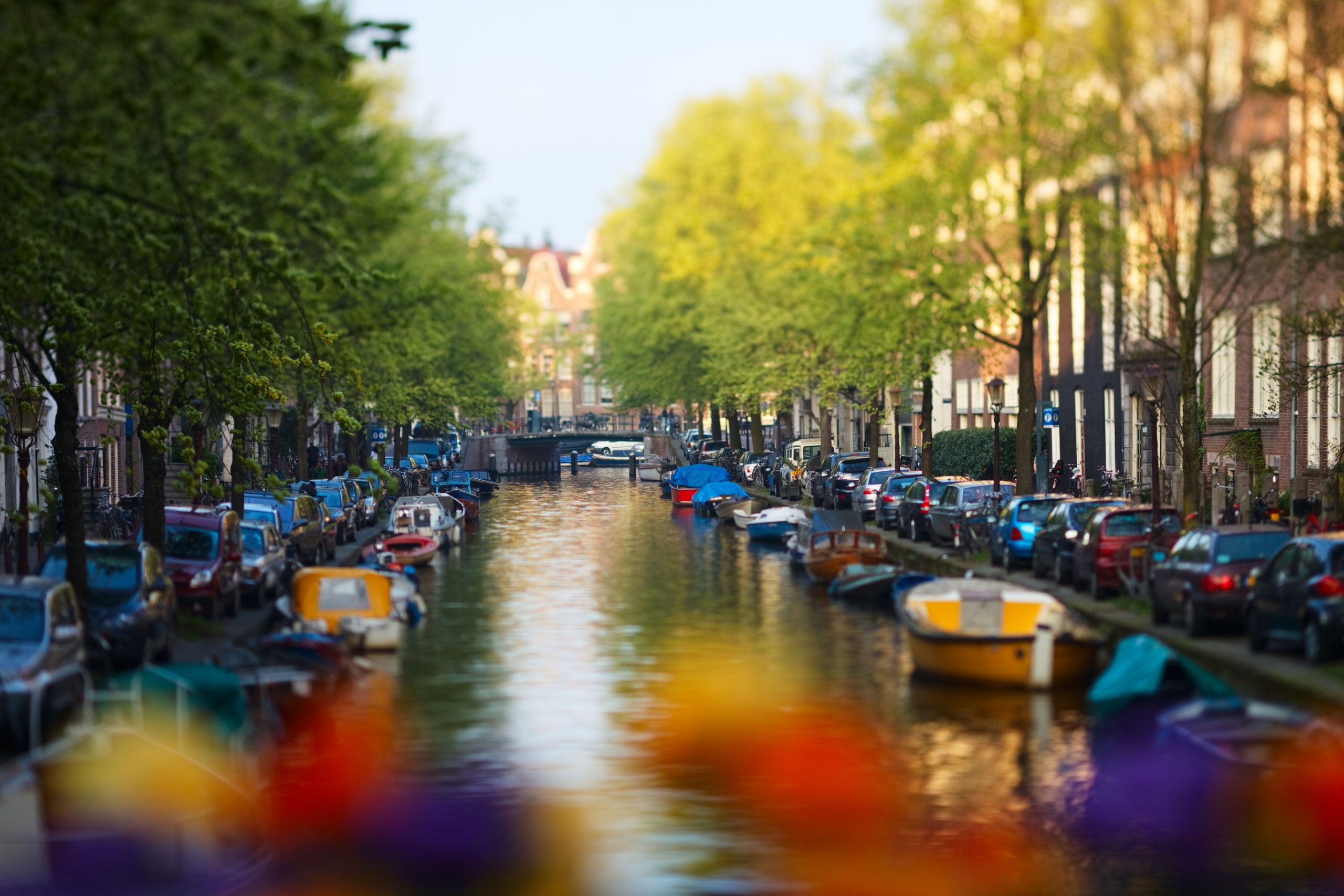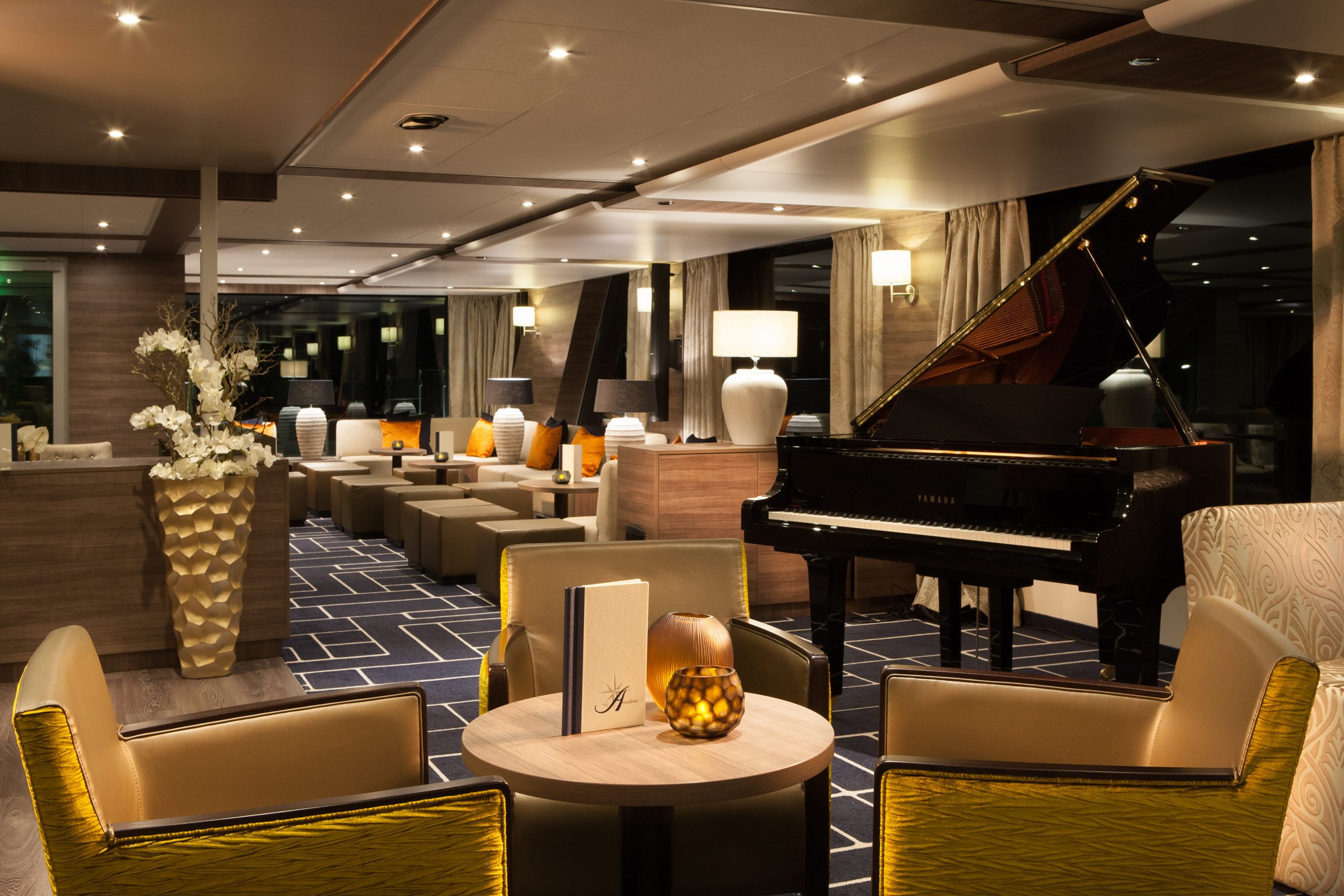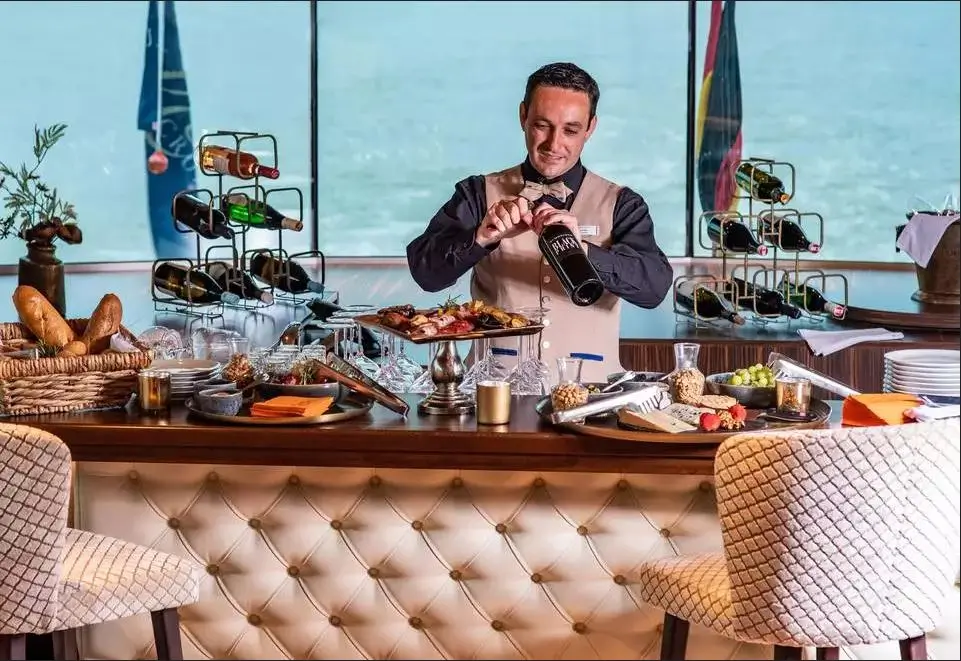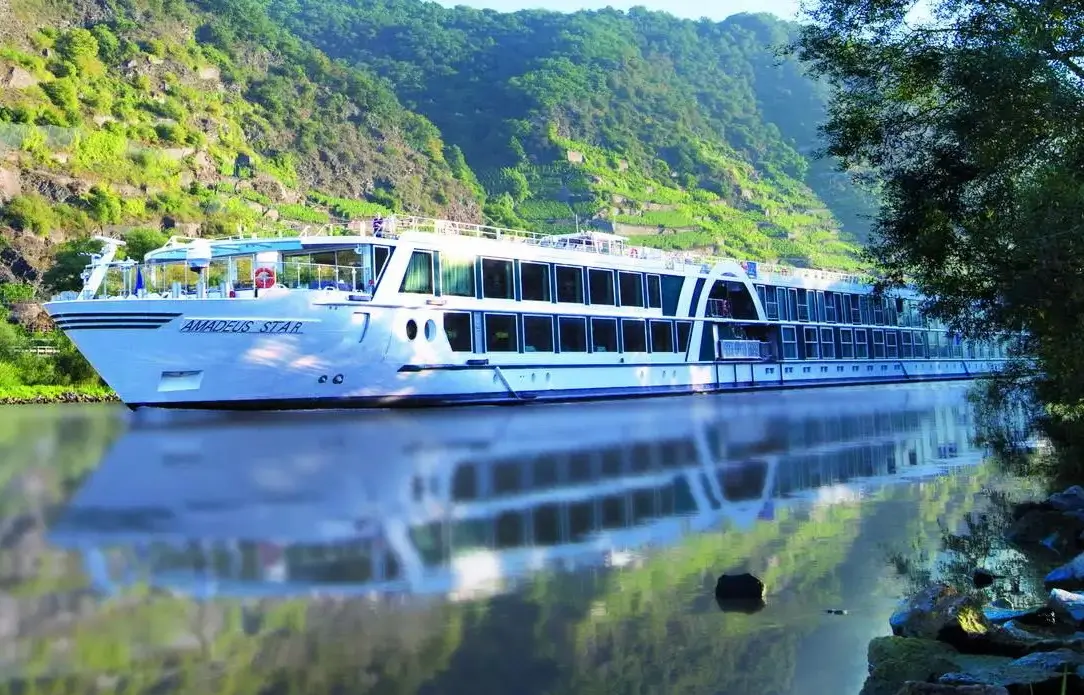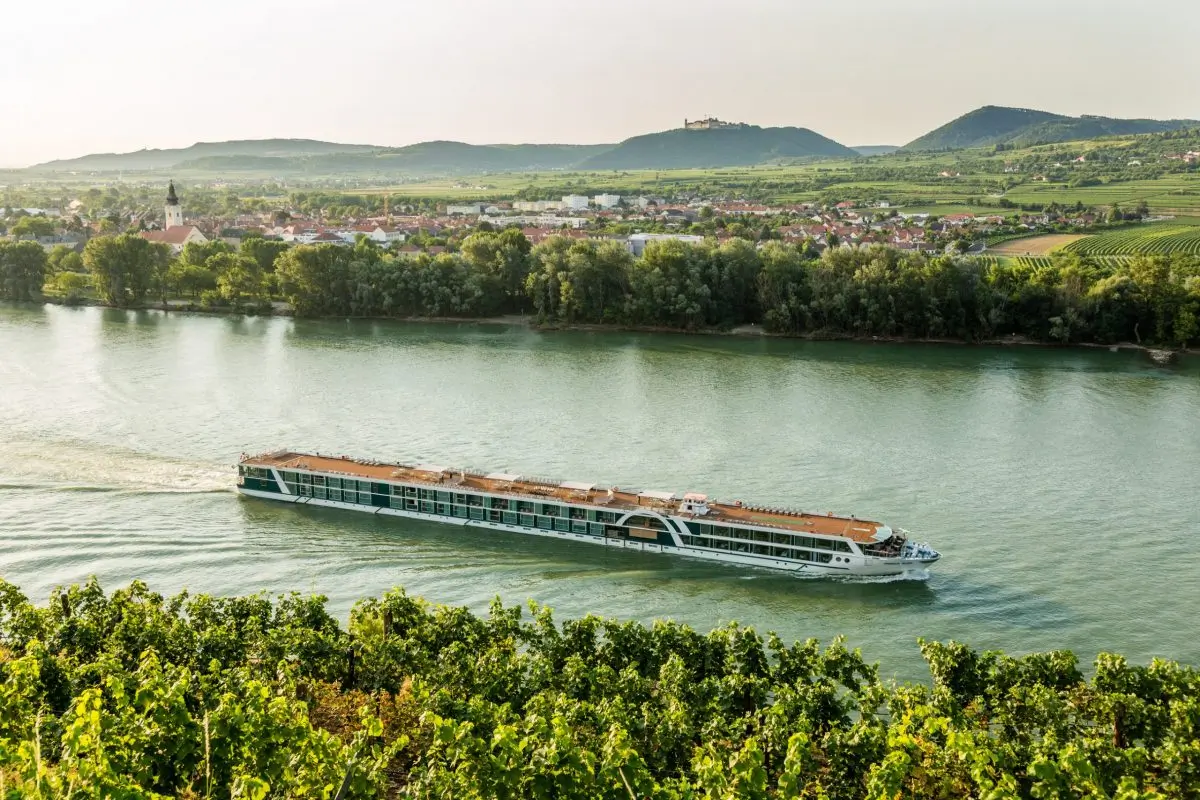 ---
Another fabulous river cruise organised by Harmony Voyages with entertainment from Show of Hands, Broom Bezzums and Flossie Malavialle. Everything was perfect - the accommodation on board, the friendly and attentive crew, the cordon bleu food and of course the live music. Can't wait for the next one!

Booked a Folk Music river cruise along the Danube (Bucharest to Budapest), with 2 nights' stay at both cities either side of the cruise. The attention to detail for preferred flight bookings and hotels, along with transfer arrangements, were marvellous. And the river cruise? FANTASTIC! Lovely ship, food and drinks, and on-board staff. Excellent range of excursions to suit various interests and abilities along the lovely river journey. And to top it all, we were entertained by the amazing Show of Hands, Flossie, and Broom Bezzums! What could be better

We have been on a number of river cruises and folk festivals with you. Andy and Angela, and their team, have always provided a first class, personal, and professional service and are always on hand to answer any queries or resolve any issues promptly and effectively. They are always striving to improve their customer service altering things where necessary. We have no doubt that 'Harmony Voyages' will be a big success and would have no hesitation in giving our highest recommendation.

So well organised, value for money. Unbelievable service. Would definitely book again

Good music, good company, good food, and good ships - what's not to like? Oh, and the organisation is very good as well and that's very important. My trips so far have not been the cheapest but they have been excellent - they wonderfully illustrate why value-for-money is so much better than cheap. Roll on the next one!